Film Crowdfunding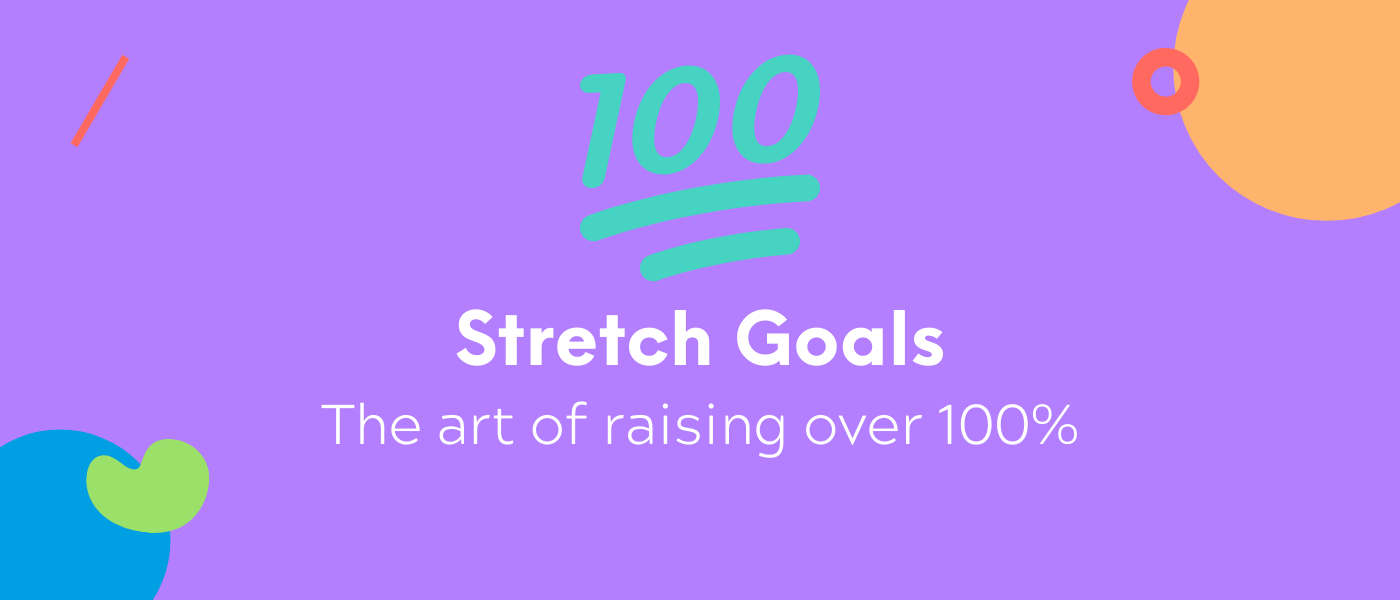 How To Raise Over 100% Of Your Crowdfunding Goals
June 26, 2020
To get to the initial 100% of your crowdfunding goal, we've got you covered in a million ways. Want overall crowdfunding advice? Watch our online crowdfunding class. Need initial outreach advice? Build your email list and write great emails. Want to find strangers and convert them into audience members? Steal some criminal psychology tips for your own artistic uses. Looking for best practices to build your campaign page? Read our advice on your Story section, pitch, incentives, wishlist, and mid-campaign updates. We have no doubt you're going to hit 100% of your goal.
So how can you push it to 110%? 200%? Well my friends, that comes down to how you communicate stretch goals.
What are stretch goals
?
Stretch goals are additional financial goals beyond your initial 100% goal detailing the incremental amounts and what the additional funds would pay for. Stretch goals are usually (but not limited to) added for increasing the day rates for cast and crew, claiming an additional production day, buying nicer props, renting better equipment, hiring additional teammates, or funding stages outside the scope of the original campaign (like raising some funds for post-production when you only initially planned to raise funds for production).
Example: after hitting our initial production funds goal, my web series Sam and Pat Are Depressed set a stretch goal to release a companion podcast, Bri and Chris Are Depressed, hosted by the costars and cowriters of the web series.
Important note: stretch goals are not a platform feature on Seed&Spark; they're additional financial goals you communicate directly to your audience during the campaign.
When should I roll them out?
Some campaigns build stretch goals into their initial messaging. Take the Stetson Tenz: Remote Therapist campaign; in their Story section they lay out that they have four potential budgets (and, as they note, the fourth is the best):
Varied Budgets for Confusing Economic Times
MIN: This would be 80% of the public budget you see ($2,700). This will allow us to pay each collaborator $75 per role, per day.
MID: If we hit our actual goal ($3,500), we can pay each collaborator $100 per role, per day.
IDEAL: Should we meet our goal, we'd then stretch towards a budget of $4,500. With this, we can pay each collaborator $125 per role per day. This last number is a more standard rate for normal times.
SUPAH: Any amount over $4,500 would be considered a Supah Budget for this project. We'd use this money, as possible, to add collaborators. Such as musicians, graphic artists, etc.
Similarly, the finishing funds campaign for the feature film Delicate State included a helpful graphic for their various funding stages, which they filled in post-campaign so even now, months after their campaign ended, audiences know where they stand.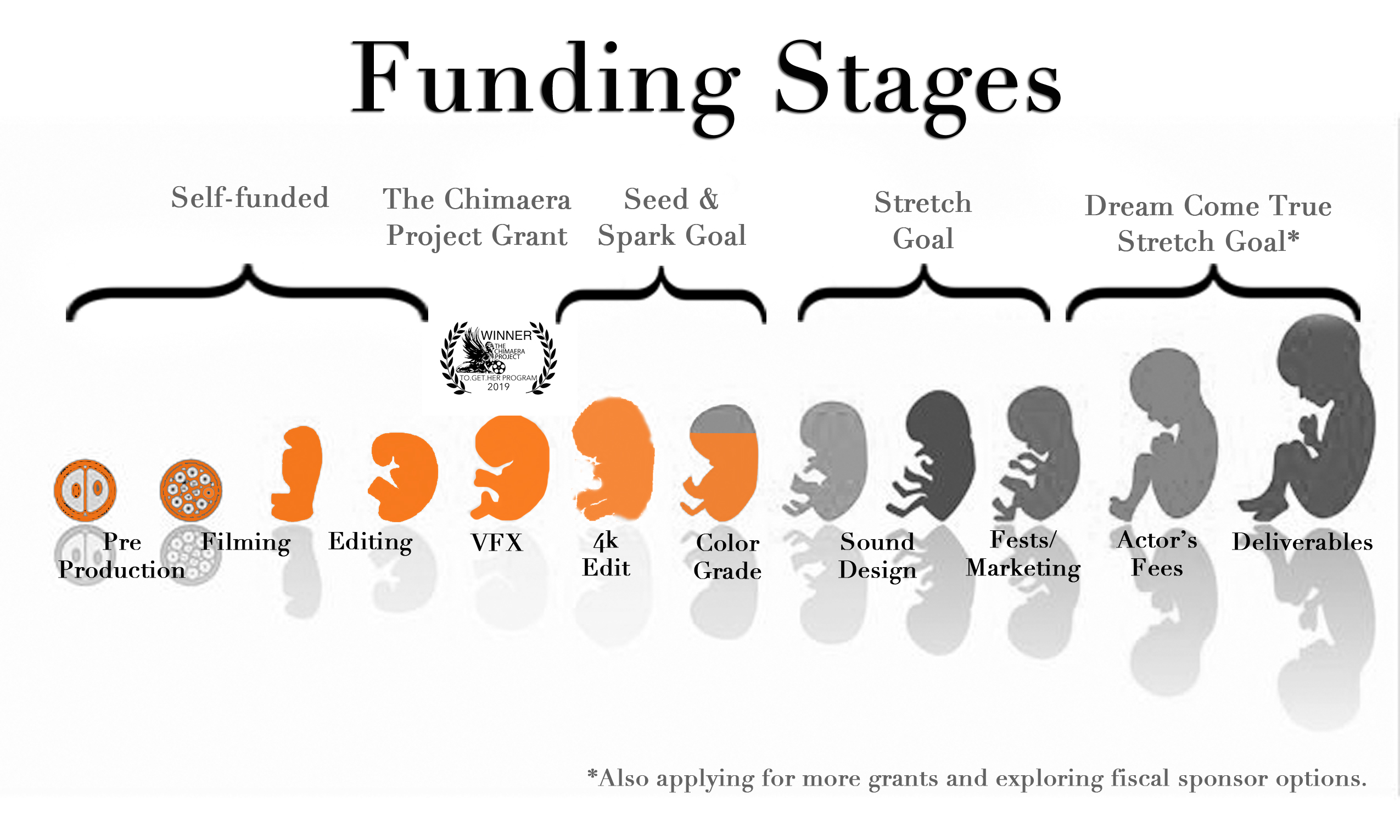 Note: the above campaign was created by/starring a pregnant woman, hence the baby developing graphic.
Some folks hold back until later down the line, when they're actually at the point where the stretch goals come into play. Keep in mind (from a person who did this wrong for years): you should always have stretch goals in mind, even if you don't tell your audience right away. We're artists. We could always use more money, and if you're budgeting rather than picking a crowdfunding goal out of a hat, you should know exactly where you'd put extra cash.
How do I announce/display stretch goals?
If you're not going to lay your stretch goals from the beginning, you have two main options for announcing them (and we recommend doing both).
First, The Story.
Because your Story section is the first place people look to understand what a campaign is really asking for without having to click to a new tab or to watch a video, make sure you acknowledge right up top as soon as you've hit 100% of your goal. Even if it breaks the beautiful layout you've created, you don't want people hopping away from the page once they see you're successful.
You'll want to start with a thank you, perhaps adding a quick dated headline like "AS OF [DATE], WE ARE AT 100% OF OUR GOAL! Here's what we still need."
Then, lay it out. What's the next milestone (either percentage or amount), and what will it pay for? We recommend making the first stretch goal small and eminently realistic, to gain traction. You're essentially launching a second campaign midway through and need to give yourself space to build momentum and excitement.
Second, The Updates.
You'll also need to make sure that when you send out your first celebratory update to your supporters and followers about hitting 100% that you mention next steps. That goes directly to their inbox, and is a vital moment for explaining how your clearly excited crowd can be a part of this fundraising phase. Making new graphics and visuals will go a long way here, along with including copy/paste social media language.
Other options for communicating excitement and stretch goals are a new pitch video (or simply a new thumbnail indicating you're still raising past 100% and an added minute from yourselves in the present updating folks on your success), a renewed social media presence, new special incentives unlocked only after certain stretch goals are met, and a celebratory event (IRL or virtually) that all supporters and followers are invited to.
Got any other examples?
Sure do!

The creators behind the sex positive, consent focused web series "F*ck Yes" sent out targeted updates that included detailed information on their stretch goal, pre-composed language for their supporters to share on social media, and even a lovely thank you video to show their gratitude.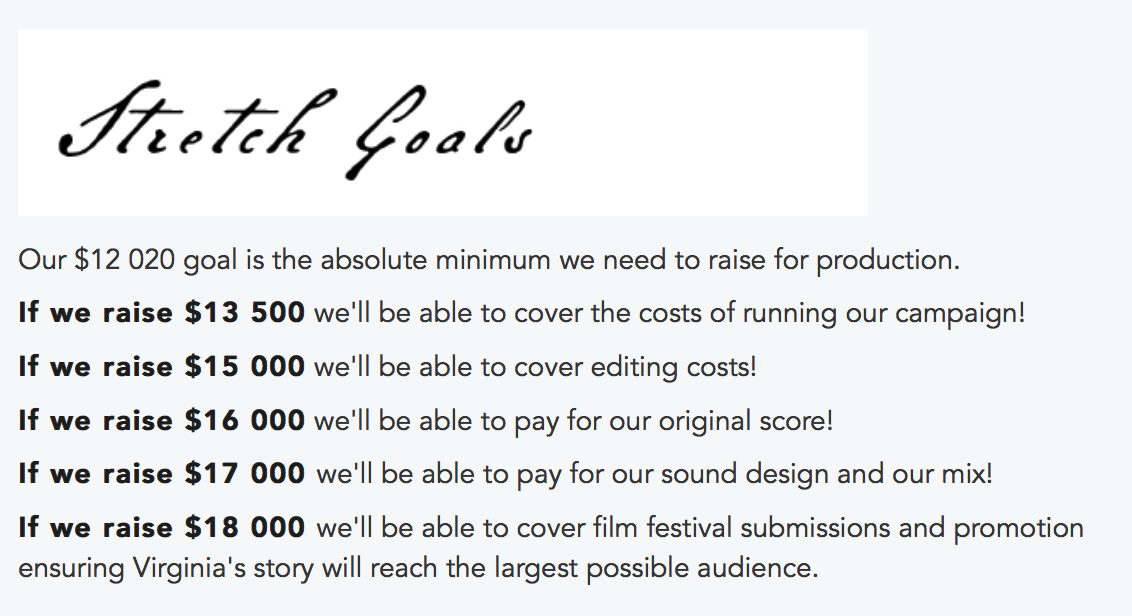 Scroll through the 'Story' section of this campaign to see how the team behind "An Act of Terror" set five distinct stretch goals and broke down how each would help. They blew past all five to raise $18,135!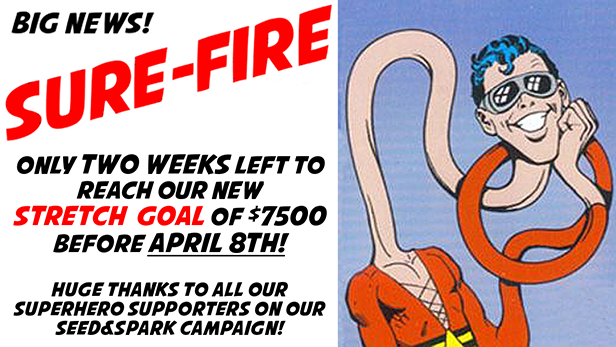 Even if you're mounting a campaign for development and pre-production, a stretch goal strategy can be be incredibly effective. Check out how Michael Goldburg and Dave Chan more than doubled their goal through consistent and clear campaign updates.