Education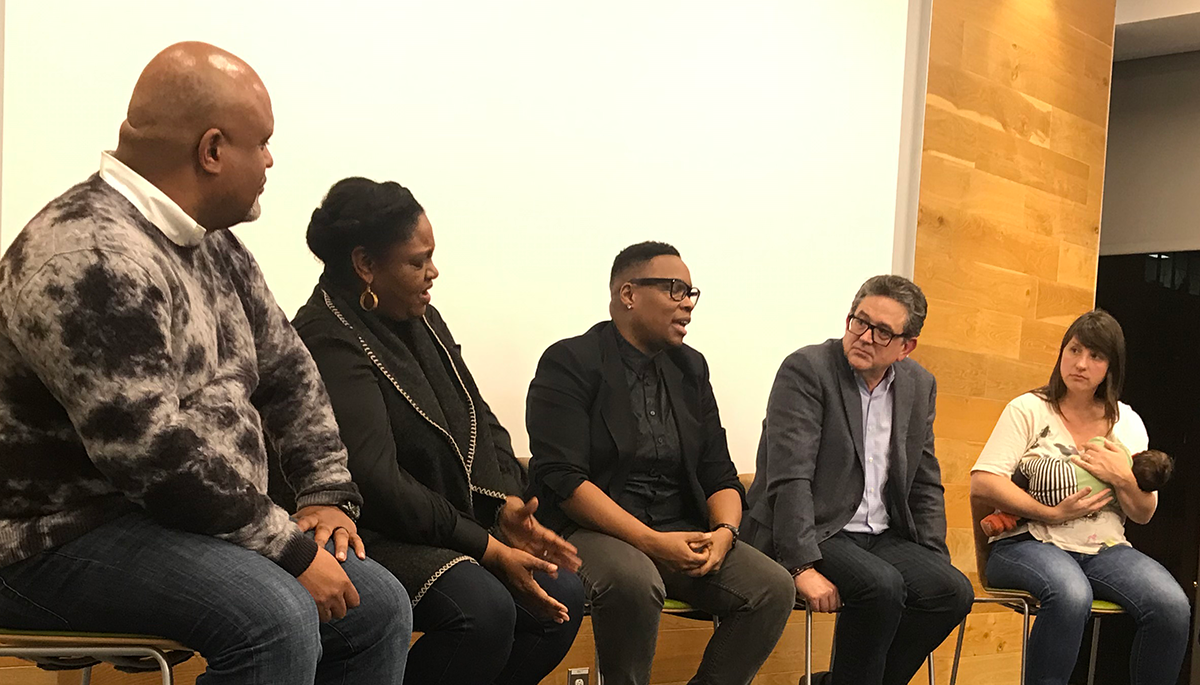 Top 10 Takeaways from the ATL Creative Sustainability Summit
March 11, 2019
Not to burst your bubble, but it's time to get off Instagram and take the rose-tinted glasses off.
Most movies don't make their money back.
That's because filmmakers either lack the information needed to think critically about their marketing decisions or have been cut out of that decision making entirely.
If you want to build a sustainable film business, every move you make must be in the best interest of the peak of your career, not just the one project.
But it's not just about you.
More than anything, your sustainability depends on the strength of the authentic connection between you and your audience. Answering questions about your audience informs the market value of your project which sets your project budget and determines optimal distribution pathways.
To pinpoint the ideal distribution pathway for your film, first ask yourself:
What am I trying to do with this project to advance my path in [

insert long-term goal]

?"

Who am I trying to reach?
Here's where crowdfunding becomes more than just a fundraiser. The audience building aspects of crowdfunding allow you to create a market and test the effectiveness of your storytelling. From interpreting your crowdfunding data (the who, what, when, and where of your contributions), you will be able to make a more honest assessment of the market value of your project.
This brings me to my first major takeaway from the ATL Creative Sustainability Summit:
When pitching, know what you are (to the market) and be able to say it in a sentence.
Be able to accurately and concisely articulate the unique value of your project. This is not easy because filmmakers often get stuck in a mindset of wanting the approval of the business instead of wanting what they need: the approval of their audience.
When speaking to audiences, avoid, comparables: "I have The Next Blind Side but it's the Blind Side with a white guy and a black kid and basically the ultimate thing that happens is that they help each other come out of the closet," said NAACP Image Award nominated writer Sid Powell, pitching her screenplay, Searching For Sunshine.
Using Hollywood comparables without considering the star-power and track record of the talent can lead to misjudgements on the scope of your project and ultimately turn off audiences.

Bottom line.
When you're pitching to audiences, be able to communicate what makes the film different, not what makes it similar.
Be strategic on which festivals you apply to.
Only submit to festivals that can provide what you want.
Every year, first-time filmmakers waste thousands of dollars on submission fees without taking time to prioritize the festivals that (1) are likely to accept your film and (2) offer experiences that will help you accomplish your goals.
With festivals charging submission fees as high as $100 per film, it's important to dedicate a period of time to research and talk to filmmakers on their past festival experiences to determine if it's even worth emptying your bank account.
Some go-to tactics for prospecting are to:
Review festivals' previous year's programming slate to get a sense for what they like

Find films that are similar in scope to yours and identify the festivals those films got accepted to

Identify where the majority of your crowdfunding audience lives and apply to festivals in those cities
Film festivals are not very transparent about the percentage breakdown of films programmed from invitations vs. submissions. Unfortunately, for big name Academy-award qualifying festivals that receive thousands of submissions, the vast majority of their programming are films they invite.
Just remember it's important to hash out your goals and steer clear of high submission fees for festivals that are less likely to accept your film.
All-rights buyers don't pay minimum guarantees (MGs) the way they used to.
When you sell your film to a distributor, the minimum guarantee is the money that a distributor pays you irrespective of how the film performs.
It's also usually all the money you will ever make (because of the ruthless distribution waterfall).
As a consequence of today's digital distribution marketplace, MGs for traditional distribution deals are paying at an all-time low; therefore, selling the rights to your movie is simply not as attractive as it used to be.
In addition to distributors, some SVOD (Subscription Video On Demand) platforms like Amazon Prime Video and Netflix are all-rights buyers.
But...
Netflix has practically stopped offering independent filmmakers distribution deals.
Trash the Netflix dream.
The likelihood of Netflix buying your film is decreasing because Netflix is scaling their original content production to meet the increasing demand for premium content:
"If you're Netflix, how are you going to get subscribers by making movies?... The only answer is one word, scale... So am I going to [choose] a young, cool, independent filmmaker who made something that was interesting and really great at Sundance and spend a lot of resources getting them through delivery and negotiating that newbie through a distribution deal or am I going to [choose] seasoned people who I know can deliver several shows?," said Pinewood Atlanta Studios' president Frank Patterson.
The fee to delivering your film to Netflix can cost you anywhere from $10,000 to $150,000 depending on the level and scale.
Instead of trying to network your way into striking a deal with Netflix, spend that time building your audience and understanding how to market to them.
Even if you get your movie on VOD platforms, without a marketing strategy to drive people there, it won't be profitable.
There's a fee to release on aggregator-based platforms platforms like ITunes, Google Play and Vudu (where you have to pay an aggregator such as Distribber or QuiverDigital in order to release on the platforms).
There are also open source platforms with massive film audiences that don't charge you to upload like Vimeo on Demand and Amazon Prime.
And finally, there are curated platforms like Seed&Spark, Open TV, Indieflix and Black&Sexy TV. These cater to niche audiences and involve an application process. So in order to stream on their site, your film must be selected by their acquisitions team.
Regardless of the platform, unless you have an audience and diversified outreach strategy, good luck getting streams!
Your life making money as a creator consists of many revenue sources.
Sustainability is all about having numerous revenue streams directly linked to how big an audience you have.
As a content creator, you are an experience provider.
Event-based strategies that leverage your connections to libraries, schools, university organizations, community centers and churches are great ways to grow your audience and tell your brand story.
Additionally, if you become a subject matter expert as a result of immersing deep into the world of your film, you can begin to charge appearance and speaking fees to schools or organizations that invite you to come speak.
I have two words for you… DATA RIDER!
When your dreams finally come true and you've landed the Netflix deal, they will not share information on your audience data:
"You do a deal a with Netflix and you have absolutely no transparency into how many people watch it, so when they go to renew your movie or show for a term, how are you supposed to evaluate if they're giving you a fair price?" said Seed&Spark's founder and CEO Emily Best.
You can't.
And since Netflix does not pay residuals on their deals to independent creators (they cut you a check up-front and that's all you get), they're not optimizing for your sustainability.
This is the tragic reality of the movie and TV business.
"We have to start working towards a more sustainable business model in general. In general, our business model is broken. It is ending in a critical mass element where all of a sudden, no one's going to be able to afford to make a show. Crews aren't going to be able to make money. We have to rethink the way this works," said the producer of Selma, Paul Garnes.
"The business moves as a behemoth. It doesn't move agile. It goes in a direction and continues to go in that direction until it stops," he continued.
In addition to the inclusion rider contract stipulation (granting talent more power to negotiate the level of diversity in a cast), a data rider should also be included in the equity conversation.
Audience data is inherently connected to sustaining a lucrative creative career and is useful to:
Effectively and efficiently grow your audience and market to them (

using marketing CRMs like Mailchimp

)

Raise funds (crowdfunding and/or investment)

Prove to distributor/network that there is a substantial audience

Sell and distribute effectively on your own
Challenge yourself to not take the road that everyone else is taking.
"If I want to build a sustainable career in Atlanta today, I'd challenge myself to accept opportunities that don't seem like it's the thing that's going to lead me to the goal I thought I wanted to achieve," said executive director of Marietta City Schools and producer, Tammy Garnes.
"So the road that you think is the one that's not going to lead you the place you want to get, might be the very thing that you need," she continued.
Although listening to independent success stories of Justin Simien and Issa Rae are motivating, trying to replicate their specific pathways navigating the industry won't work.
Since we're competing in an over-saturated market of content creators, the trick is to carve out the intrinsic voice, style and positioning of your storytelling while organically growing a unique audience that connects to it. Then, let those experiences direct your original path.
Great opportunities arise when your intent comes from a really pure place.
CEO of Atlanta Film Partners, Lisa Cunningham, shared how her genuine interest in organizing forums for atypical women entrepreneurs and the urban LGBT community in Atlanta earned her a seat at the Mayor of Atlanta's LGBTQ advisory board.

Her selfless civic-minded actions ultimately led her to score more opportunities in production: "[T]he things that I'm trying to do with branded content, now, because of the Keisha stamp, people like the W hotels are coming to me and saying, 'Hey, can your produce something on pride in Atlanta for us?,'" said Cunningham.
Take inventory about your authentic self and iterate NOW to hone your storytelling craft.
In 2019, you can shoot, edit, publish and receive feedback faster than ever before (with just an iPhone and online platforms). Trying and failing fast will help you get practice at authentically expressing the story you want to tell.
"Tell stories that are authentic and honest to who you are and people will start to notice, because most folks in the world have a real challenge of being brutally honest about themselves," said Pinewood Atlanta Studios' president Frank Patterson.
His parting words encourage you to express your stories in a manner that speaks to your authentic self. For every creative choice, keep asking yourself 'why' to get at the underlying motivation that is compelling you to tell the story until you arrive at the true nature of your intent.
In today's Instagram era, it feels like everyone's a content creator of some sort.
The performative competition for online clout normalizes publishing images that don't capture honest portrayals of who you are and the algorithms reward these posts nonetheless.
Although social media presents opportunities to monitor audiences' response to your image, be mindful of social media as a hindrance to discovering your true storytelling identity.
Ready to start building your sustainable creative career? We got you. Check out all our free resources to crowdfund your independence, build an audience and more.