Seed&Spark Updates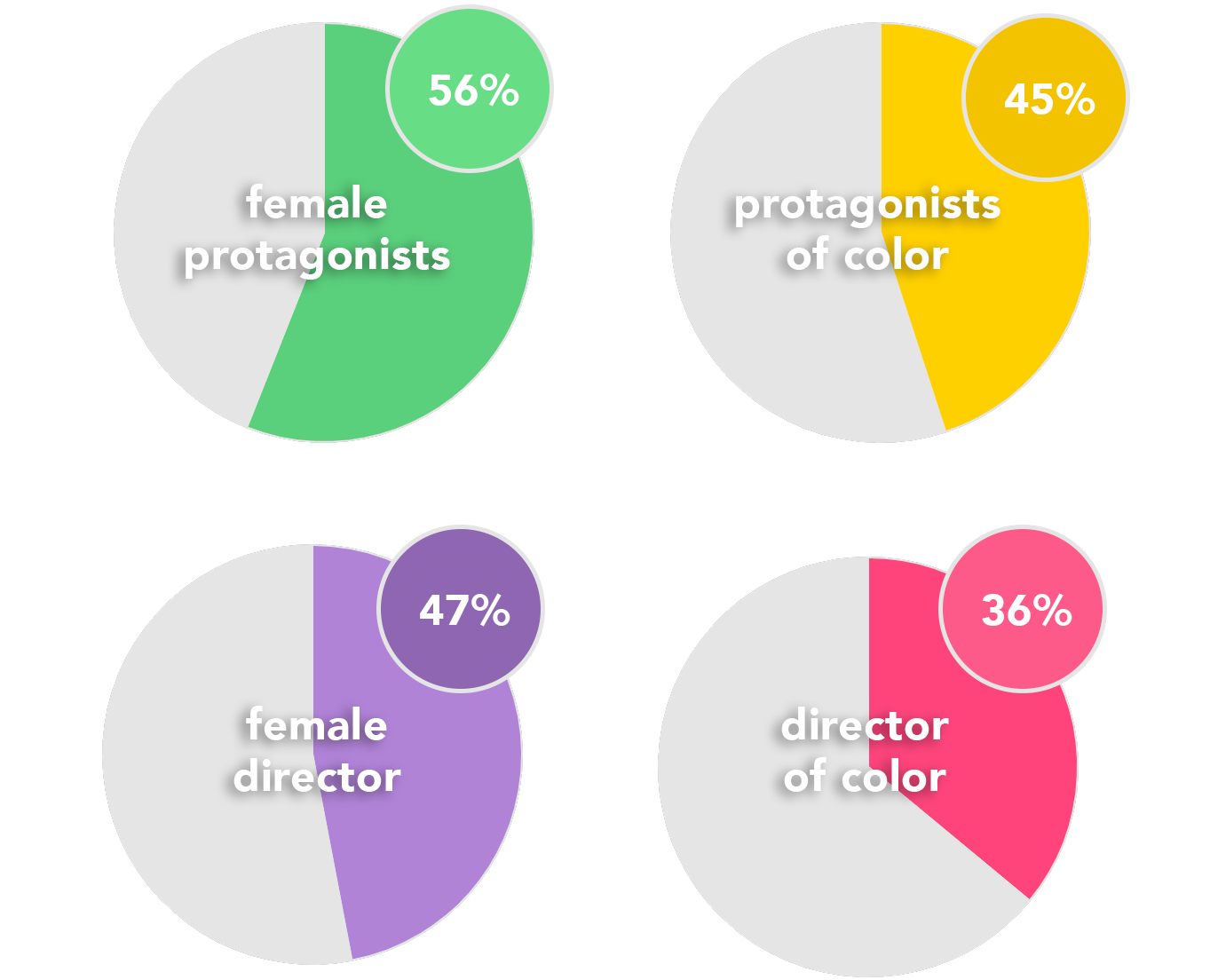 2018 YEAR-IN-REVIEW
January 31, 2019
Seed&Spark is a many-armed (mild-mannered) monster. While some departments grow
the business and keep the lights on, you've probably interacted with one of these:

EDUCATION helps give filmmakers the tools to grow their production.
CROWDFUNDING helps bring those productions to life.
STREAMING puts independent films and series into the world for a whole new audience…

No matter how many arms (or legs) we have, the Seed&Spark team works under one core mission: inclusion and diversity in all aspects of independent film and television.

Here's a quick recap of our 2018:

EDUCATION

In 2018, Seed&Spark hosted 142 crowdfunding and filmmaker education workshops in
52 cities, reaching upwards of 5,000 filmmakers.

The internet has helped filmmakers grow outside major production hub cities, ultimately diversifying the filmmaking community and the stories we tell. Seed&Spark has been working to fortify those communities on their own turf. In our Keep It Colorful tour, Seed&Spark teamed up with Erika Alexander of Color Farm Media. We traveled to Detroit, Cleveland, Philadelphia, DC, Raleigh, and Atlanta to reach more filmmakers of color and discuss the sustainability of independent film in their communities. The event in Compton was our biggest yet, with 800 attendees. And our Chicago event took place at Wakandacon (yes, it's a thing—and it's just as awesome as you think).

Want to participate? You don't have to go anywhere! Take our online Crowdfunding Workshop right now and stay tuned for events near you.

CROWDFUNDING

Our 722 crowdfunding campaigns raised over $6.5 million—That's a $2 million increase from 2017. Together, we could have made The Purge... Instead, we made 223 features, 168 series, 322 shorts, four companies, three music festivals, and two music videos.

A few 2018 campaign shout-outs: Documentary feature Desolation Center is having its U.S. Premiere at Slamdance in 2019. 100 Days of Optimism Winner Pozole will screen at Cinequest in 2019. And we helped raise over $60k for Austin Film Festival's ON STORY project, which promotes diversity in film, television, and stage through their PBS series, PRI radio show/podcast, and printed publications.

Unique to Seed&Spark, Crowdfunding Rallies are a large-scale call for crowdfunding campaigns centered around a common theme, with the support of industry heavy-hitters like The Orchard, WeTransfer, Black & Sexy TV, and the Duplass Brothers. Our 2018 Crowdfunding Rallies raised $1.5 million, with hundreds of thousands of dollars in prizes awarded.
100 Days of Optimism

celebrated filmmakers who make a case for optimism in their work, presented by WeTransfer and Bow+Arrow Entertainment.

Winners:

The Book Keepers

,

Looking for Leia

,

Scab Vendor—The Life and Times of Jonathan Shaw

,

Pozole

. Scab Vendor

received $35,000 in support from Bow+Arrow Entertainment and $150,000 in marketing support from WeTransfer. Other winners received a total of $40,000 in grants and $550,000 in marketing support from WeTransfer.

Communal Nightmares, for innovative, poignant, eerie genre stories. Presented by 3311 Productions and The Orchard. Winner: Maiden received $25,000 and a first-look distribution deal from the presenters, as executive producers.
Hometown Heroes, presented by Duplass Brothers Productions, Salem Street Entertainment, and UnLTD Productions, for hometown-centered stories. Winner: Thunderbolt in Mine Eye received $45,000 from the presenters, $5,000 in video storage from G-Technology, $999 credit from Endcrawl, and a $2,150 production training session from AbelCine.
Keep It Colorful for series/episodic work by creators of color, presented by Black&SexyTV and Color Farm Media. Winners: Pink and Black Girl Training. Pink received a $10,00 grant and development deal from Color Farm Media. Black Girl Training received a $15,000 grant and development/production deal from Black & Sexy TV.
To top it off, our 78.3% success rate still wallops Kickstarter, Indiegogo, and GoFundMe. And we've become an international enterprise with new crowdfunding capabilities in Canada.
Special thanks to Shutterstock, G-Technology, Endcrawl, Storyblaster, and MailChimp, all of whom made it possible for us to bring this programming, free of charge, to filmmakers everywhere.

STREAMING

True to the mission, the films streaming on Seed&Spark champion diversity in front of and behind the camera. 56% of our films have a female protagonist; 47% have a woman at the helm, as director. 45% are led by a protagonist of color; 36% are directed by a person of color. 50/50 by 2020 indeed! Check out the demographics for our streaming titles:
We added many familiar faces this year: some in front of the camera, and some behind. Partnering with Comedy Dynamics, we now have comedy specials from Janeane Garofalo, Cameron Esposito, and Dan Levy, among others. Behind the camera: Check out Robin Wright's directorial debut, The Dark of Night, only on Seed&Spark.

Seed&Spark is a platform for filmmakers, by filmmakers. 14% of our titles are crowdfunded through Seed&Spark, and many of our staff members stream films with us. CEO/founder Emily Best and chief design officer Blessing Yen produced sexy consent series F*ck Yes. The feature that "sparked" Seed&Spark, Like the Water, was also produced by Emily. Streaming operations manager Puppett directed LGBTQ comedy romp Wedlocked. And Chandra Wilson (of Grey's Anatomy) stars in crowdfunding specialist Brandi Payne's family drama Muted.
This year, Seed&Spark also produced its first original series, Everything is Fine!, a standup series championing comics you need to know, who could collectively clean up standup's act with their diverse, progressive perspectives. The series has drawn in more subscribers than any other title, which helps all our filmmakers.

WHAT WE'RE WORKING ON IN 2019

The business of film has gotten even more complicated this year. We know there's still work to be done in our mission to help filmmakers build sustainable careers. In 2019 we'll be adding a comprehensive distribution workshop to help give filmmakers the tools they need to succeed in the modern marketplace.

At the same time, we're going old-fashioned. Seed&Spark is about community, which—as you may have seen in a Facebook political chat—might not be the internet's strong suit. We're applying what we've learned from this year's educational and crowdfunding events to streaming. We're making a commitment to see you. In person, where you are. Starting with an event in Atlanta. Stay tuned!

Looking forward to another year of growth with you.