Film Crowdfunding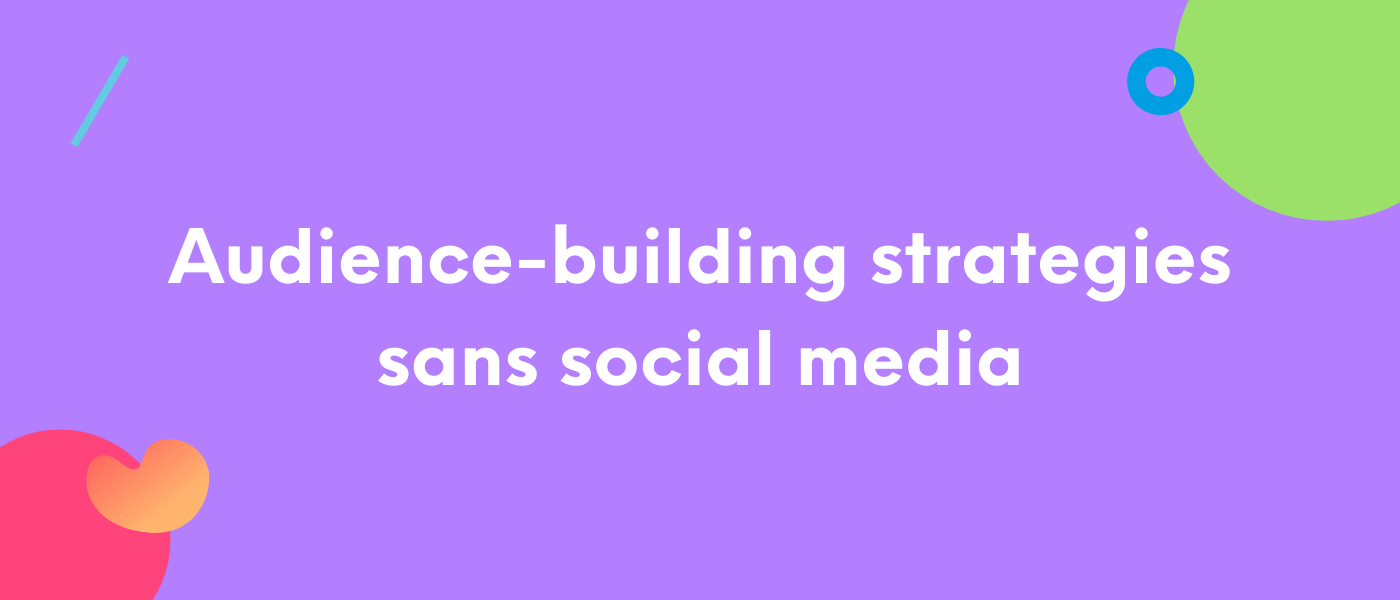 Audience Building While Social Media Cleansing
April 29, 2020
Social media got you down? Do you find yourself deleting apps off your phone in the name of self care? Worry not — crowdfunding and audience building are still absolutely available to you. You'll just need to get a bit more creative, and, in some cases, a little retro. Let's dig into ways to get social off of social media:
Reinvest in email
Is this an opportunity to reshare our email list building blog (that now includes the livestream we did on the same subject at the bottom)? Yes. Is it true that email converts 20-30% to crowdfunding contributions while social media converts a measly 1%? Also yes. Email and direct outreach is where it's at, folks!
Instead of planning a series of social posts to promote to your crowdfunding, focus explicitly on your email list and direct contacts, making sure not to overwhelm them. You can post to Twitter 10 times a day without being annoying, but the same is not true for a personal email. Writing great crowdfunding emails is an art, and you can definitely have too much of a good thing. Don't just write smartly — send smartly!
Start a newsletter
The power of social media isn't the super slim and uncontrollable odds of going viral or converting followers to funders (see the above 1% stat). It's in maintaining an ongoing connection to and relationship with your audience in between asking them for things. You can accomplish the same with a regular email newsletter. Pick a frequency that works for you (weekly, monthly, quarterly, or something in between) as long as it's consistent and not adding noise to your audience's inbox..
But what kind of email newsletter? You'll probably end up with a combo of the following:
Production updates

. The classic independent creator newsletter — share what you and your team have been up to lately! Have you won a contest or gotten into a film festival? Has one of your actors booked an exciting new role, has your bassist started a solo music project, or did you get a new piece of press about your work? Include it!

Thematic curation

. A newsletter for people interested in a particular topic, genre or subject matter (that just so happens to be the topic, genre or subject matter your eventual project will be about). We're talking things like a monthly review of indie folk music releases, a weekly roundup of LGBT news from around the world, a quarterly reflection of what's new in horror. Get specific and niche.

Interviews

.

A regular series of interviews with people (perhaps other creators in your topic/niche) you find fascinating. This will encourage folks featured to not only subscribe themselves, but forward the newsletter to their own networks. If you archive the interviews on a delay (perhaps a week or month later) on a website, all the better! And once your own project is getting launched, interview your cast/crew/teammates/collaborators as a way to self promote while keeping with your usual tone.

Creative solidarity.

Perhaps you're more of a leader than a follower — instead of curating content other people have posted or sharing solely what you're making, the community you want to speak to are the DIY-ers. Design a newsletter where you offer inspiration to fellow creatives, like writing sprints, video challenges, musical or doodle prompts, then share the results of that inspiration in the next newsletter. Not only will you build an engaged audience, you'll cultivate a community of creators (who love supporting other creators!)
Press on with press
You don't necessarily have to be on social media yourself to get shouted out on social media. When it comes to being shareable, press can be a major step up in terms of your visibility.
Getting press for your project, whether it's a feature, an interview or a review, lends credibility, even if the outlet or podcast is small. When someone who doesn't know you chooses to give you attention, that speaks volumes. This post I wrote for Stareable is full of tips and tricks for nailing a press release, and if you're wondering who to send it to, this audience building guide gives you a trusty research method to level-up your Googling.
Get out!
*Obligatory acknowledgement that this post is being written mid-pandemic*. In the Before-Times, though, and hopefully in the Future-Times, there were these things called "real life events" where people would attend performances, networking sessions, screenings, concerts and more in large groups of people, where you have access to tons of folks with common interests all in one physical space. Reckless as that may seem right now, it used to be a frequent passtime!
When the health and safety of the global community allows for it again, go out into the real world. Attend events and meetups where your audience (the one you identified with our help) is most likely to congregate, and make some introductions. Practice your pitch (aka your quick but passionate and descriptive explanation of your idea) with as many new friends as possible, and refine your icebreakers.
Websites like Meetup.com can help you find organized events around particular interests, and joining local Facebook groups can do the same. You should also pay attention to local film festivals and screenings (especially when they're screening content similar to yours), live performances for music and podcasts in your niche or audience interests, and other community-oriented gatherings you can find by checking out your local paper.
Schedule from a distance
For most people, social media is at its most toxic when you're active on the feeds themselves, but there are tons of more detached tools you can use to maintain a presence without having to fully engage. Buffer, Hootsuite and Tweetdeck are all tools you can use to post and schedule content on social media while staying safely off-platform.
Of course, this isn't going to be the most effective use of social media, because you're essentially fully posting into the void. You aren't engaging, you aren't starting or joining conversations, you're just making declarations to a community you aren't around to cultivate. Generally, that's not best practices, but sometimes it can't be avoided.
However, if you decided to go with this posting method, these recommendations make a world of difference:
Only use social media for your prettiest, most polished announcements

. Treat it like a mini-newsletter where people can scroll through to see the chronological outline of your project's greatest hits

Learn your hashtags

. Actually do some research into that social platform's most common and popular hashtags so that you at least have some chance of catching the internet's eye

Focus on imagery

. Posts without a GIF, image or video (native video, uploaded to the social platform itself, is best) get lost in the shuffle. Make your imagery distinct, on-brand and memorable.

Don't tag anyone

. If you aren't around to engage, it just looks like you want attention for nothing in return.

Add a social follow CTA to your initial email outreach

. That way, even if someone doesn't pledge right away, you have the chance for them to be reminded you emailed them on social media (which, frankly, is how social media is best used mid-campaign anyways).
Social media is definitely not necessary to run a successful, memorable crowdfunding campaign that builds an audience. But the absence of social media doesn't mean the absence of social — audience building relies on communicating with your audience, and attracting new audiences to be communicated with. So get out there (safely) and start telling your story.