Film Crowdfunding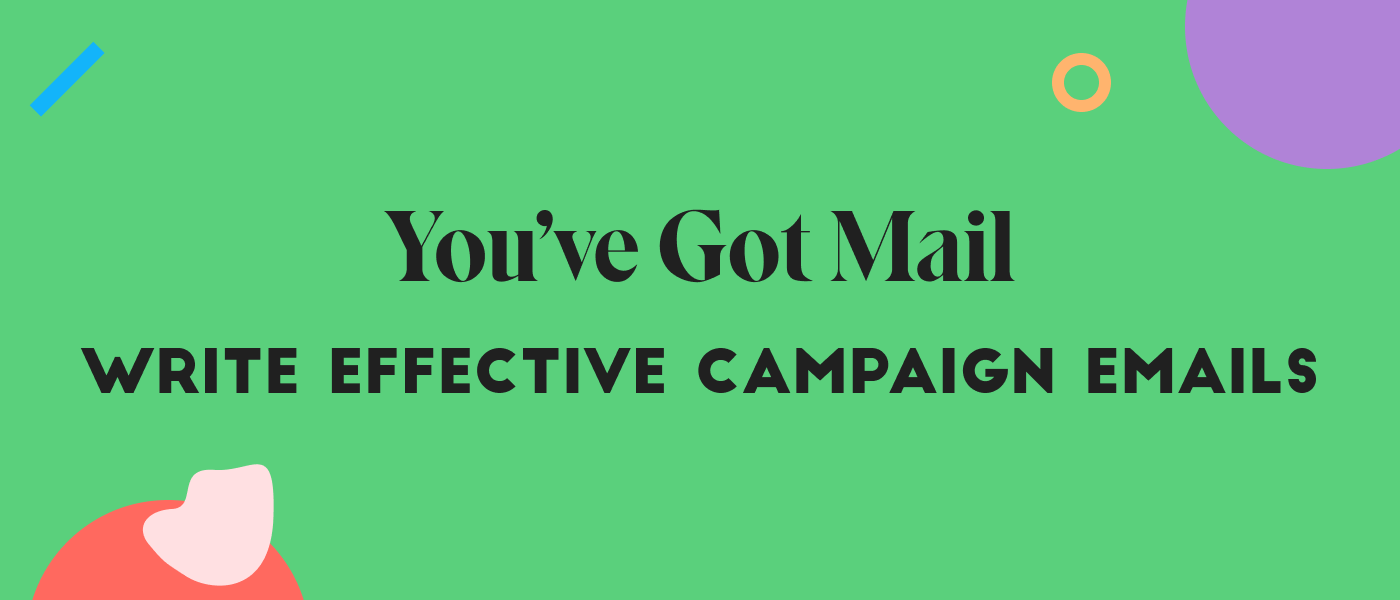 Writing Great Crowdfunding Emails
April 20, 2020
We've talked audience building, we've talked building your email list, but today we talk about the actual dang email!
Great emails (especially where you're asking for money) are all about balance: they need to be concise and to the point while also including information and a clear call to action and avoid being overly transactional. You'll probably have 2-3 slightly different email templates per crowdfunding campaign: one for family members who aren't great with technology, one for friends you see regularly, and one for everyone else. Today, we're discussing the base template that you adapt into those three, to save you time during your crowdfunding outreach phase so you aren't constantly reinventing the wheel.
Remember: emails convert 20-30% into pledges, whereas social media shares convert only 1%!
I did the math from my last campaign- my email outreach was 20% successful in getting pledges, whereas my social media outreach (where I posted to more people, more frequently) was .7% successful. Email was 186% more successful than social media, and I'm a person who spends a lot of time on social media. And remember- it only counts if it's a personalized, one-on-one message, not a mass BCC.
Section 1: Small talk smartly
Never start a crowdfunding email getting straight to the point — that'll just make the message seem transactional and impersonal, which are the worst possible associations. Always make sure you're not paying lip service; you should actually genuinely mean what you're saying and/or care about the answer to the questions you ask. Say hello to their new baby, ask after their new job, etc.
Ex. Hey Bri! I hope you're well. Played any DnD lately? I was thinking of you recently because I just built a new Gloomstalker Ranger character named Brea Shadowbow and I think you'd love her. Chaotic neutral, of course.
When you're emailing people you don't know as well, it's fair to acknowledge that, and to treat this section more broadly as an introduction/reminder to where you met.
Ex. Hi Bri! I don't know if you remember me, but we met last year at Northern Horror Fest — I really loved your web series Brains, and we chatted a bit after the screening about our shared adoration of found footage narratives.
Section 2: Hit 'em with your thesis statement
If they read no further, this section gives them the information they need to act. Tell them (briefly!) about your project , the fact that you're crowdfunding (link it!), and express your hope that they join you on this journey. Don't get bogged down in the details here — this section should be no more than two sentences.
Ex. I'm reaching out because I'm the co-writer and director of the upcoming short film Buy In, an award-winning psychological horror thriller about lies, desperation and multi level marketing schemes. We're crowdfunding to finally release the film, and I'd love for you to join us.
If you'll notice, I linked the crowdfunding twice in the above section — once on the title and once on the word "crowdfunding." This way, if they're interested in hearing more about the film or they're already on board to give me money, they're directed to the right place.
I also made sure to indicate my roles on the project. This is especially important for people writing emails who aren't in the film itself; for Buy In, a real film I really crowdfunded, my role wasn't in front of the camera so I'm not in most of our screenshots or BTS images. As such, I needed to make it clear early on (particularly to family members) how I was attached to this project, since my face isn't all over the promotional imagery.
Section 3: Reveal 'what's in it for us?'
The next thing I like to do is offer a preview of some of the things an audience member might get by pledging. For most campaigns, this is your incentives. I pick 2-3 different incentives I think will appeal most to the person I'm emailing (remember, you'll ultimately have 2-3 different versions of the same message) and make a quick list for them.
Ex. If you want to get involved, you can even claim a cool reward. My personal preference is the $25 incentive:
Wink: $10

supporters receive a secret email surprise (They won't even tell ME what it is!)
Salt: $25

supporters receive the secret email surprise as well as a signed foot or nose photo from the cast or crew! (It makes sense if you've seen season one.) (It makes more sense, anyway.)
Stevia: $50

supporters receive everything above as well as a copy of each episode's script the day that they're live on SeekaTV. (And thus are privy to all the secret jokes in the action parts of the script that weren't funny enough to be dialogue.)
Notice the careful bolding to help break things up. Use bold/highlighting sparingly but strategically to break up large blocks of text and get people to focus on the most important information in your email.
Section 4: Give a gracious way out
Of course, not everyone will be in a financial position to support you on this journey yet still want to stay involved. Give them other ways to help, like following your campaign, sharing a pre-written message on social media, or offering in-kind support through loans.
Ex. If you'd like to support us but just can't afford to support us monetarily, that's okay! (Really!) Here's what you can do instead:
Share

the following on your social media:
Help @_undeadburrito_ and a group of diverse independent filmmakers by supporting the psychological horror project #BuyInFilm on @seedandspark! Join them here: seedandspark.com/fund/buy-in
Check out our wish list

- if you have access to one of the items or locations on our list, or want to make us lunch for one of our days of production, click the 'loan' button on that item and offer us in-kind support!

Forward this email

to anyone you know that might enjoy our antics! Particularly any friends you suspect may be secret millionaires… we all have one.
Section 5: Sign off strong
Nearly there! The last thing you need to do is offer a final word of passion, so they know how important this project (and, therefore, this crowdfunding campaign) is to you.
Ex. I've been working on this project since late 2016, and as it's my first foray into drama rather than comedy, I'm pretty excited for you to finally see it! I hope you'll join us and enjoy the ride.
Ah, see what I did there? At this point in our example email, I've linked to the crowdfunding campaign in six different places in keywords that make it clear the benefit of clicking for the audience. To recap:
The first time the film's name is mentioned

The first time "crowdfunding" appears

When I mention supporters can claim a reward for their pledge

When I mention they can follow the campaign instead of giving money

When I added it to the social media language they can easily copy-paste

When I mention they can loan me an item or service instead of giving money
The goal of this message is to get people to go to your campaign page, where you have materials that will knock their socks off (we've got you covered on all the best practices for that, of course). The more opportunities you include to get them to your campaign page, whether they're ready to pledge right away or they read on to see what's in it for them, the more likely they are to actually click and pledge.
One last step: actually send the emails
I personally use a Google Sheets plugin called Yet Another Mail Merge to manage my email outreach (and highly recommend it!) but regardless, when you send out emails is just as important as how they're written. A few tips:
Don't email everyone on the first day

. Just send emails to the 20-50 people you're most confident will contribute. That way, your campaign page will have some visible momentum when new people hearing about it for the first time (and you're less confident in) see it.

Make sure you're taking time zones into account

— an email sent at midnight or 6am isn't likely to be read. Try to send emails right when someone is getting to work (or finishing dinner),

when they're more likely to read it and be able to act upon it

.

Don't mass BCC people

. Otherwise, you may as well be posting to social media. You can't personalize small talk if you're talking to an entire group of people!

Follow up no more than twice total

if you don't hear back. My general pattern here is I'll follow up via email a week after the first message, and then again the last few days of the campaign. In follow ups, you really just need Section 1 & 2, signing off with an update on how well the campaign has done so far.

Ex. In one week, we've already managed to hit 32% of our total goal, and we're going to need your help to get us to the finish line. Best, YOUR NAME
Remember, because I can't stress this enough: emails convert 20-30% into pledges, whereas social media shares convert only 1%!
Don't waste this opportunity to make a genuine connection. Make a personal, direct plea, and you'll see the effects immediately.