Film Crowdfunding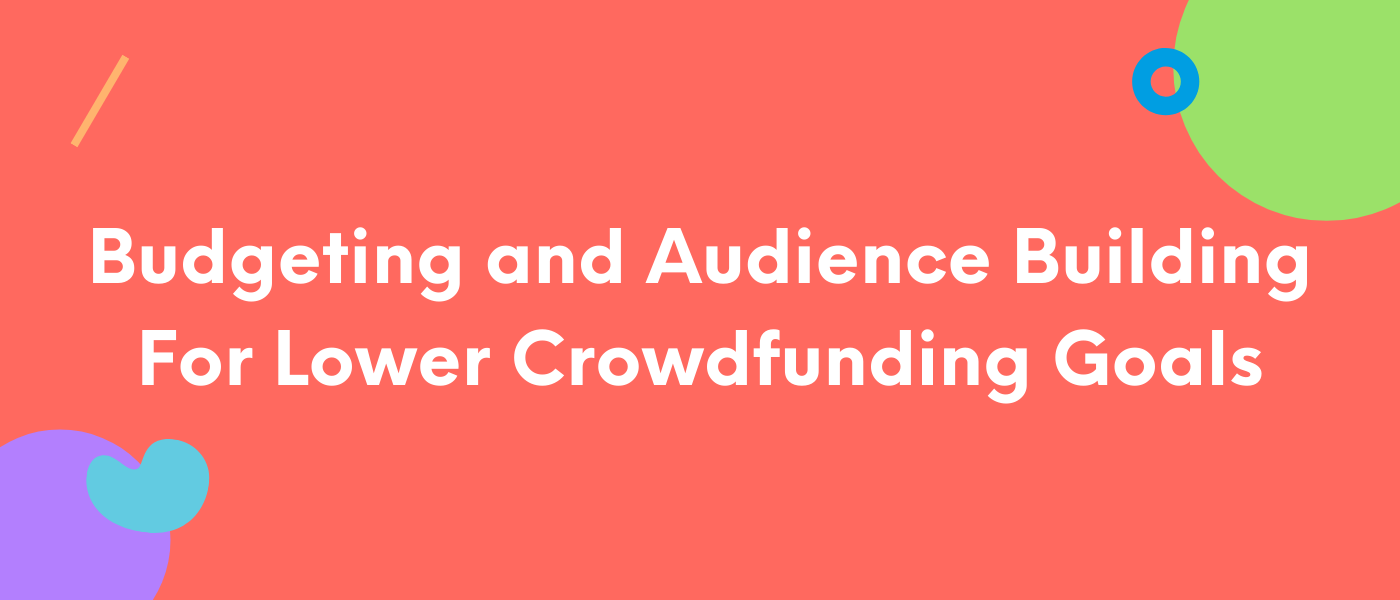 Every Cent I Spent Of My $700 Crowdfunding Goal
June 25, 2020
We frequently get the question, particularly from first time crowdfunders or student artists, "is my budget too low for crowdfunding?" Our answer: not if you're doing it right! Remember, crowdfunding done best is audience building first, fundraising second, and if you want to get used to the process and use crowdfunding primarily as a marketing scheme, a smaller goal can go a lot further than what's deposited into your bank account.
As such, today, I wanted to actually walk you through the budget for season 2 of my web series Sam and Pat Are Depressed, which I crowdfunded for on Seed&Spark in 2018, my first Seed&Spark campaign run for a project I created! Prior to this campaign, I'd sworn off crowdfunding entirely. Then I interviewed my now-coworker Christina Raia for a podcast, and within that one hour conversation she'd shown me the error in my thinking. We'll walk through exactly what Sam and Pat Are Depressed asked for, exactly what we paid for, and how even our modest initial goal allowed us to successfully audience build for our project.
Also, if you're curious, I've written about my own budgets before, featuring the results and pitfalls of my disastrous first attempt at crowdfunding back in 2015 for my first web series.
First, the total numbers:
Crowdfunding goal: $700
Actual amount raised (after fees): $1,658.78 (253%)
Actual amount spent: $1,395.48
Amount leftover: $263.30
See the full spreadsheet here.
For literally the first time in my filmmaking career, I turned a profit on a project. Granted, this was an all-volunteer project designed to be produced cheaply and quickly, but I'm still enormously proud of what we managed to turn out. Let's look at my six categories of spending, what decisions were made, what mistakes were made, and what I'd do differently, if anything.
Craft services | $472.72
No matter how long you're shooting, how professional your set, or how much you're paying people, you must feed them. And not just a square meal and coffee in the morning; you're also gonna need snacks for midday munching. I had a crew of four people (director, DP, sound/producer, AD/producer) and a main cast of two, with one external guest star. We shot four 8-hour days in a single location (my apartment), and I spent $336.48 on lunches and $136.24 on snacks. Because our group was so small, I chose four local restaurants from Seamless, sent the crew the menus the week before production, and gave the orders to the AD to put in about an hour before lunch break every day, which saved a ton of time on set and ensured that food was roughly ready when we were ready to turn on the AC and sit down for a little while. For snacks, we had a variety of granola bars, fruit snacks, and chips, all of which were on our original Seed&Spark wish list – thanks for the chips, Garrett! It was fun for the audience to know exactly what they were putting in the crew's tummy, and what they were able to personally sponsor.
Craft services is consistently one of the most expensive parts of filmmaking, and the hardest to coordinate on an indie set where all hands are on deck up until all hands are on break. For larger sets, I kept costs down by buying individual sandwich fixings (bread, meat, cheese, veggies, condiments) and letting people build their own on break, but for such a small set, in an already small space (my New York City apartment), it was easier to order-in and give people a bit of a variety.
I don't have a lot of advice for this section, because every penny was worth it. We shot two weekends back to back, with every teammate also working full-time during the week, and we needed those Gushers, damn it!
Equipment $281.86
Weirdly, equipment was our second largest budget item for this season. I say 'weird' because all our camera and lighting equipment was loaned to us by our season 1 DP, who didn't come back for season 2 because he'd decided to go to med school instead. I also already had a Zoom H5 mixer because I produced and hosted that podcast I interviewed Christina on. This budget item came down to literally three items: 2 external hard drives, batteries for the sound mixer, and lavalier microphone rentals.
We got our first weekend of mics free, loaned to us from a sound technician friend who couldn't join our set but wanted to help out because he liked us and the show. Then he helped us find a cheap rental house to get comparable mics for our second weekend. Our show is primarily two actors (myself and my co-EP Chris Cherry), which definitely kept the rental price down, and the two moments where a guest character had a line we used my podcast's directional microphone placed just off camera.
Sourcing equipment from fellow filmmakers (perhaps using the Seed&Spark loan function) is absolutely the best way to keep equipment costs down; many people in your network already own most of what you need, or can give you advice on how to source it affordably. Plus, your DP may end up going to med school, meaning you inherit literally all of his equipment! I still use his LED light for at-home webinar lighting.
Festivals | $201.75
Film festivals have long been my weakness. It's easy to submit to one here, one there, and then all of the sudden discover you've spent a full paycheck over the course of a few months. I restrained myself a bit, having learned some of my lessons from my first web series, and actually came in remarkably close to the $200 I'd set aside once we hit our first Seed&Spark stretch goal.
In total, I submitted Sam and Pat Are Depressed (season 2) to 8 festivals, for an average submission price of about $25. Of these, two are still undecided, we were an official selection at three, and were not accepted into three. We didn't actually get to attend any of these festivals, and if I'm being honest, I'm not entirely sure what the point of submitting was. We'd won a small award during season 1 from a seasonal festival that allows us to call the series "award-winning" in marketing materials, but none of our online success has come from festival inclusion (probably largely because we were always in it for the laurels and cheap submission fees).
If I were to do it again, I wouldn't have submitted to any festival I wasn't planning on attending (hard to audience build when you're MIA), I would have done more strategizing about which episodes to submit (airing order isn't putting our best foot forward), and I would reinvest the money saved into production and marketing. Starting online conversations for free on social media about asexual representation and mental health was where our audience-building success came from, as it turned out.
Transportation | $174.16
On my first web series, transportation was the highest cost, since that series had multiple locations around Brooklyn, a lot of props and production design to lug, and no one owned a car. For Sam and Pat Are Depressed, I made a very conscious decision to design a show around a single location, relying on fun camera moves and prop gags over the beautiful backdrop of Prospect Park.
For this web series, our transportation costs came when transporting equipment from our Upper West Side-based DP's apartment to Brooklyn and getting our new Harlem-based DP to Brooklyn the first and last days of set (when he was transporting equipment as well). We lucked out in that our season 1 DP ended up not taking his equipment back, saving us an additional $60 and a trek with hundreds of pounds of equipment up to his 6th floor walkup.
Props/ Production Design/ Wardrobe | $190
This is the section of our budget most prominently featured in our Seed&Spark wish list, and most clearly allowed us to entice and amuse our audience. Sam and Pat is a show centered around two depressed roommates who do take turns performing wacky, continuity- and logic-breaking prop gags while the other muses on a therapy or mental illness observation. As such, props are a major part of our script breakdowns. This season, we needed things like…
150 Easter Eggs ($14.95)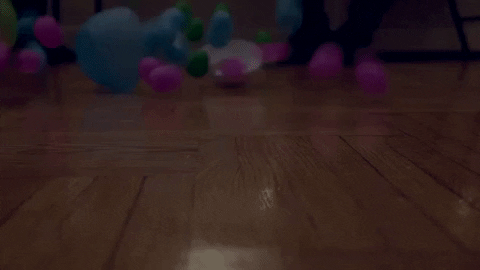 A fake mustache set ($7.99)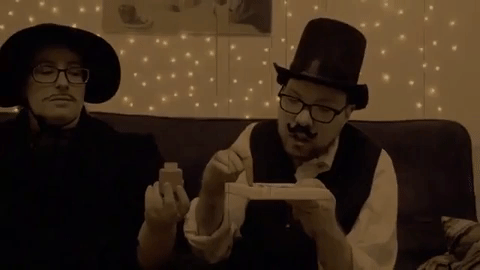 Ping pong balls ($3.99, though we budgeted for $8)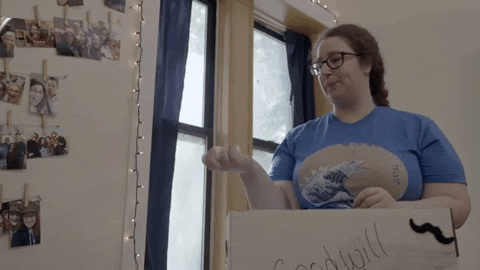 Our initial crowdfunding goal ($700) was only meant to cover props, a new external hard drive (we needed 2 in the end), and food, and because we'd pre-researched the average price of every individual item on our script breakdown, we paid pretty much exactly what we expected except in the few cases where we found a deal or the price had changed slightly since our initial research.
Getting super specific with our wish list here also allowed supporters with less disposable income to feel like part of the show- one item on the wish list was a $1 measuring tape prop, used in season 2, episode 3, and was purchased for us by a supporter who loved the first season but didn't feel like a contribution they could afford was going to be valuable. When we pointed to this wish list item, though, they got to join the wild ride of our silly campaign and see their contribution concretely on screen during that episode (see screenshot below- thanks again, Kallum!)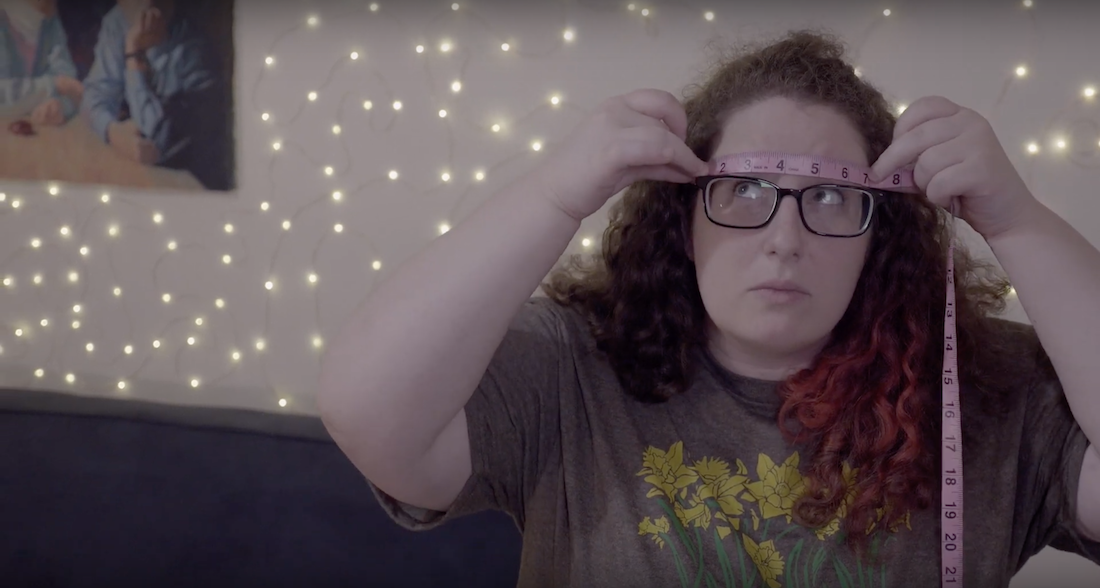 Marketing | $74.99
We spent $10 to boost the Facebook native video upload of our Seed&Spark pitch video. Apparently, we reached 808 people, there were 11 link clicks (to the crowdfunding campaign) and 503 video views, and as far as I know, not a single person gave money as a result. I wish I'd known then how badly social media shares (let alone social media advertising) converts to crowdfunding contributions (particularly when compared to emails), but at least I only wasted $10.
The other "marketing" spends in this category were materials for the 6 hour live stream my team put on for the final six hours of our campaign, which frankly did more to raise our profile and drum up last-minute support than our Facebook ad. The money was spent on a copy of Jackbox Party Pack we streamed ourselves playing and art supplies for my co-EP Chris Cherry to paint my portrait with input from the audience. We had people contribute a few bucks at a time for a variety of live-streamed rewards, including influencing Chris' art, getting us to read fan fiction of our show out loud, and allowing me to belt Flagpole Sitta in the final few minutes of the campaign. We spent more than intended on this livestream ($40 for art supplies, Chris?!) but luckily, our antics resonated, and we made over $250 in those final hours.
Final thoughts
If we bring this show back for a season 3, and we hope to, I suspect my largest budget line will be cast and crew. I'm no longer in a position, three seasons into a web series, to pretend that this is a passion project. We're all media professionals and deserve to be paid our worth. But I've learned a lot over the years of reflecting on my production budget, each time getting smarter and more specific about what needs cash and what just needs some ingenuity and elbow grease. Also, if anyone knows how to get free food on set, please let me know.
Money is great, and pays for a lot of great things, but the most important thing we got from this crowdfunding campaign was project awareness and now lifelong fans of the show and our work in general. It's never too early, or too little money, to launch a crowdfunding campaign.