Distribution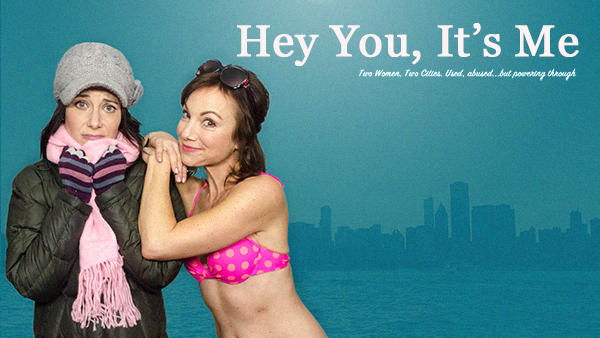 Filmmaker Spotlight: Suzanne Schmidt
June 23, 2017
Time to peel back the curtain as we sit down with the Suzanne Schmidt, creator, writer and star of Hey You, It's Me to talk about making a series, female-led storytelling and the power of a good voicemail. 
Tell us how Hey You, It's Me came about.
Suzanne Schmidt (SS): When I moved back to LA, I left my best friend Christie, who was pursuing her comedy career at Chicago's 2nd City. We shared so many voicemails over that first year, ranging from hilarious to heartbreaking. We are both rapid talkers and we both seemingly see no need for segues. I would often listen repeatedly to a voicemail from her and just laugh and laugh. I was already looking for a way to work with Christie again, and this idea struck me as fun, different and doable. 
You and Sam are both actors, working in what can be a brutal city (Los Angeles). How much of her character and journey mirrors yours, and where does art not imitate life? 
SS: While Sam does not mirror me precisely, most of her journey is inspired by my life or stories I've heard from others. For this series, when I hear, see, or experience something tragic or funny I think, what's at the heart of that and how can that truth be made funny?
Your career has been both in front of and behind the camera in a mix of series and features. How did this experience prepare you for creating (and starring in) a series of your own?
SS: Each time I have been on set, I feel like I learn something new. Usually, I'm learning from the seasoned filmmakers around me, but I also learn from observing how each team addresses its unique challenges. Perhaps I'm not experienced enough to say this with certainty, but I believe there are always challenges in any production. I have found that with a supportive team, those challenges can stimulate the most exciting creativity. I knew going in that a great team was key and I feel that we assembled just such a group.
As for lessons in storytelling, I feel the script analysis work I've done in my theatre training was invaluable. That's where I really learned to pick apart forms of narrative, character choices, and dialogue. I feel that the more we expose ourselves to the work of great storytellers throughout history and around the world, the more we embrace the possibilities of diverse storytelling. That's exciting to me.
After funding, producing and distributing your first season, what advice do you have for someone just getting started?
SS: Organize your shoot to the minute and then be flexible two things changing unexpectedly. Always have a Plan B And C. Budget twice as much time and money for post-production that you think is necessary. Absolutely do not be afraid to ask for advice and favors. Only make something that you're really excited about because it takes over your life a little bit!
We're seeing a surge of female-led series now; why do you think this is?
SS: The business of Hollywood seems to be slowly (very slowly) learning that our stories are marketable. That's great for us of course as the lack of female stories being told in Hollywood has directly translated into a shortage of work for women in Hollywood. However, more importantly, I think female creatives are starting to feel empowered by other strong females and "diverse" storytellers. We are gaining the courage to stand up and say, our silence is not good for anyone. Our stories are important, and interesting, and need to be part of the cultural narrative.
Speed round!  What was the latest thing you binge watched?
How to get away with Murder.

Favorite TV best friends?
Lucy and Ethel, The Sex in The City ladies, Will and Grace, Karen and Jack, Max and Penny (Happy Endings.)

LA or Chicago?
LA. Chicago is great but I'm too wimpy for the weather. Fall in Chicago is the best though. The absolute best.

Best voicemail you've left or received?
I just got a hilarious voicemail from a friend. He made a kissy sound to his dog and then realized I might think it was for me, which caused him to bust into the craziest giggle attack. So funny. I love voicemails. It's great to hear what people come up with when they aren't being interrupted.
Watch Hey You, It's Me season one, and follow the series on Twitter and Instagram.