Film Crowdfunding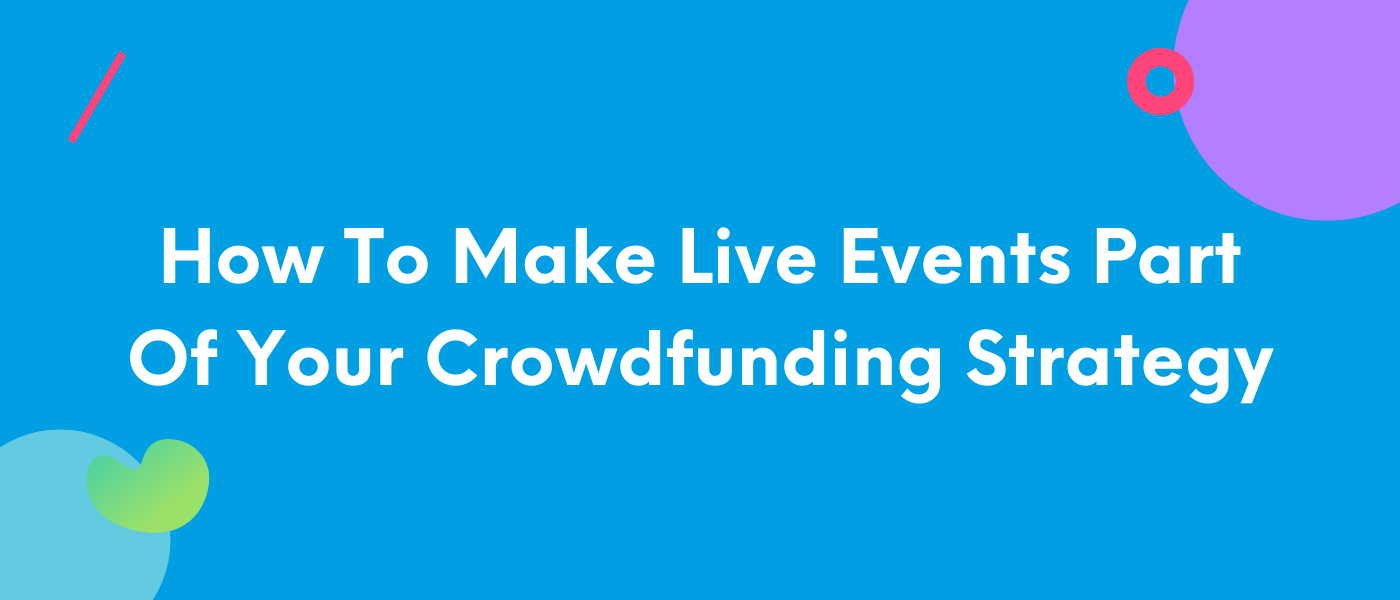 How To Make Live Events Part of Your Crowdfunding Strategy
May 19, 2020
If crowdfunding is audience-building first and fundraising second, then a portion of your strategy needs to focus on strangers with little to no context for you and your team. Hosting events, whether IRL or online, is a great way to promote a crowdfunding campaign wrapped up in a fun activity. Give people things to do alongside other people who like the same things, and they'll be happy to pay for it. The trick is to make sure the running of the event also encourages new crowdfunding pledges, and is scheduled smartly to occur when you need to reboot your momentum.
Let's talk timing, since that can help you determine what kind of event to host:
Dead weeks.

No matter how successful your campaign is eventually, if you're running a 30 day campaign, weeks 2 and 3 will be a little slow. The shiny 'new campaign' excitement has settled into a warm glow, and you aren't quite at the FOMO last-minute-sprint excitement of the final days. You still need to maintain momentum, so scheduling an event to promote and incite hype around during this period is a great way of doing so.

Milestones.

Let your audience decide when an event will be scheduled (best if the event is flexible, like a livestream or pop up), and what milestone your campaign will need to hit to unlock it. This gives everyone shared progress goals to celebrate, incentivize excitement and continue engagement ahead of your big win. Milestones can be percentage-based ("when we hit 50% funded, we'll….") or amount-based ("Every $2000 raised, we'll….").

Holidays. If there's a holiday during the run of your campaign that you could use as a marketing opportunity, plan a thematically aligned event for then. People will already be talking about the day, so be part of that conversation and celebration. (Obligatory reminder that November-December are terrible times to crowdfund, so I'm talking about the other 10 months of the year)
Keep in mind: even the simplest event requires planning and support, so it's best to integrate live events if you have a team of at least two other people who can help coordinate and keep the crowdfunding campaign active at the same time. Also, make sure you have a way for people to pledge money at the event — the easiest system is having a few laptops set up and already open to your campaign page so people can stop by and input their pledge upon entry.
But what kind of event should you incorporate? Let's explore some ideas, and as always, get in touch on social media with your own ideas to share them with the rest of the community!
Also: check out our Lunch&Learn live session on this very topic!
Event ideas for all storytellers
Wrap Party. Host a party! Theme it as a wrap party if you've already produced the project, or just a get-to-know you Q&A with games and food and drink as an excuse to celebrate art and stories. If you're reading this article while there's a global pandemic happening, a casual drinks or party game live stream works as well.
Launch party. Host a party specifically when you launch your campaign, at a local venue or virtually for a set group of excited supporters. "We showed the pitch video at the event I had," says Brandi Nicole Payne, one of our incredible Seed&Spark campaign specialists, "a mixer at a bar that required us to hit a small [food and beverage] minimum since it was on a Tuesday night… It was more of a fun event to build community and give us something else to talk about during our updates than a true driving factor for dollars."
Charity or cause event. While donating funds from a crowdfunding campaign to a charity isn't allowed, you can absolutely partner with a thematically-aligned charity for promotional purposes, and have an event where you raise funds for both at once! Use this event to promote the cause you're both invested in, and discuss how art can influence and amplify advocacy.
Networking event. Who is the audience for this project, and do they have employment or an aspiration in common? Perhaps your project is about computer coders, or actors or writers. Set up a networking event for that particular subset of people, then when you introduce yourself and the event at the top, mention this networking opportunity was made possible by [insert project name here] and that you hope, in between making connections, they'll chip in to help bring it to life.
Event ideas for...
Who knows, maybe you'll find a way to adapt a podcast event idea for a music crowdfunding campaign. At the end of the day, we're all storytellers after all.