Seed&Spark Updates
Stats and Articles: Evidence We Need to Make a Change
January 20, 2017
It's hard to know where to start when it comes to the imbalance of inclusion in the entertainment industry.

Actually, it is easy to start, but overwhelming once you do. It's like opening a door and an avalanche falls through. If there were any doubts about the actual numbers of gender/race/sexual orientation/ability disparity, we've collected the numbers for you.

Gird your loins.

Here are the big 3 resources:

2016 UCLA Hollywood Diversity Report

USC Annenberg Study Inequality in 700 Popular Films: Examining Portrayals of Gender, Race, & LGBT Status from 2007 to 2015

Geena Davis Institute on Gender in Media


Articles and studies on gender disparity: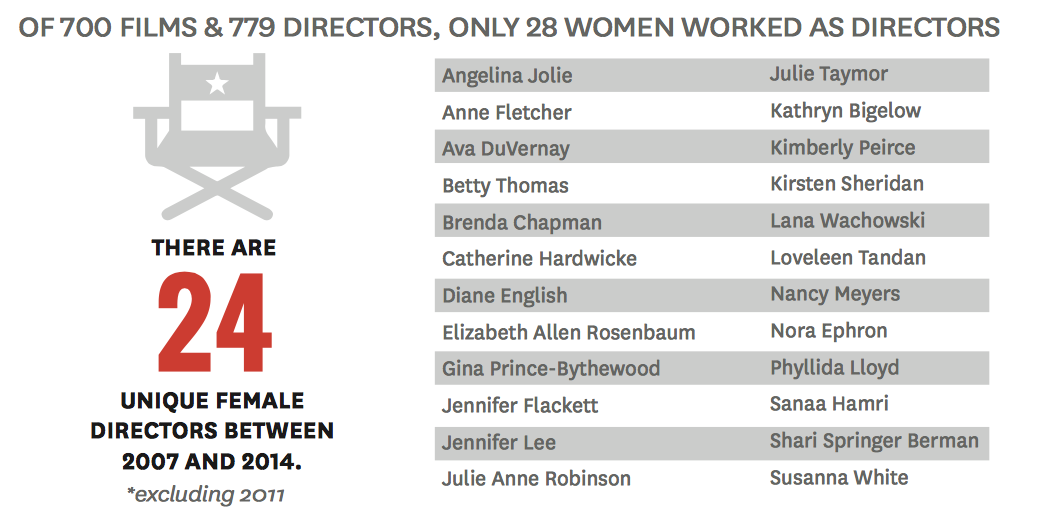 (Infographic from USC Annenberg Study)

Suck It, Haters: Female-Led Films Make More Money

2016 Marks Record-Breaking Year at the Box Office, But Where Are the Women Directors?

2016 Celluloid Ceiling Study Shows Us That Women Still Aren't Making Progress

Female Directors Don't Need 'Experience' -- They Just Need To Get Hired

Geena Davis Talks Women In The Media


Articles and studies on race inequality:

(Infographic from USC Annenberg Study)

Four Asian-American Women Share Their Experiences Working in Hollywood

Hollywood's glaring problem: White actors playing Asian characters

What Does "Latinx Representation" Even Mean?

Hollywood's problem with Latinx representation

Julie Dash Made a Movie. Then Hollywood Shut Her Out.
18 Times Black Actors Nailed Why We Need Representation In Film


Articles and studies on LGBTQ representation:



(Infographic from USC Annenberg Study)

GLAAD - Where We Are On TV Report - 2015

The Influence of Media Role Models on Gay, Lesbian, and Bisexual Identity

How Well Are Queer Americans Represented in Media?


Articles and studies on disability representation:

"Only 2.4% of all speaking or named characters were shown with a disability."
(Statistic from USC Annenberg Study)

Study shows lack of opportunity for disabled actors

Teal Sherer Talks

'Speechless' Big Winner as Media Access Awards Salute People With Disabilities

Clearly the data stands. The problems are real. So what are we going to do about it?

Well, we at Seed&Spark created #100DaysOfDiversity. For the next one hundred days, we will be sharing, spotlighting, and supporting work from underrepresented filmmakers. Whether they are crowdfunding, or streaming with us, we are going to actively move the needle toward a more inclusive industry.

Will you join us?


We've done the research for you, now you can get right to work be a part of the solution.