Seed&Spark Updates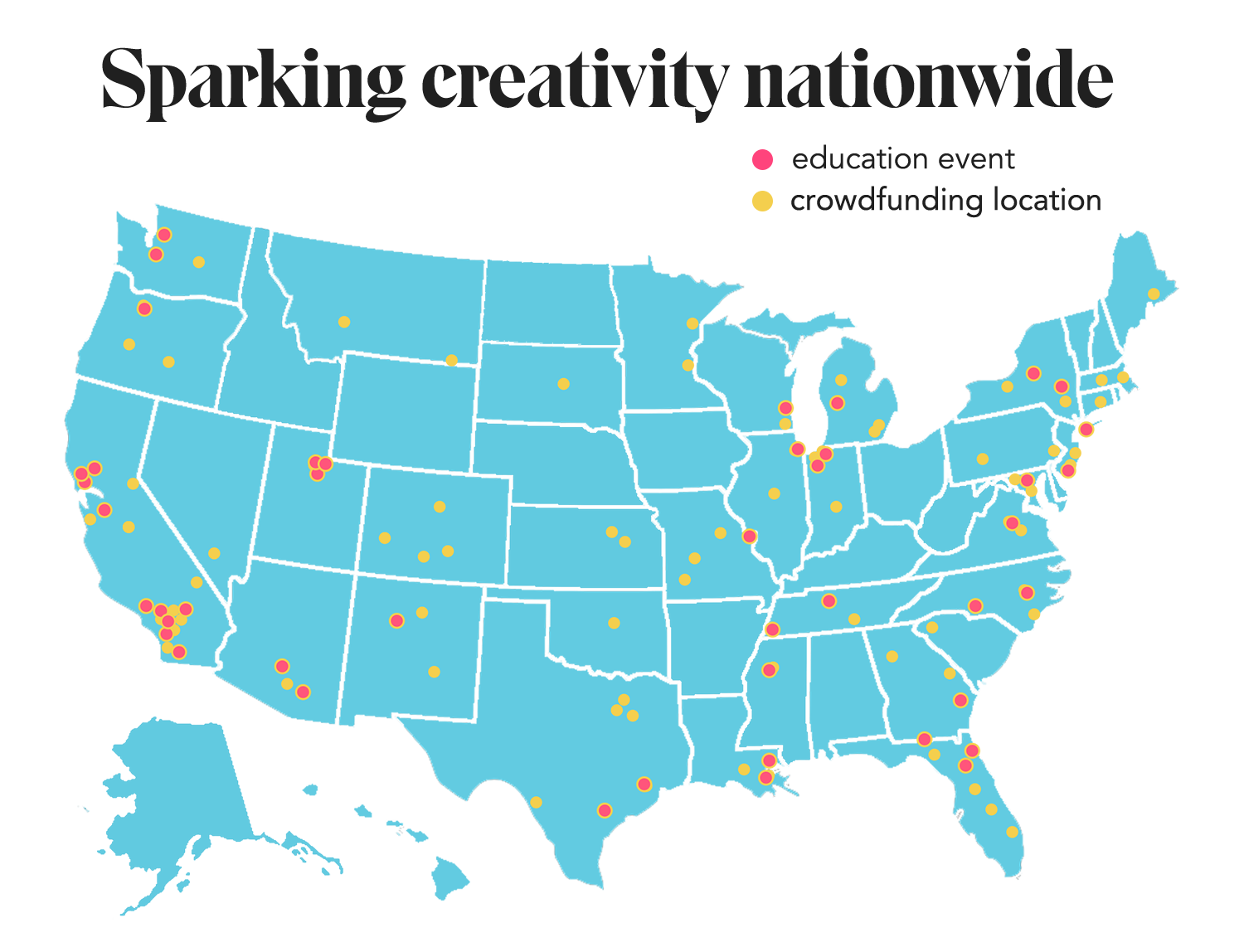 2019 Year in Review
February 4, 2020
If we had to sum up the entirety of Seed&Spark's 2019 in one sentence, it would be that we connected people through stories that matter. (Which you may recognize as our new tagline, revealed when we launched a new homepage last year.) To do that, we went all over the country giving creators tools, education and inspiration to make stories that matter. Then, we continued to support creators in making their work, maintaining our 80% crowdfunding campaign success rate. And THEN, we tested some new ideas to help creators monetize their work in ways that meaningfully connected their audiences together. Y'all, we did a lot in 2019, by which I mean, you all did a lot in 2019 - and that's how we know we're on the right track. A sincere thank you from our team to you for being an essential part of our journey to build creative sustainability for artists and a more inclusive culture full stop.
Also, we turned seven this year and took a moment to reflect on the journey. It was really the only moment we stopped to breathe, because:
Our community grew in size, experience and brainpower with a slate of new faces joining team Seed&Spark during the year. Our company headcount increased to 15 employees, and we added six new instructors-at-large to our education program. They are creators who have all successfully crowdfunded on Seed&Spark who are sharing their knowledge all over the country (they're based in LA, San Francisco, Seattle, Atlanta, Wilmington N.C. and Milwaukee). We also announced our Creative Advisory Board (SQUEEE! It's Mark Duplass, Erika Alexander and Janina Gavankar). AND in order to supercharge our new Workplace program, we gathered some of the brightest minds in the Equity & Inclusion space to a brand new Advisory Board as well.
We spent a lot of incredibly meaningful and valuable time with our community outside the office, across the country. We kicked off 2019 by launching The South Has Something to Say event series in Atlanta. We hosted Creative Sustainability Summits in Wisconsin, Georgia and California. And across 39 cities (and online!), we taught 105 live educational events. All in all, we talked creativity, career-building and change-making with more than 8,000 people face-to-face. And we launched our storytelling newsletter for creators, Creative Notes, to keep the inspiration and information going.
When it came to getting work made and seen, 817 unique projects crowdfunded with Seed&Spark in 2019, raising a total of $7.25 million from 65,000 contributors with an average pledge of $110. These creators came from 170 different cities, yet again demonstrating that strong creative communities, resources and talent can live and make work right where they are. Our creators collectively attended more festivals than we could actually count, racking up awards. We had eight films at the Tribeca Film Festival, just for example.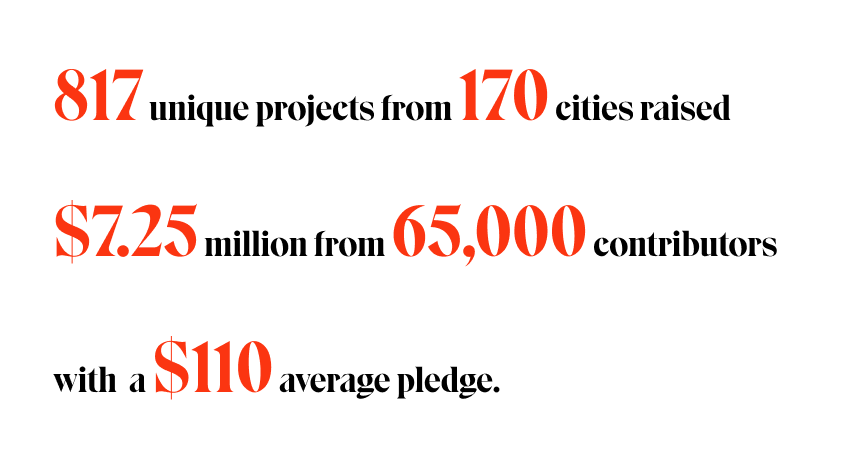 Our subscription streaming platform paid creators an average of 58.3 cents per minute watched. You read that right. Compare that to the fractions of pennies the big platforms pay out, and then read that number again. Of the 334 titles in our library, we maintained gender parity in directors and protagonists. We also increased the intersectionality of our libraries, with 49% of films having protagonists of color and 38% of all titles being directed by a person of color. Go ahead Hollywood, what are your numbers?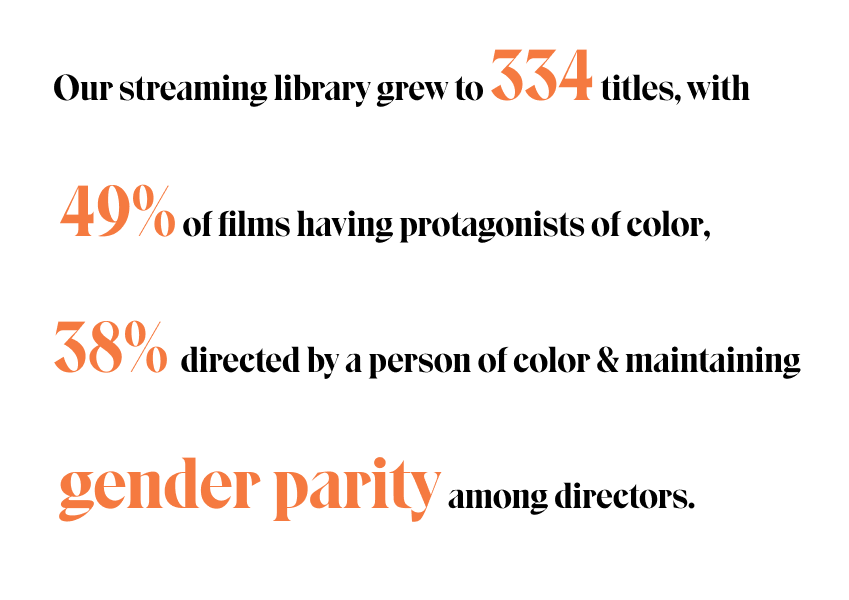 We experimented with new ways to distribute and monetize film, including partnering with filmmakers on active distribution like Bite Me's Joyful Vampire Tour and talking to dozens of venues to explore opportunities around eventized day-and-date releases. And we launched the pilot of a brand new product to monetize short films while getting them in front of audiences who need to see them most — our Workplace Inclusion Program, a comprehensive professional development program that helps companies build workplaces that work for everyone.
Is that all? No wonder we're five months into 2020 and it's only the first week of February...
Thank you for sharing the experience and excitement of 2019 with us! We expect to have even more to celebrate in 2020. This year, we're doing more to make our resources accessible to you, wherever you are, whatever your medium. To start, every month we're hosting a Creative Sustainability Summit in a new city (looking at you first, Winston-Salem and Little Rock!). And we're expanding our crowdfunding to include other storytelling media, like comics, theater, books and music. Creatively, geographically, personally — we can't wait to connect with you. You know, through stories that matter.