Seed&Spark Updates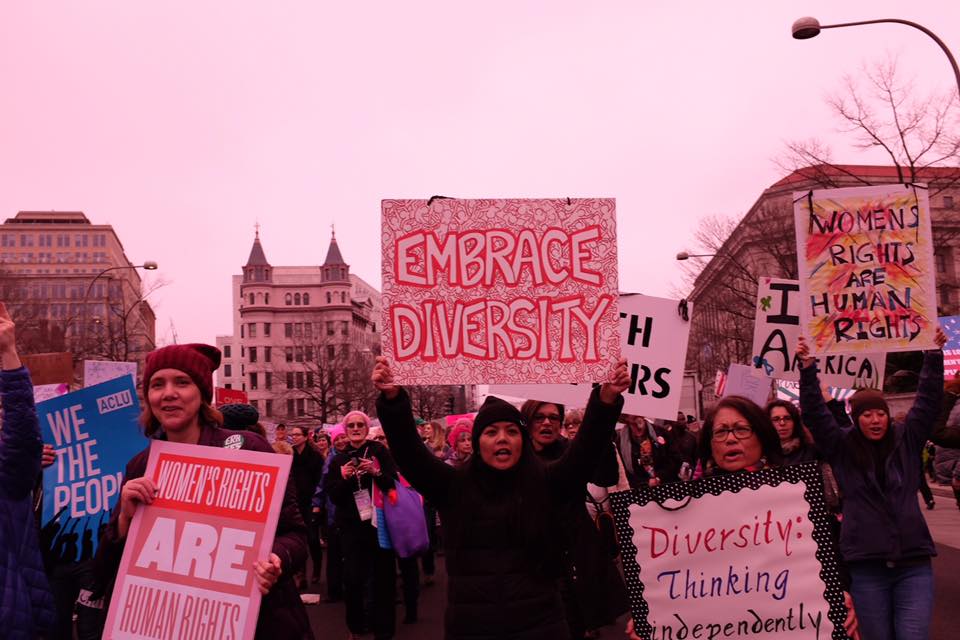 How Will We Be Different After The Women's March?
February 1, 2017
My brother turned 31 last week. His birthday request? That our family gather in D.C. and march together. The day filled up my soul. The "Worst Tinder Date Ever: Should Have Swiped LEFT" sign made me laugh, and these girls marching and chanting in perfect unison made me cry. When Carmen Perez said, "If they don't let us dream, then we won't let them sleep," I knew I had my mission statement. I left restored by my community, feeling stronger for having gathered with my family and with my Family.
On the train ride back to New York, I read this Twitter thread: How Will Monday Be Different? Sister Outsider challenged white feminists: "Will this critical mass turn into action after the march?" And it was then that I decided to make a forward-facing commitment. I want my community to keep me accountable.
I've been an activist and advocate in the past, but had grown fat with complacency during the Obama years. In college, I taught political citizenship at a local high school, organized an "Inside the Activist's Study" event with Amy Goodman, and served as a Scholar of Citizenship and Public Service at the Tisch College at Tufts University. When I moved to LA, I spent my time on Transformers movies and pet food brand deals and YouTube creators. Last year, I lit the fire once more. I was moved to activism through filmmaking around gun violence after the Orlando shooting, and started a progressive SuperPAC to do so. I also started volunteering as a Court Appointed Special Advocate for a child in the LA dependency (foster care) system.
I have been involved, but the Women's March and Sister Outsider called on me to articulate how I can be better. This political moment in time and call to action has a moral clarity that I have rarely felt in my life. "Never Again Is Now."
So, this is my commitment. It's evolving, and the list will grow, but this is how I am (and will be) different after the Women's March.
I'm going to hire at LEAST 50% women on all my film shoots, and I'm going to make sure at LEAST 50% of crew members (male and female) are people of color.
I'm going to find financing for my SuperPAC of female filmmakers fighting for progressive causes, and I'm going to spend that financing on activist films made by female directors, with an emphasis on WOC.
I'm going to listen more, especially to women of color.
I'm going to make it my mission to find another CASA volunteer to help the abused and neglected children of LA.
I'm going to move my money from Bank of America to to a black owned bank or credit union.
I'm going to use the amplification strategy deployed by the women in Obama's White House to make sure more women are heard and credited for their ideas.
I'm going to start organizing to get Putin-and-Trump-enamored CA Congressman Dana Rohrabacher out of Congress.
I'm going to keep writing, because it keeps me sane and it keeps me focused.
I'm going to call my representatives every fucking day and tell them to fight back against Trump.
I'm going to put my white, cis, female body on the front line at protests for #BlackLivesMatter, against the Muslim Ban, for our LGBTQIA siblings, against Trump. If the police use force, it will be on my body.
Finally, I'm going to urge my community to ask themselves: how will you be different after the Women's March? Write it down. Share it with your community, and ask them to articulate their own actions. Follow up. Show up. Hold each other accountable for those commitments. Remember, "If they don't let us dream, then we won't let them sleep."
_________________________________________________________________
Support other thoughtful, important films like Sarah's during our #100DaysOfDiversity.
Sarah was a guest in our 1/31/17 Twitter chat about film and activism. Find her great advice here.