Seed&Spark Updates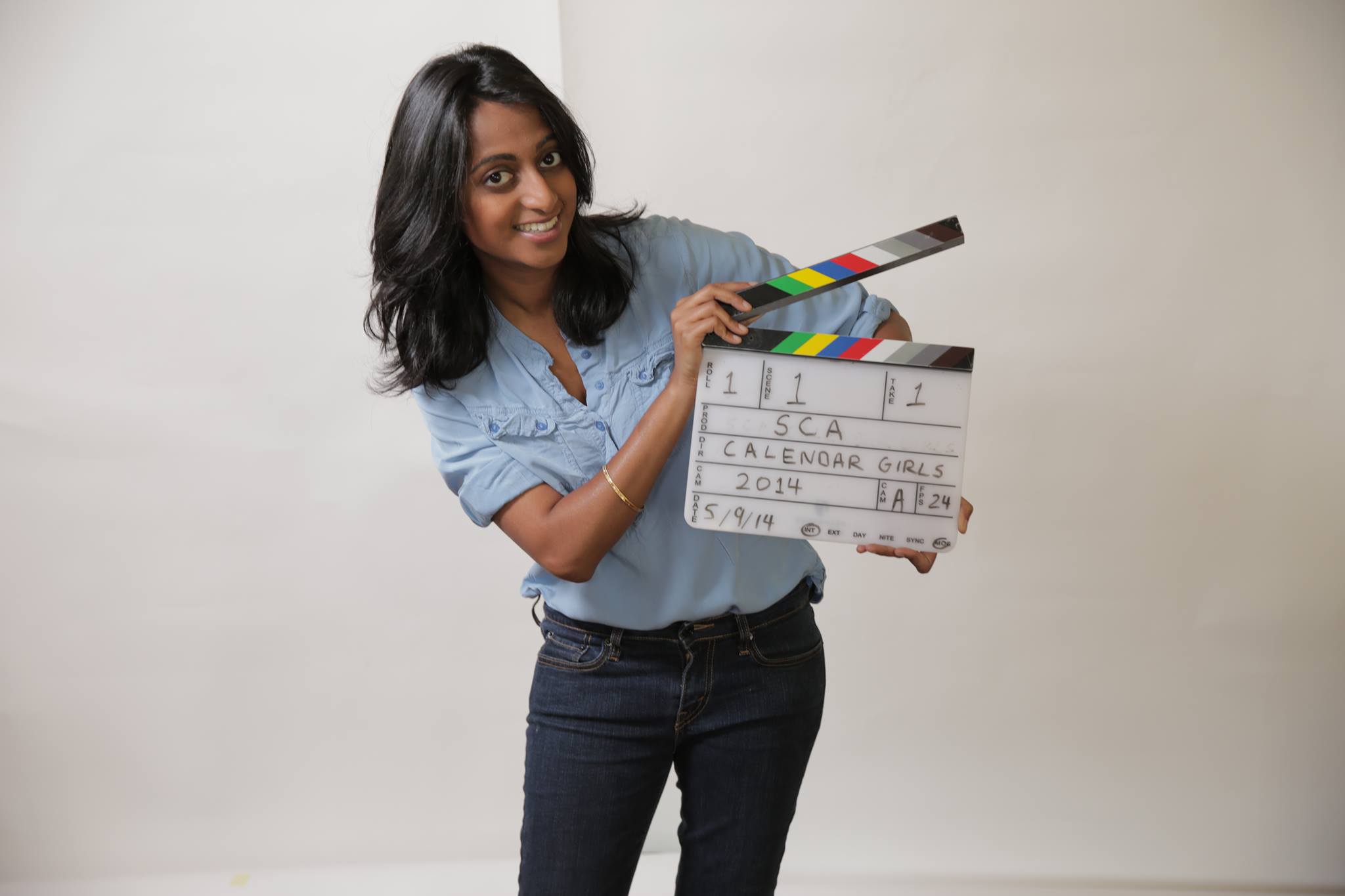 Filmmaker Spotlight: Meena Ramamurthy
August 1, 2017
If we were to list things that make us the happiest, seeing filmmakers build careers using our platform is pretty damn near the top of the list. And when those filmmakers are also making incredible work that truly addresses representation on and off screen? Color us even happier.
We were delighted to catch up with one of those filmmakers: Meena Ramamurthy, creator of the hilarious series The FOB & I and winner of our New Voice Rally to talk representation, audience-building and season two.

Seed&Spark: The FOB & I addresses South Asian representation as well as female friendship, cultural differences, family and many more topics. What has been the biggest challenge and the biggest personal win in telling this story?
Meena Ramamurthy (MR): The hardest part of creating The FOB and I is figuring out how to express complex ideas and characters in bite-sized form. In order for it not to feel like an encyclopedia study on culture, we focus on grounding each episode in everyday experiences for South Asians.  In the chai episode, we start with the simple frustration that "it's hard to find good chai in LA".  But for Jisha, missing chai is a metaphor for missing home where she can get piping hot, perfectly mixed chai at any nearby tea stall.  For Sita, struggling to recommend a chai place represents her missing connection to her culture and her guilt at its absence. Packing that all into dialogue and still keeping it funny in just 5 minutes is consistently hard. We spend a lot of time banging our head against the wall and taking dance breaks.
The biggest win for us has been people reacting to the series and saying "Wow, I related to that." We've gotten emails from excited teenage girls about how great it was to see two separately complex brown girl characters on one show. While the target audience is female Indian Americans, we've found that by creating these complex characters, they became more relatable to everyone.  The show really speaks to anyone who's ever felt like a fish out of water. We've had screenings where an audience of mostly non-Indians laughs at the right moments and empathizes with our characters. It makes us feel great that we made a show rooted in something real from the ground up.


Season two begins with Sita and Jisha discussing diversity, culture and the current political climate. How else have current policy events impacted their story and your filmmaking?
MR: The commitment of The FOB and I is always to represent the South Asian experience in America.  For the first episode of Season 2, we wanted to have an episode that not only pointed to what was going on now politically but sentiments that have been present in America for years.
As a 1st generation Indian American, Sita just doesn't connect with the struggles faced by immigrants for civil rights. She picks and chooses which parts of her heritage she wants to accept—she'll eat dosas, but doesn't want to go to a protest for immigrant rights. The distance she places on her identity is not just because of her ignorance to politics, but also mechanism to protect herself and the privilege she has gained as an assimilated American.
Furthermore, in America, South Asians are often seen as the model minority and that label separates us from the struggles faced by other minority groups. South Asians have a history of rebellion and oppression, but in America, we're thought of as privileged and politically docile. To put this in perspective, 1965 Immigration Act came as a result of the Civil Rights movement, and it's reason most South Asians can be in America today. Within the South Asian community, there are many societal divisions based on class, religion, skin color, and even caste. Because of this, it was important to us to show an Indian American and a Muslim American fighting to protect each other and being politically active. In 2016, NBC reported hate crimes rose 20% in America, and CAIR reported there were 1,597 reports of bias from January to March 2017. The episode is a call to action and a reminder that a struggle faced by one minority group can and will affect us all.


As a filmmaker, what role does inclusion play in your craft and drive?
MR: It's 2017 and there isn't a show with two South Asians in lead recurring roles interacting with each other. And that's a fact that's true for most minorities in America. It's crazy. For me, the first part of my job is just creating those roles and doing it in a way that's not portraying them as a token character. Sure, with Mindy Kaling, Aziz Ansari, and Priyanka Chopra in lead roles, we're seeing more South Asian faces on screen. While I might not always agree wholeheartedly with those depictions, having a small presence is a start for a community that has been such large part of the U.S. for a long time. Television and entertainment are ways for our society to see what's accepted, and I'm really happy that South Asians are beginning to be a part of that landscape. However, these South Asian protagonists often leave out the cultural identity of their characters.  More often than not, Priyanka, Mindy, and Aziz just "happen" to be Indian, and usually it's just peppered in a few episodes. While this allows us to accept Indians in our daily life, it leaves out the complexity of our culture. With The FOB and I, the main source of conflict is rooted in our characters' identity. We don't have to wait for that one-off episode.  Every episode is a chance to explore the South Asian experience in America.


What advice do you have for creators looking to make incredible entertainment and increase representation?
MR: When people give advice to filmmakers I hear a lot of "just pick up the camera!" and "just go shoot!" Certainly, we live in an amazing time where there is the potential for immediate worldwide distribution. But before you create, think about the meaning behind what you what to do and the effect you want to leave with your audience. Then when you've made something, don't hide it in your closet or smart phone, share it. It's probably the most painful part of the process, but it'll help you grow and make something better. And don't let anyone ever tell you that your perspective and your story aren't important. They are. Minority filmmakers just aren't given the same opportunity to fail and try. So take that back. Turn off the comments and make your masterpiece.

Season one is streaming on Seed&Spark, and you crowdfunded season two on the platform. What has it been like to "come full circle" with one project on a single platform?
MR: It's awesome for our film to have a home on Seed&Spark. The platform is doing amazing things to support and create communities of filmmakers from start to finish. As a creator, there is a large waiting period from when you're making your films on your own dime to when you get that three picture deal. Seed&Spark is there to help with that journey, creating opportunities, promoting filmmakers with diverse perspectives, and helping us to monetize our content.  I'm looking forward to utilizing the platform more and growing as an artist with it. 


It's been almost a year since the New Voice Rally. What have you learned about yourself, the series and your audience in this time?
MR: As a creator, I always find producing work in a finite amount of time to be a challenge. We began with a small episode, two women talking at a café.  But packing their dialogue with the immigrant experience and political sentiments that were still funny and ended with an original anthem about human rights was just plain hard. I learned that even telling the simplest of stories right requires a lot of work.
It's easy to feel like a narcissistic artist when you crowd fund your art, but I'm always amazed at the support an audience is willing to give. If think about going to a theater or renting a film, you are supporting an artist you most likely have never met.  The same crazy, amazing thing happens when you crowd fund.  An audience comes out because something small about you or your project spoke to them. So crowdfund fearlessly, there is an audience waiting to listen.
More than anything, I learned that even a small project has a lot of power.  Our little episode got over 10K views in a week. So many of our viewers commented saying that the short moments we created brought them to tears. We've been blown away by the emotional connection we've been able to have with our audience.


How did being a part of -- and winning the grand prize of -- the New Voice Rally impact The FOB & I and your career?
MR: After film school, it can be hard to find a community of filmmakers, and being a part of the New Voice Rally was great because it brought that feeling back. So far, we got a lot of exposure at SeriesFest and we are just beginning our journey as the recipients of the award.  With the funding, we're so excited to make new episodes of The FOB and I. Since our series focuses on the relationships between these two women, we're able to provide an intimate look at South Asians. In a culture that doesn't readily share, we're hoping to take on issues more that aren't talked about. We look forward to future episodes being a forum that opens up communication in the Indian community and empowers Indian women. How do South Asians deal with depression? How do they communicate with their families? How do they explain sexuality? And, most of all, how can South Asians feel at home in a country that never feels fully theirs? Seed&Spark has been an incredible source of support to set up relationships for the next stage The FOB and I and for our further projects as creators.  The biggest win from the competition was being part of such welcoming platform that's onboard for the journey of the filmmaker.
---
Get to know Sita and Jisha with season one of The FOB & I, now streaming on Seed&Spark, and follow the series for updates from Meena and the team as they continue work on season two.