Filmmaking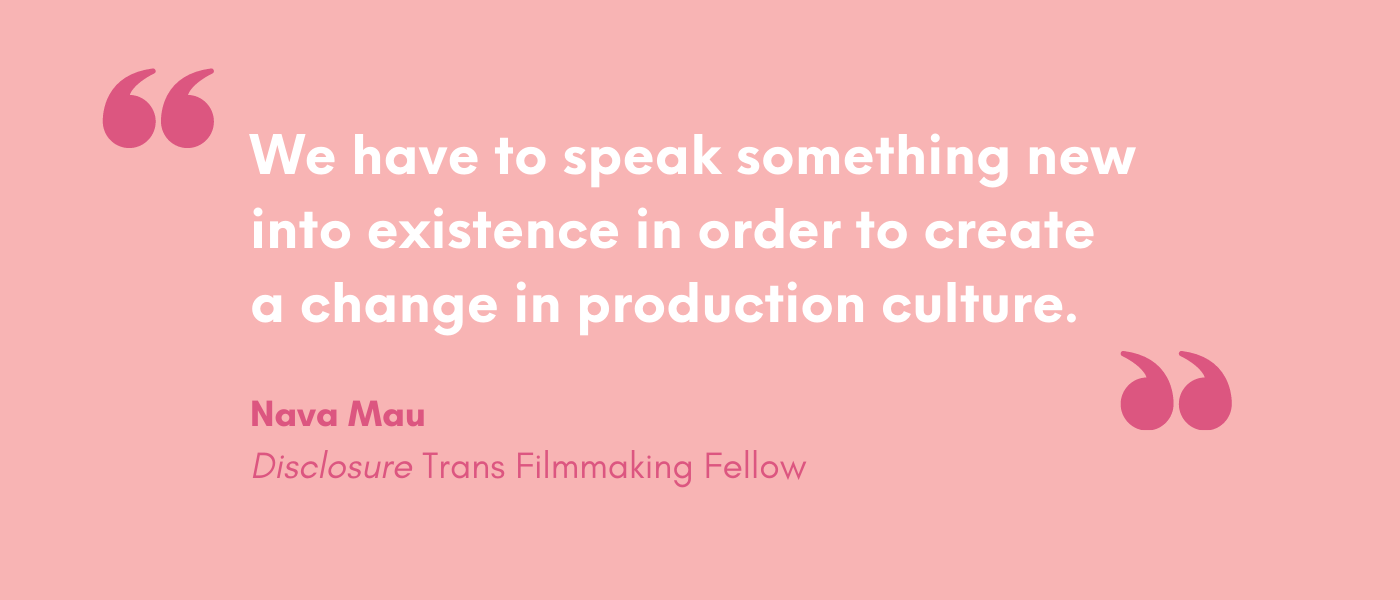 Collaborative Culture: Behind the Scenes of Netflix's Disclosure
July 20, 2021
Disclosure, Netflix's celebrated documentary, depicts the history of trans representation in media via iconic voices of the community. But perhaps what further sets it apart from other documentaries is its on-set culture. Disclosure Trans Filmmaking fellow Nava Mau and producer Alex Schmider shared details on the development and impact of a radically inclusive filmmaking environment.

"The film industry largely has operated with an unspoken mission, an unspoken set of values that have not always created space for people to feel respected and truly valued on set," says Mau, a series regular on HBO Max's Generation and filmmaker in her own right, "We have to speak something new into existence in order to create a change in production culture."

"If we're looking at the full framework of how trans people have historically been portrayed in TV and film," says producer and GLAAD Associate Director, Transgender Representation Schmider, "it's almost always been without our involvement, participation, or perspective."



On screen and behind the scenes, Disclosure subverts that historical norm: "At every level of production, there were trans people who have lived some of that experience or at least know that experience," says Schmider, "If we weren't able to hire a trans person in a position, we hired a cis person who had committed that they would mentor someone."

This hiring process was the skeleton of Disclosure's Trans Filmmaking Fellowship. From the earliest stages of production, director Sam Feder, executive producer Laverne Cox, and producer Amy Scholder committed to not only empowering and providing opportunities for emerging filmmakers, but also creating a space where all members of the crew could bring their full selves to work.

"Something I know from my work at GLAAD," says Schmider, "is that when you make a set welcoming of the people who have often felt most unwelcome, you're making that place, that experience, better for everyone. It's so much about respect and acknowledging people are bringing valuable experience and skills as they are. And when people are able to show up as their full selves, they're able to do their best work."

"In another kind of program I maybe wouldn't have had the next step in my application process be a one-on-one interview with the director of the project." says Mau, "It really conveyed to me the kind of dynamic that Sam and the rest of the team was hoping to build, which was not so invested in hierarchies, and trying to establish a different set of power dynamics on set."

In addition to check-in chats among the fellows and mentors, the Disclosure set also offered daily production-wide "circle chats" where Feder would not only center the crew on their mission, but also invite feedback. "Instead of waiting for people to find the courage to speak up," says Mau, "Sam took the initiative to invite that feedback, and I think it made all the difference in the world."

That invitation opened the door for Mau — with experience as a cultural worker with community-based service providers, student organizations, and survivors of violence — to bring her expertise to the table. She and Schmider recall one instance in particular:

"Someone was being interviewed," says Mau, "but the conversation felt like it was swimming under water, trying to break through the surface and kept not making it to the surface. I just felt like it would be such a missed opportunity for the film to not take the conversation deeper and add more layers bridging the topics of entertainment and media with politics and policy and some kind of more sociological-cultural understandings of what trans people face in the world."

During the interview Mau quietly signaled to producer Schmider, who relayed the information: "I walkied Amy to let Sam know to go in that direction. And I said, 'This is from Nava. This is what she's hearing and seeing. Can we try this?'" Mau's suggestion was incorporated and helped the interview break through the surface.

"When it mattered," says Mau, "people weren't clinging to these power dynamics of how they felt people should be behaving, and who should be able to speak up, and who shouldn't."

That on-set culture doesn't happen spontaneously. "In order to be able to have that kind of dynamic," notes Schmider, "there have to be people who are in positions of leadership who are humble and open and inviting that kind of collaboration."

And that collaboration, says Schmider, can only benefit the project: "When we talk about diversity, things are always made better when we are integrating different points of view, different life experiences, different ways of managing or dealing with issues."

For anyone looking to implement a similar program, or a similar culture on set: "Look at the big picture, and then focus on the small details," says Schmider. Respecting pronouns and correctly pronouncing names may be the least one can do, but he hopes filmmakers focus on the most: "Everyone deserves respect and an invitation to be their full selves. That requires a universal understanding that respect is good for everyone. That is going to make a healthier, better set environment."

"We always talk about the process is as important as the project," he says, "And the people are as important as the project."


Watch Disclosure on Netflix, with a free downloadable conversation guide. And see Alex Schmider in Seed&Spark's Lunch&Learn: Building an Inclusive Set for Your Crew.