Film Crowdfunding
Spotlight on: Sam Quinn, Connor McLean & 'Stay Calm'
September 8, 2021
Sam Quinn and Connor McLean co-wrote and co-directed the proof of concept short Stay Calm, for which they raised $6,070 to finalize post-production. In the film, all of humanity has been infected with a rage zombie virus that lies dormant until triggered by adrenaline spikes in its host. Stay Calm follows a husband-wife-best friend love triangle, who have escaped the city. The trio must control their most primal instincts in order to keep from turning into a monster.
Here's what Sam says about the campaign and what's next for Stay Calm!
What's the latest on Stay Calm?
Thanks for asking! Thus far, Stay Calm has been accepted into 3 festivals and awarded for "best short" and "best effects." In the bigger picture, we've recently finished the script for our feature length version of Stay Calm and will be shopping it around as opportunity presents itself.
What's something you wish you'd known before you launched?
Hmm. I feel like we were pretty prepared when we launched but I guess I would've started the social media DM approach earlier on in the campaign. You can only message so many people/day before Facebook/instagram puts you in time out, so I would've given myself more time for that approach throughout the campaign instead of just when we were nearing the finish line. So I would've created a schedule for social DM prior to launching.
What's something during crowdfunding that surprised you?
I'm always surprised how receptive people are to personalized messages via social media. Once I've exhausted my email list and organic posts, I found that it was the personal DM's that really brought us to the finish line. It sometimes feels a little icky to reach out so directly in that way, but at the end of the day, we just had to put our egos aside and remind ourselves that these are our friends and acquaintances, and they want to see us succeed.
What advice would you give interested crowdfunders who may be apprehensive?
I'd ask, "Do you REALLY need to make the art or tell the story that's on your mind?" And if the answer is a resounding "Yes! I have to tell this story!" then you need to swallow your pride and just be okay with asking people for money! People love to support the arts, but only if the artist has a strong vision and a unique plan of attack. Read marketing books! Seth Godin has some great ones. Learn how to sell your story and get people as riled up about your project as you are. Find fun ways to involve people in the process and bring them into the world of your story. If you put an equal amount of creative energy into your crowdfunding campaign as you do into your project, people will respond!
What advice would you give current crowdfunders who are in the thick of it?
Make sure you have a schedule / plan of attack and are sticking to it, and in your schedule be sure to give yourself time off. It's so easy to get burnt out during crowdfunding and then your output suffers, so make sure you take some time away, even if just for a half day. Go to a park and put your phone away! Also, go for the personal DM's! But be careful not to get locked out of your account by sending too many DM's in one day!
Are you a member of any film organizations who have helped you get to where you are? Shout them out!
Connor and I are both members of Broken Bicycle Films Collective — a supportive and generous community of filmmakers that shares knowledge, skills, and connections with our fellow artists so that we may all create our strongest work. I am also a board member of Ninety90 Pictures, a 501 (c) (3) non-profit film and television production company that provides jobs and peer support to people in recovery from drugs and alcohol.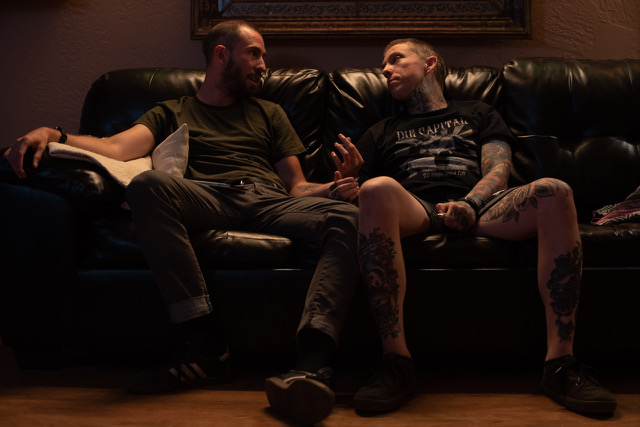 What's next for you and Stay Calm?
Connor and I both have a few projects on the burner. I'd say our stove is full, which is great! Connor is currently in talks for getting an animated series he created on it's feet and I am currently in post for another short and in pre-production for an indie TV pilot I'll be directing in October. As for Stay Calm, we are just riding the festival circuit wave and hoping to build enough interest in the concept to get the feature version produced. Fingers crossed.
We can't wait to see what's next for Stay Calm! And if you're getting started with your own crowdfunding journey, we're here to help.