Film Crowdfunding

The Elusive $25 Incentive
December 17, 2019
If you've submitted a crowdfunding campaign for review at Seed&Spark, you may already be acquainted with this piece of feedback:
"We recommend exploring a visual, shareable, personal and more instant incentive at the $25 amount and to steer clear of those manufactured goods. $25 is the most common amount contributed and offering something visual is a great way to turn your supporters into amplifiers of your campaign."
It's often assumed that we're asking creators to find their own version of the classic (and ubiquitous) Photoshop incentive — making a template of some kind and Photoshoping supporters into it. There have been amazing Photoshop incentives in the past (we've highlighted a few recent favorites below), but they aren't the only way you can make an impact with this incentive.
Why is the $25 incentive so important?
$25 is the most commonly contributed amount to crowdfunding campaigns and is particularly popular amongst strangers. Given that, it's incredibly important to the spread of your campaign beyond your own network to make your $25-level incentive specific to the themes of your project and appealing to someone who's never met you. Remember, a crowdfunding campaign should focus on audience-building first and fundraising second because once you make your budget you need people ready to watch the finished product!
Key elements of a great $25 incentive:


Visual. Film is a visual medium, and a visual reward attracts attention. It also ensures that when shared, it draws the eye for other potentially interested parties.


Shareable. Speaking of other interested parties, the best way to turn one $25 supporter into 10 more is to craft a reward worth sharing. Appeal to people's social nature and give them something they can't resist showing off, because once they do, they've inadvertently given you free promotion, alerting their networks of an exciting (and limited time) opportunity to receive their own version.


Personal. There's no better way to encourage the sharing of a visual reward than by making it personal — people are inherently narcissistic (and it's not always a bad thing!). Give them something that's just for them, that makes them feel special. I'm far more likely to share something with my name or face on it than something generic and generalized — it's human nature.


Instant. Manufactured goods like posters, postcards, T-shirts and other merchandise are frequently listed incentives, but because of how long they take to deliver and the fact that what you're funding likely isn't currently a famous media property makes said merchandise not so sought after. At least, not by people outside the production team. Appeal to a supporter's need for instant gratification so they're still excited about contributing and sharing by the time they get their reward. Plus, the quicker you can deliver rewards, the less work you'll need to do once the campaign wraps. Your time is valuable, so try to do your campaigning work during the campaign and your production work once your funds are raised.


On brand. While you can craft a great incentive without it being thematically related to your project, it's always better when they align. The more "on brand" something is, the more it feeds into the story you're telling throughout your crowdfunding campaign — and the more likely it is that your incentives stand out.
So if you've read this far, you know that Photoshop incentives aren't the only way to accomplish a memorable and lucrative $25 incentive (and in many cases, they're pretty played out). That doesn't mean it's impossible to craft a fun one.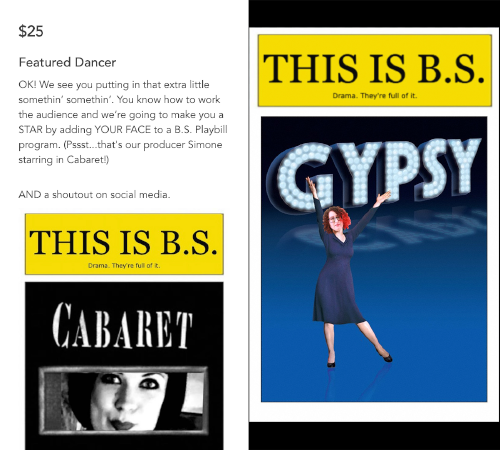 In this comedic ode to theater, writers Ella and Lindsey share their obsession with the stage (and all that happens in the wings).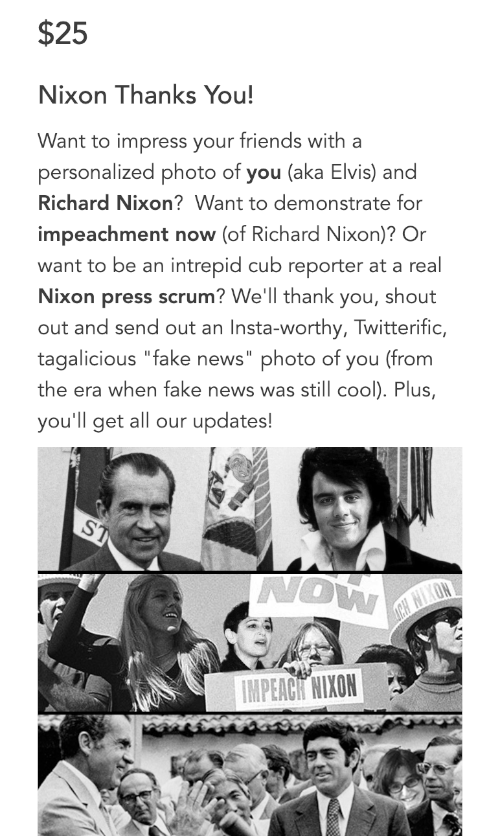 A Nixon staffer tries to leak the 18 1/2-minute tape in this kick-ass 70s-era Watergate conspiracy thriller/dark comedy.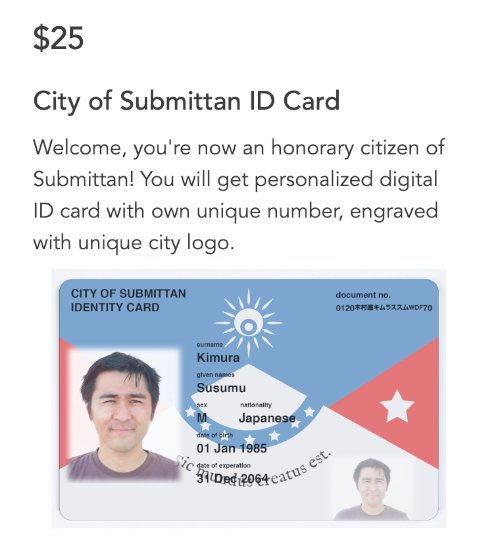 In a dystopian future, overpopulation is strangling a city. Chase, a mother of two, helps aid the city in its struggles... at a dire cost.
If you're musical, consider...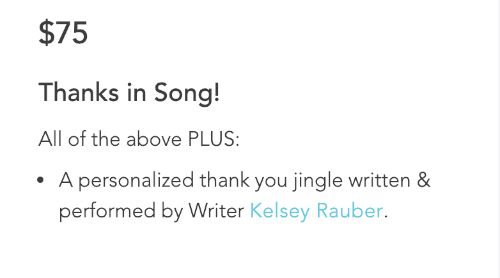 A quirky ensemble comedy about growing up, about growing old, and about a donkey.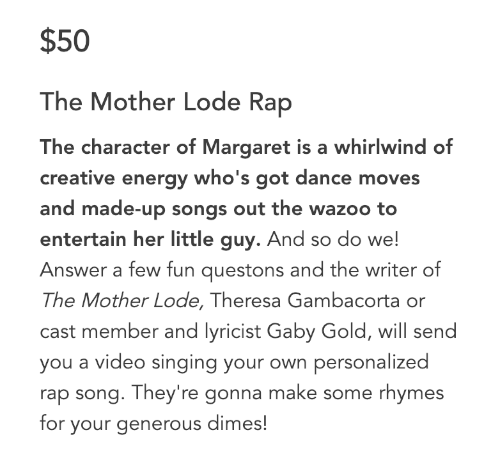 A positive parenting mother faces the underbelly of motherhood with the help of her dead father, an old friend, and a TV producer.

If you're writerly, consider...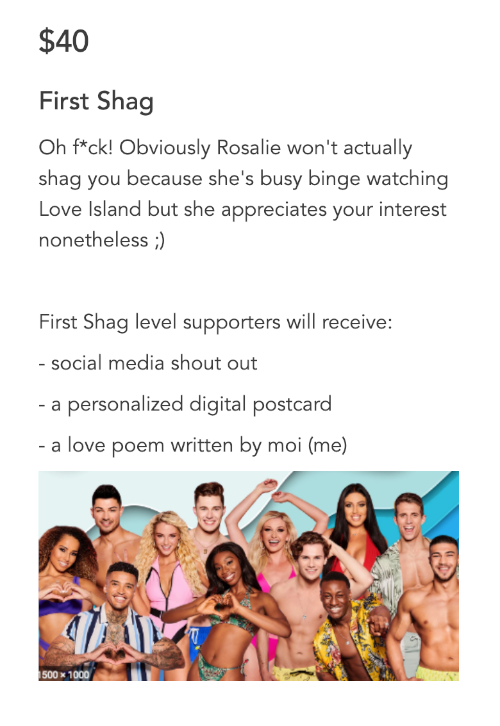 After denying herself romance her entire adult life, Rosalie finally admits her truth: she's a lesbian who's never even so much as held hands.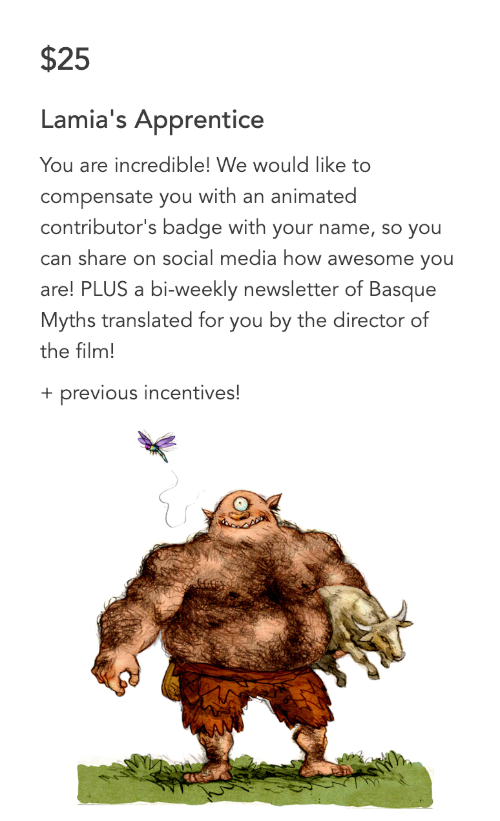 A Basque mythological creature struggles to preserve her identity after a man steals her egg.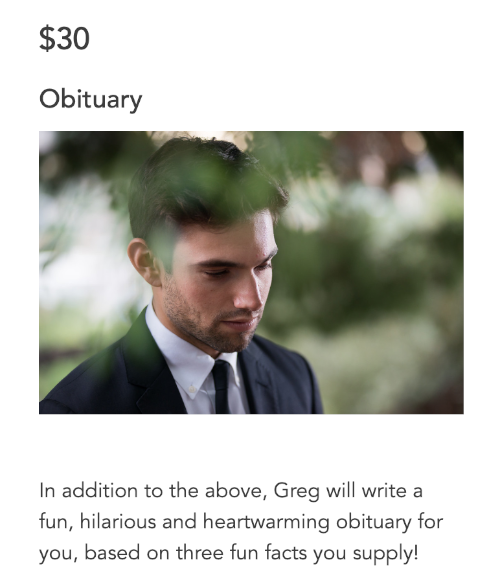 In the aftermath of a tragedy, a lost and confused author finds a new way to cope by crashing funerals and giving eulogies for people he never knew.
If you're a foodie, consider...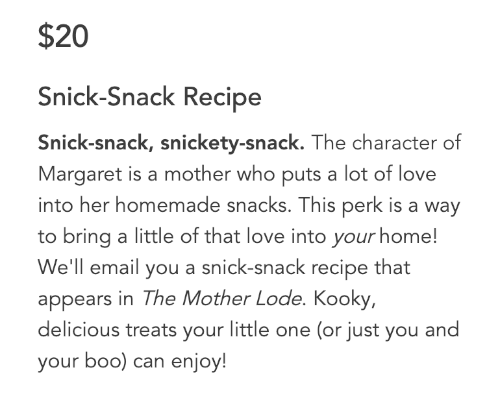 Bonus- the filmmakers also offered a full recipe ebook at a higher price point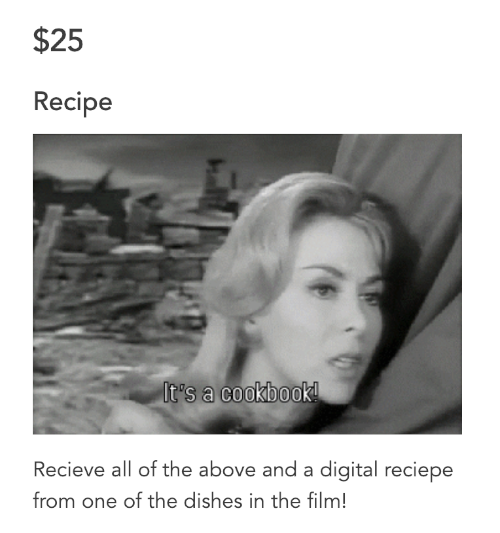 Set in Florida, a 12-year-old Puerto Rican girl's perspective changes when she brings a popular dessert dish, Arroz con Leche, to a thanksgiving event at her school and no one eats it.


If you have niche interests, consider…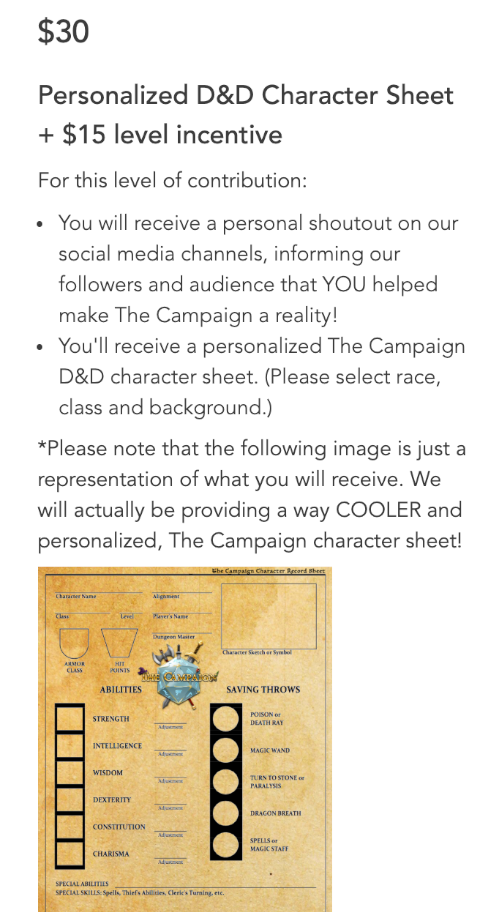 Seven friends reunite for a game of Dungeons and Dragons and find themselves becoming a little too involved in the game.
In conclusion
No matter what the perfect $25-level incentive for your project may be, remember that crowdfunding is just an extension of your storytelling abilities. Tell a story, and make it one worth sharing. Don't miss the opportunity to build an audience excited to watch your project as you crowdfund to make it.