Taking Action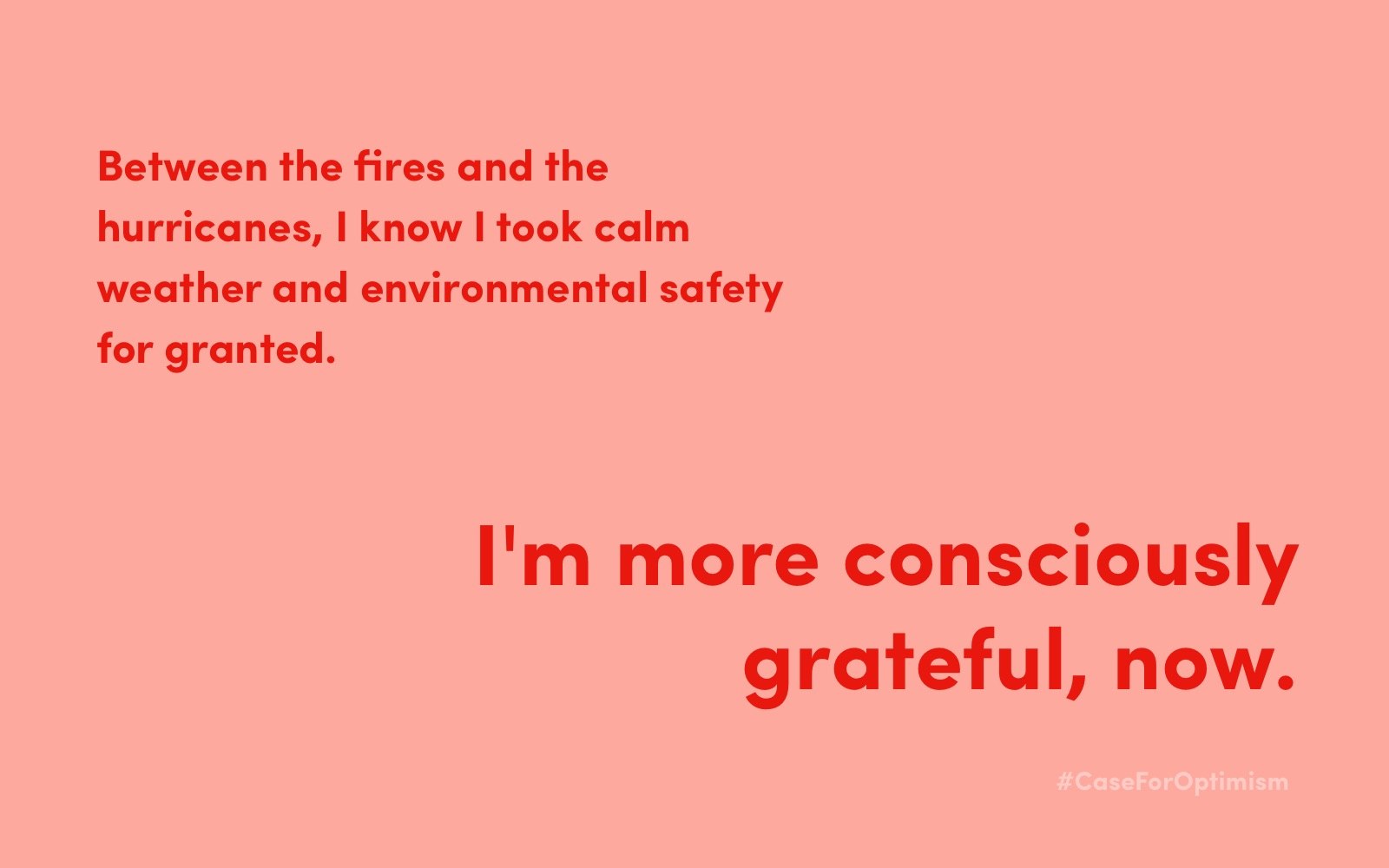 Gratitude, self-care and solutions: all part of a #CaseForOptimism
March 13, 2018
1. Express your thoughts about 2017 in an image, GIF, or noise.
2. What did you take for granted in 2016 that you're extremely grateful for in 2018?
I try to make a gratitude practice a part of my daily life. That being said, I'm still human — so there's always room for improvement. I think I really took Mother Nature for granted. 2017 had so many huge natural disasters that left people homeless and hurting.
We really don't have any way of protecting, in any substantial way, those affected by extreme weather. Between the fires and the hurricanes, I know I took calm weather and environmental safety for granted. I'm more consciously grateful, now.
3. What piece of art — film, book, album, performance, painting, whatevs — restores your faith in humanity?
I really love The Wiz with Diana Ross and Michael Jackson. Whenever I feel acutely like humanity is wasting its potential, I know it's time to watch that film.
4. What happened in 2017 that actually made the world a better place?
???????
Lol. I think we found ourselves in a political climate that no one—or at least not enough—could have foreseen. And for all the division it created, from Black Live Matter to #MeToo to #NeverAgain, we rediscovered our unity working together to solve problems we'd forgotten could even have solutions. That's why I feel it's so important to look around at our potential collaborators and strengthen those relationships.
5. What are you determined to do—or make or change—in 2018?
In 2018, I'm really determined to stay the course I've been trying to navigate for the last, I don't know, 20 years: doing positive things in the world while carving out time for myself. In a reactionary moment, I've focused so much attention outward that I know I've neglected myself. This year I want to live in harmony a bit more.
It's your time to do something positive by showing some love to the creators participating in 100 Days of Optimism and by creating (and sharing!) your #CaseForOptimism far and wide.