Film Crowdfunding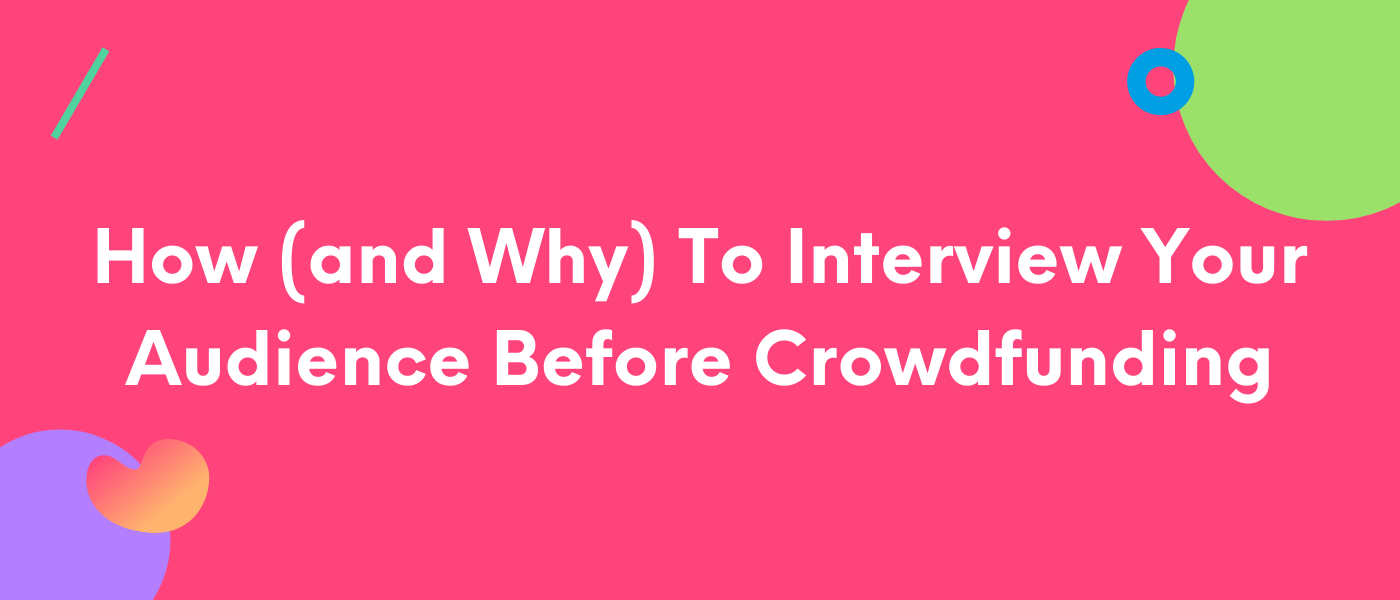 How To Interview Your Audience Before Crowdfunding
May 19, 2020
If you have ever attended an in-person Crowdfunding To Build Independence workshop, you may remember an interactive portion where we ask an audience member to pitch their latest logline, ask the room who that idea appeals to, then interview one such potential fan.
Storytellers need to pitch to people of all different identities, careers, and age brackets to find what unites their audience. What you're looking for are the commonalities that go beyond standard demographics to really dig deep into who, truly, your audience is.
Let's explore these questions and their practical takeaways.
Question: Where do you hang out online?
This one's pretty straightforward; where they hang out online speaks to where you can best reach them. You'll often find that your audience trends towards one or two particular social media platforms, meaning you won't need active accounts on all of them (whew!).
Bonus question: ask your audience if time of day changes their answer. For instance, during the workday, I'm on Twitter because I use it for work on my desktop and I can keep a tab open to check in easily. Once work is over, however, I'm more likely to be on my phone, and therefore I'm likely on Instagram. If your audience is on Twitter, but only at certain times of the day, that's valuable information for you to know. If you're trying to reach the Bri Castellini demographic, for instance, a tweet after 7 pm may as well have never been tweeted at all.
Question: How do you get your news?
Where people get their news speaks to how they find information and how they prefer to be communicated with. You can define news as a lot of things — political news, special interest news (upcoming horror movies, new music from their favorite artists), etc.
Do they subscribe to a newsletter or roundup of headlines? Then you may need to start a newsletter ahead of time to start connecting.
Are they clicking links their friends share? Then getting your core audience and teammates to share the campaign early and often will be key to your crowdfunding success.
What if they go directly to the source, browsing homepages of their favorite sites and outlets? Then getting blog and press coverage early in your campaign is key, especially if you know the outlets they prefer and the style of publications they consider credible.
Question: Who do you follow on social media?
Knowing the influencers and thought leaders on your audience's radar helps in two ways. First, you'll discover who you should be reaching out to for coverage and promotion. Second, each community will have their own communication quirks, shorthand, memes and insider references, and knowing the leaders of those communities helps you learn the lingo to speak more authentically to that group of people.
I hope I shouldn't have to say this, but please make sure your new language isn't appropriative. There's a difference between using a particular meme format for announcing something and digital blackface.
Question: What are you reading, what music and podcasts do you listen to, and what are you watching for TV and movies these days? And how/where are you reading/listening/watching?
Knowing the more mainstream tastes of your audience are all ways to reach or hook people. You're essentially name-dropping to introduce people to your content. For example, the web series Social Medium, about a digital psychic, used the tagline "If New Girl and Ghost Whisperer had a baby, this would be that web series." This works to both associate the new show with shows people are already fans of, set itself apart, and succinctly describe the tone and topic of their project.
Plus, if the content they're fans of are niche enough, you may find opportunities for cross-promotion.
We've spoken before about the difference between social media and email list conversion rates when it comes to crowdfunding outreach, so you know those numbers. But did you know that in-person outreach has the highest conversion rate of all? Knowing where people are enjoying their media (live shows, local theaters, indie concert halls, etc) gives you insight into where you might find them IRL. You know, when we can all safely leave the square block around our homes again.
Question: how do you watch movies/shows?
Knowing the device and app preferences of your audience helps you make decisions about distribution, which will also help shape your budget when you're starting your crowdfunding campaign. Don't budget for a theatrical release if you learn your audience prefers to rent new releases on their couch. Similarly, if you discover your audience leans towards smaller screens like tablets and smartphones, perhaps don't bother with the sweeping wide shots as they'll be hard to see, and focus more on close-up shots.
No audience is a monolith, so you'll likely end up with a few distinct buckets by the end of this exercise. Knowledge is power, and it can also be a little overwhelming. There isn't a right or wrong answer to any of this; audience building and marketing is trial and error, even for the experts. As long as you're listening, engaging and actively interested in connecting with people, you're going to go far.