Film Crowdfunding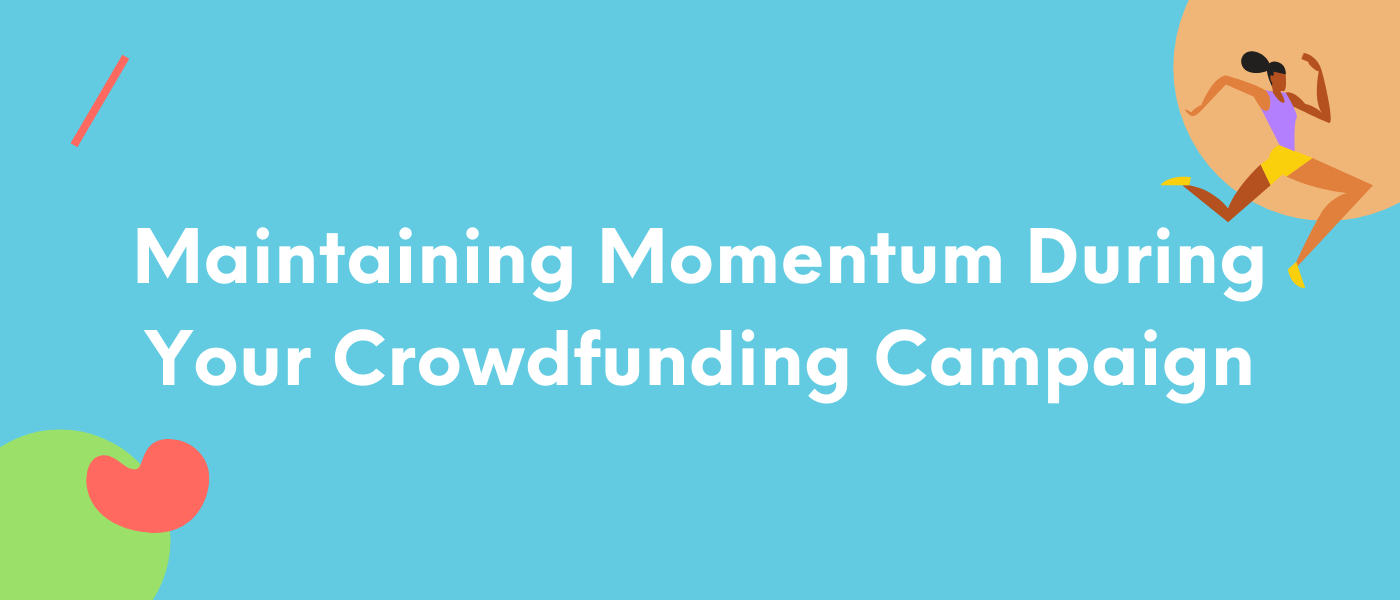 Maintaining Momentum During Your Crowdfunding Campaign
July 20, 2020
90% of successful crowdfunding campaigns (on every platform) hit 30% funded in their first week. Better yet, their first few days. This is because momentum and the inevitability of success is as persuasive as great materials, psychologically speaking. So how can you maintain the momentum of a shiny, exciting new campaign launch for 30+ days? It's pretty simple, actually: have new stuff to say.
Ok, so maybe it's a LITTLE more complicated than that (barely). Think about it like this: if your only messaging for 30 days is a variation of the phrase "hey, you! I'm crowdfunding!" eventually people are going to tune you out. And if people tune you out, and you train them that once they've seen one post from you, they've seen them all, when you do have new things to share, they're no longer listening. The way to keep people engaged throughout your fundraising campaign (and your eventual festival run, and your marketing plan leading up to your release, and your next campaign, and the rest of your career...) is to be thoughtful about rolling out information. Your ultimate goal for each campaign is the same; getting people to pledge. But your method will need to evolve as the days go by, so every day is a fresh start at enticement.
If you're at a loss, don't worry. Below are 6 unique ways of maintaining your crowdfunding momentum, all things that can be done completely for free. That's right, you don't always have to spend money to make money!
Staggered outreach
We touch on this a bit in our post about writing great crowdfunding emails, so to restate briefly: don't email everyone on the first day. Just send emails in batches of 20-50, starting with people you're most confident will contribute. That way, your campaign page will have some visible momentum when new people hearing about it for the first time (and you're less confident in) see it.
This also helps keep you, the campaigner, sane. Instead of sending out 2000 emails in a 24 hour frenzy and sitting on your hands for 29 days, you have a new task each day and yet another new group of people hearing about your campaign for the first time.
Updates worth clicking
When someone supports, loans to, or follows your campaign, they're automatically subscribed to your campaign updates, which are collected in the Updates tab of your crowdfunding campaign and emailed directly to them. This is a huge opportunity to continue to encourage and entice your existing supporters to get you greenlit, and they should be more than simply statistical updates of your progress. If I give you money, and then you only ever email me to let me know other people have given you money, I'll be glad to hear it and will never feel the need to open another email again. Just posting updates and fun things on social media is not enough- we've spoken about the place of social media in crowdfunding before, so take note, and then focus up on your email updates.
Remember, don't train people to ignore your outreach. Your updates should be events in and of themselves. Can you interview different members of your team, or other storytellers in your genre/format and release them regularly throughout your campaign? What if you unfold new clues for supporters to solve a mystery every day? What if you turn your Updates feed into a curated recommendation feed for other, similar media and artists, sharing the love and setting yourself up as a tastemaker? (more ideas here)
Then, because each individual update on your campaign page has its own URL, promote that on social media for the day. It'll still take people to your campaign page, where they can easily contribute, but what you're outwardly talking about is something ancillary. The better the posts are, the more people will be waiting to see what you come up with next.
Milestone celebrations
It can feel a little intangible to only feel like you've really contributed to something when it's over. Early or mid-campaign supporters can often feel detached from the success of the overall campaign because it's so far off. It's similar to how marathon runners feel- if the only marking of progress they got was the finish line, how many people would quit just before that last corner, sure they'd never make it?
Celebrating earlier milestones than simply the end of your campaign will help a lot to keep people's spirits and momentum up. Milestones can be percentage-based ("when we hit 50% funded, we'll….") or amount-based ("Every $2000 raised, we'll….").
For example, I cut a rom com trailer of the psychological horror film I was funding for when my latest campaign to release once we hit our green light (at 80% funded).
New incentives
You don't have to give away your hand at launch. Often times, holding back certain information or offerings until later in the campaign will give your profile a boost once the excitement of launch dies down a bit. Not only will announcing a new incentive during later weeks give you something new to talk about, but posting an update announcing it to your existing followers and supporters may also entice folks who've already given to the campaign to give again.
Better yet: release a new incentive with limited availability. So they aren't just re-incentivized to check out all the cool stuff you're offering, but they're incentivized to claim their own quick before it's too late.
Events
From our master-post about all things events: a portion of your [crowdfunding] strategy needs to focus on strangers with little to no context for you and your team. Hosting events, whether IRL or online, is a great way to promote a crowdfunding campaign wrapped up in a fun activity. Give people things to do alongside other people who like the same things, and they'll be happy to pay for it.
Stuck on what you can plan that'll be fun, entice pledges, and give you something new to promote for a while? Check out our live Lunch&Learn session where four Seed&Spark team members (all crowdfunding alumni themselves) brainstorm ideas live from viewer submissions and their own experiences.
Matching contributor
If someone in your network would like to contribute a large amount, or you have a partner organization making a substantial contribution, ask them to hold off pledging for a bit to become a matching contributor. Essentially, let your audience know that, from now until [deadline you choose], up to [amount the partner/contributor wants to pledge], all contributions will be matched. So if someone were to give $5, the matching contributor would give $5, turning it into a $10 contribution. If you make a deadline, this also encourages people to contribute during a certain window, which will definitely reignite momentum.
See an example in practice here, from the campaign The Light of the Moon.
Final Thoughts
At the end of the day, crowdfunding is just another form of storytelling, and no, we're not just saying that. Let crowdfunding be a creative exercise, because we're all in this for the same reason: to tell stories for a living. So tell stories for a living, even when you're in the crowdfunding phase. You're living, aren't you? Train your audience that when you post, it's purposeful, so they ought to pay attention. The more fun you have with it, the more likely they'll not just help fund your project, but watch it/listen to it/buy tickets to see it once it's complete. If you can make a crowdfunding campaign fun to follow, that's powerful. So don't waste this opportunity!