Film Crowdfunding
The Desperation Phase
January 2, 2018
How concern of failure pushed us to the limits and re-booted our crowdfunding campaign
When I ran my first crowdfunding campaign in the summer of 2012, the idea was fairly new. My friends had heard of Kickstarter, but my parents hadn't. I raised 20% in my first day and reached my goal a full week early thanks to excited family and friends. Five years and four crowdfunding campaigns later, it's not quite so easy.
It's 2017. By now all of our friends, their parents, and even their parents know about crowdfunding. We've all had our facebook feeds spammed by friends and acquaintances alike desperately asking us to give them something- anything!- to help them volunteer abroad/record their music/pay for their treatment/make their movie. Natural disasters and political campaigns are asking us all to throw them a buck. The money market is full of competition. And being the one asking...sucks.
I am directing a documentary film with my co-director Amy Rosner. We just raised $25,145 to finish our documentary Second Assault. This film follows my personal journey to confront my sexual assault from 12 years ago. Needless to say, it's a timely and important film, and we didn't anticipate having much trouble in raising the necessary funds to finish it. Somehow, in the course of 30 days, we raised 113% of our asking total on Seed&Spark. We're still recovering from the shock of the successful finish, but running this campaign was NOT easy. In fact, of the four successful campaigns I've run, it was the hardest.
We did everything right. We wrote the personal emails, got some good writeups from Refinery29 and Huffington Post, tweeted, tumbled, facebooked, instagramed, and reddited. Our campaign raised 22% in the first day and stayed strong for the next two weeks. But no matter how hard we worked and what new ideas we came up with, during week three it looked like we may not make it. This lead to what Amy and I call the "desperation phase."
Des·per·a·tion Phase
ˌdespəˈrāSH(ə)n/ fāz/
noun
a distinct period or stage in a process of campaigning whereby complete despair takes over one's being that often results in shameless asks or brazen acts of self-promotion
synonyms: distress stage, period of hopelessness, turning point, critical time, juncture of uncertainty
"We have reached the desperation phase of the campaign"
It happened gradually. At the top of week 3, we started to fall below the average line.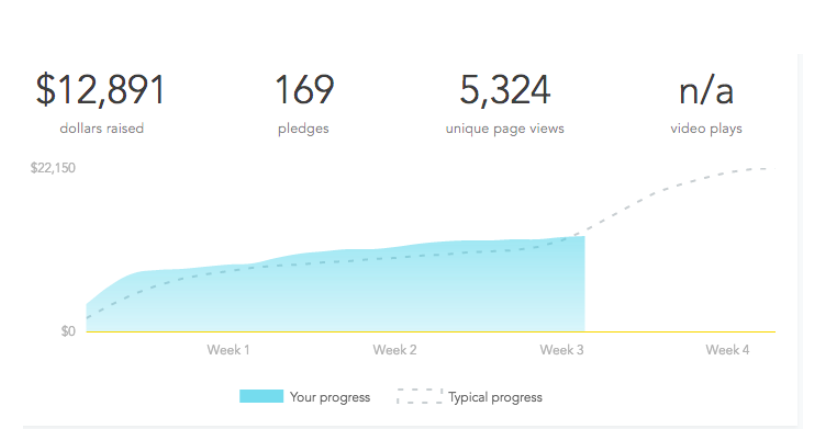 We had to get creative. To bump up contributions, I offered a free download of my debut feature documentary, Trichster, to anyone who pledged any amount that weekend. In three days, we got one pledge. I started facebook messaging people who I hadn't yet reached out to, and texting friends telling them they had to post again. Nothing much happened.
Our crowdfunding video was just the film trailer, which Amy and I thought would best speak to our documentary. In order to better introduce ourselves to our audience, we made a little video of us talking about our film and our creative partnership, hoping to inject a little more personality into our campaign. Hardly anyone watched it.
I enlisted the help of two of my YouTube influencer friends, Darious Britt (who is also the cinematographer on Second Assault) and Rebecca Brown (who was in my first documentary Trichster) and asked them to post for us. This resulted in a bump in traffic to our Seed&Spark page and a few small contributions, but nothing significant.
Finally, I started tweeting my favorite feminist celebrities hoping that I might get a retweet. This got me some new followers, but no retweets. I did, however, get likes from Gabrielle Union, Evan Rachel Wood, Patricia Arquette, Mira Sorvino, and Ashley Judd, among others. But these did not result in pledges.
Amy and I lived and breathed our campaign. Checking our Seed&Spark page first thing in the morning and throughout the day, desperate to see the dial move. We called each other a few times a day to brainstorm other ways to get our film out there. I tried to assure her (and myself) that the third week is the hardest week, and that everything turns around in week four. "Stay optimistic!" we told ourselves. "Everything will work out!"
What really helped us: we lost our shame. We did the thing that we really didn't want to do. We sent another round of personalized emails and texts to friends who had expressed interest in our film but hadn't contributed. We told them if everyone gave $10 we'd be at our goal. We reached out to our colleagues at work and asked them to donate and share. We lost the fear of bombarding our friends on social media and posted multiple times a day. Desperation had taken over.
By the end of week three, Amy and I put our heads together and remembered one big thing: this film is important. It's our way of elevating the conversation around sexual assault. We've volunteered thousands of hours and neglected our personal lives in order to tell an important, universal story and make a difference. It's ok to ask people for a few bucks here and there. And the timing of our film couldn't have been any better with the media so focused on sexual assault and harassment, but it left many feeling helpless and frustrated. We told people that contributing to Second Assault was one thing they could do to feel less helpless. We offered people a way to join a movement and make a difference. This switch to optimism started to work.
We sent an email to our supporters asking them to help us find a matching donor. Within a few days, we got one! A very kind stranger who had already contributed a good chunk of cash offered to be a match donor up to $2500. The second we told our audience this, the contributions came pouring in. People who had already contributed gave more. Other generous strangers contributed amounts upward of $1000 each. The same day we thought we might fail, we more than beat our goal three days before the finish line. With this momentum, we continued getting contributions up until the very last hours.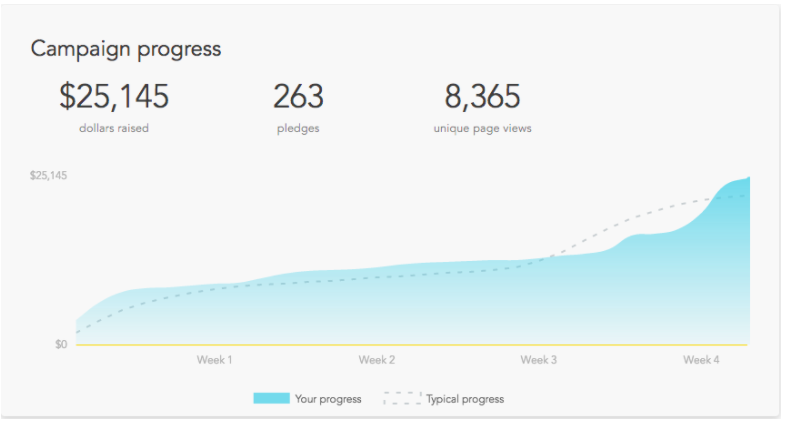 The bottom line: the desperation phase is very real and very scary, but it is an incredibly important part of a crowdfunding campaign. It gave us the kick in the ass we needed and reminded us that it was okay to unapologetically ask for help. We now have a team of 263 people making this film with us, and we can't wait for them to see what we've achieved together!
In the face of desperation, there is a case for optimism. It gives you a chance to reboot your campaign, think outside the box, and build your audiences in ballsy ways you may have not had the nerve to do otherwise. So if you're heading into the desperation phase of your campaign, stress not! Face your fears, put yourself out there, and remember you have something important to say!