Film Crowdfunding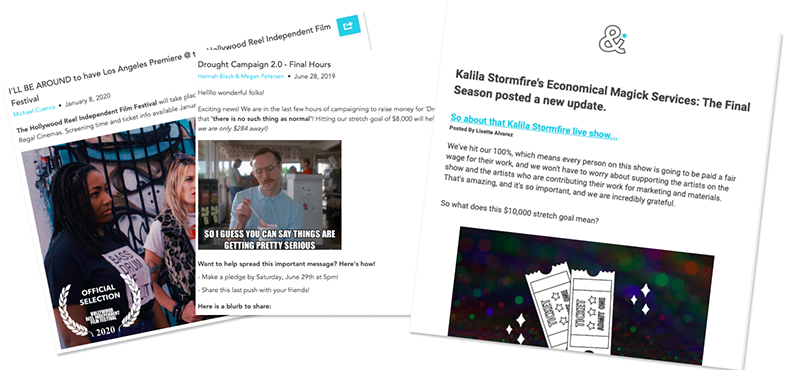 What's up with updates: How to use them to reach your crowdfunding goal
February 10, 2020
We spend a lot of time here at Seed&Spark singing the praises of email. Did you know that sending a personal email has a 25-30% success rate at getting someone to pledge to your crowdfunding campaign, versus the 1-2% success rate you'd see if you posted on social media alone? Wild.
Something I want to focus on today, though, is an element of crowdfunding that's often overlooked: on-platform updates, which, importantly, still get emailed to your supporters but also get archived on your campaign page. You can find updates on any campaign page on Seed&Spark — it's a tab just like the Story, Wishlist and Team sections are. But why are updates so important, how do you craft a strong one, and what are some good ideas for updates throughout your campaign? Let's get into it!
Why are on-platform updates important?
Crowdfunding is successful when it's thought of as audience-building first, fundraising second. And keeping existing supporters up to date on your progress (during the campaign and beyond) is a huge part of that. If you're following our advice about using inclusive language like "pledge" and "join" instead of "donate," then you actually need to include people! When supporters get active updates from a project, they're more likely to stay interested and invested up until it's ready to be watched. What's more, they're also more likely to fund your next project, if you made their first experience a positive one.
Updates can (and should!) also:
Encourage existing supporters to share the campaign (remember to add pre-written social media language for them to copy and paste!)


Compel existing supporters to give you more money (announce a new incentive, or show off how close you are to the next milestone)


Incentivize followers to pledge (because updates go to supporters AND followers, not just those who've already given money)


Show off momentum (90% of successful campaigns hit 30% funded in their first week — the reason? Supporters are swept up by momentum, so letting them hit milestones alongside you and celebrating together is a way to bolster their confidence in you.)
What makes a strong update?
Clear messaging
Why is this update being posted? What do you want your supporters to know, or feel? Share what's going on behind the scenes (especially the challenges that require you to get creative) and give your audience a peek into your process


Calls to action
What do you want your supporters to DO with the information presented?


Eye-catching visuals
People get a lot of emails and messages- what is going to set yours apart, and make them stop and give it their full attention?


Demonstrating momentum
What has been achieved since your last update?


Respond to the world
Is there a current event/news story on theme with your project? Share it and contextualize your own work with the world at large


Shareable nuggets
Easily copy/pasteable language supporters can put on their social media


Gratitude!
Crowdfunding succeeds largely because people have faith in you, in your vision, and in your abilities. Make sure how thankful you are comes across each time
What should I update folks about?
Some updates are going to come naturally — hitting certain milestones or announcing stretch goals if you hit 100% with time to spare for example. But here are a handful of ideas for evergreen content you can steal for your own campaign planning:
Interviews with key cast and crew. You can even include photos or videos from their past work (or their work on THIS project, if you've already begun!)


Event recaps. Did you attend a festival or host a launch or fundraising party? Share some of the best photos of the event and recap your experience! Better yet if you can embed a few clips.


Fun facts. What makes this project and your team unique? Supporters love getting a peek behind the curtain.


Pre-production diaries. If you're raising for production funds, you're likely also doing pre-production while you're crowdfunding. Take your supporters on a location scout with you, reflect on a full day of auditions, share wardrobe tests and in-progress set design. Remember- your contributors are now your teammates, so keep them updated!


Storyboard to screen. If you're running a post-production or distribution campaign, or if you're just looking for something to show off to supporters of your production campaign, share a side by side comparison of your storyboards and what the frame ended up looking like. It doubles as a celebration of progress and a fun look behind the scenes


Put it to the vote. Can you give your pledges a bit more power? If you're stuck between two poster designs, or what wardrobe works best, or even what to name a certain character, add it as an update and encourage supporters to put in their vote on social media with a link to the campaign.