Distribution
What the Joyful Vampire Tour of America Taught us About Independent Film Today
December 19, 2019
On May 5, 2019, I moved my worldly belongings out of my Brooklyn apartment and moved a fraction of them, my husband, and super-talent documentary filmmaker Kiwi Callahan, into a rental RV. We embarked on The Joyful Vampire Tour of America — a 51 screening, 40-city, 3-month, 13,001-mile journey to release our indie feature film, Bite Me, a subversive romantic comedy about a real-life vampire and the IRS agent who audits her.
The core question we were trying to answer for ourselves and others was: is it possible to do independent film distribution differently? Is there some other version other than the current status quo, which is, at the end of the marathon that is making a feature film, for filmmakers to blindly throw that film into a series of lottery systems (film festivals, distribution companies, sales agents) wherein a (mostly white, mostly male) series of gatekeepers then decide — through no transparent system — whether or not your film is worthy of being "chosen"?
The team behind Bite Me felt like the answer to those questions had to be "Yes. There is a way to choose yourselves and go find the audience directly." Seed&Spark agreed to partner with us in our attempt to experiment with an alternative possibility and, thus, The Joyful Vampire Tour of America was born.
Our distribution plan was based on two core hypotheses. The first was that, although Hollywood is constantly complaining that people don't want to see movies in theaters anymore — thanks to Netflix, streaming, having to put on pants to do so, etc — those complaints didn't jive with our observations about the people around us. In an age where technology is isolating us all ever-more-aggressively, drawing us further into our phones and farther away from each other, we felt that people are actually desperate for excuses to get out of their homes and into community. It isn't that people don't want to leave their homes, we figured. It's simply that you need to give them a better proposition than "pay upwards of $50 for two people to go to a movie theater, interact with no one you didn't come with, and have no added positive experience above what you would have gotten for the cost of your monthly Netflix subscription at home without having to put on pants." Our second hypothesis was that, if we did some crazy marketing stunt like, say, travel around the country with the film in an RV for three months, and also put substantial marketing dollars into social media and YouTube ads, that all of that buzz, news, fun and marketing would translate into a larger number of people renting and/or buying the film online.
To test our first hypothesis, we resolved to offer people added bonuses for their in-person movie-viewing experience of Bite Me that they could not get at home. We offered folks a chance to do a Q&A with at least one team member from the film at every screening, an invitation to dress up however made them feel most joyful and, after (almost) every screening, participation in a Joyful Vampire Ball (part-party, part-community building event, part-celebration of differences). This in-person tour part of our release strategy worked like absolute gangbusters. We sold out screenings across the country. People that we had never met drove up to 30 hours each way to come to screenings in costume. We grossed approximately $38,000 in ticket sales across the 51 screenings, meaning an average of $745 per screening, which outstrips the average of all but the biggest Hollywood blockbuster films. Indeed, in many of the theaters where Bite Me was playing on one screen, we would peek into the screens playing the latest Avengers movie. And in most cases, there were several times as many audience members watching Bite Me (many of ours wearing capes). During the tour, we also made an additional nearly $9,000 in merchandise sales on top of ticket sales. This outsized success in attendance is particularly notable since we had a tiny marketing team, a marketing budget roughly the size of the cost of one billboard for a Hollywood film, and, as sales agents kept reminding us early on, a cast made up of actors that were known, but far from household names. In short, with regards to our first hypothesis — all results pointed to it being correct.
Had our second theory proven correct — that that in-person success would drive online sales — a new model for indie film distribution would now be signed, sealed, delivered. Unfortunately, it did not. We were not a little bit off in our online sales projections — we were about 13,001 miles off. I want to be clear that we made our projections based on actual data. They were mathematically based on the real-life, metrically demonstrated interest and click-through rates for our Bite Me social media ads — which were extremely high in comparison to the industry average — and based on our ad spend for the same. Had consumer purchasing behavior followed the demonstrated level of interest in watching the film, we should have netted, conservatively, $400,000 on digital sales/rentals alone, with just under 100,000 people purchasing or renting the film.
Instead, when we finally got our numbers back, they were as follows: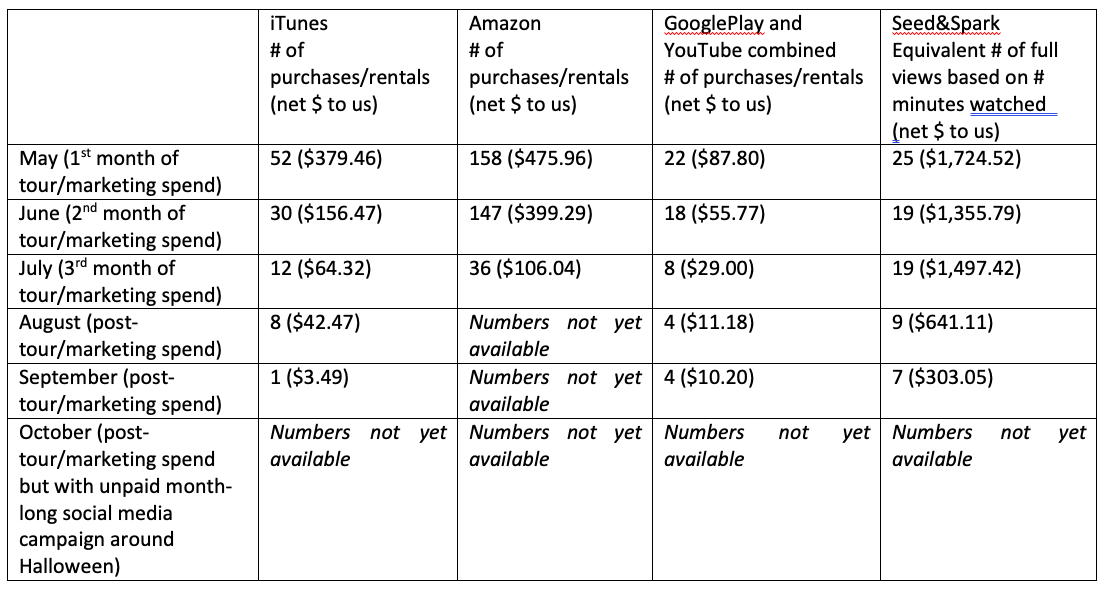 Those numbers mean that – based on the so-far available data – approximately 579 people rented or purchased the film online. We have to-date earned $1,821.45 from iTunes, Amazon, and GooglePlay/YouTube combined and an additional $5,522 from Seed&Spark, for a grand total on digital revenue of $7,343.45.

This is stunning, not only in that our sales projections were so monumentally off-the-mark, but in that, contrary to all popular movie distribution wisdom, nearly four times as many people purchased tickets to attend a screening in-person – meaning made time in their schedules for a one-off in-person screening, traveled to whatever city/venue we were playing in, paid more money than they would have paid at home, and, not only put on pants, but, in most cases, put on variously elaborate costumes – than paid to watch the film online.

What we learned only after the tour was over – thanks to the chronic opacity of information in the film business is that the entire Transactional Video on Demand or TVOD (a term which refers to any instance in which a person pays money to rent or purchase a specific movie (i.e. iTunes, GooglePlay, movies on Amazon that are not included in AmazonPrime) has gone up in a puff of smoke.

What has clearly happened over the last few years, is that we have reached an inflection point in which Netflix has finally trained almost everyone to expect great and expensive-looking content for free (or what feels like free because the subscription fee just comes off our credit cards every month) and, at this point, most people simply won't take out their credit card and pay even $2.99 to rent a specific movie (except in the cases of the absolute highest prestige or "event" superhero movies). This is true up and down the industry, as I learned when I finally got a sales agent to admit to me, off the record, that TVOD sales for everyone have declined 50% year-over-year for the last two years. Sit with that one for a minute — that revenue stream is, for all intents and purposes, gone.

That is bad news for indie film, although at least, thanks to testing that hypothesis, we now know this information. But, we actually have a lot of good news coming out of The Joyful Vampire Tour of America for you to go along with that bad. So, here you go:


The primary contributing factor to the current insanity of indie film distribution is a lack of transparency – from the big boys to us, yes, but, probably even more importantly from us to each other. There is a viable economic distribution model out there for indie film. But the only way we will find it is if a whole bunch of us start making and testing new hypotheses with our own film's distribution strategies and share the results - successes and losses - with complete transparency so that others can learn and build on them. We've kicked this info-sharing off with our docu-series, The Joyful Vampire Tour of America, made by Kiwi Callahan in real time as the tour unfolded. We will also be releasing an even more comprehensive written report and case study through Seed&Spark in Q2 of 2020, so stay tuned for that. Please try your own experiments and share your learning with us too.


The preponderance of evidence suggests that our first hypothesis was correct. People do want to see films in-person, out of their homes, in community. They just need better incentives to do so. Learn from that as you keep experimenting. Our second hypothesis was incorrect. TVOD is dead. Now we know. Learn even more from that and keep experimenting with other alternate revenue streams that can help build out an economically sustainable model for budget recoupment. We'll keep experimenting too.


Following the tour, given that we had not come close to recouping our $500K budget from the tour itself, we turned back to the existing indie film distribution "system" in another test of our original central question of "Is it possible to choose yourself and demonstrate your own audience, rather than waiting to get chosen?" The answer to this question, even as we turned back to the system, was, to our own surprise, resoundingly "yes." Within a month and a half, we had no less than 6 offers from sales agents and distribution companies interested in taking on the film – based on the commercial viability and audience we had demonstrated on tour and typified in this audience response sizzle reel (https://www.youtube.com/watch?v=cCHJCnq9wrY). That is 6 more offers than we received a year prior - before the tour - when we were just in the position of being just another as-yet-unchosen-indie film. We carefully selected a best offer and we are now in the position that we may well yet recoup – or at least go a long distance closer to – recouping our budget through ancillary domestic and international sales, all because we were daring enough to choose ourselves first.
Watch the full journey of the Joyful Vampire Tour of America in docuseries format here.