Distribution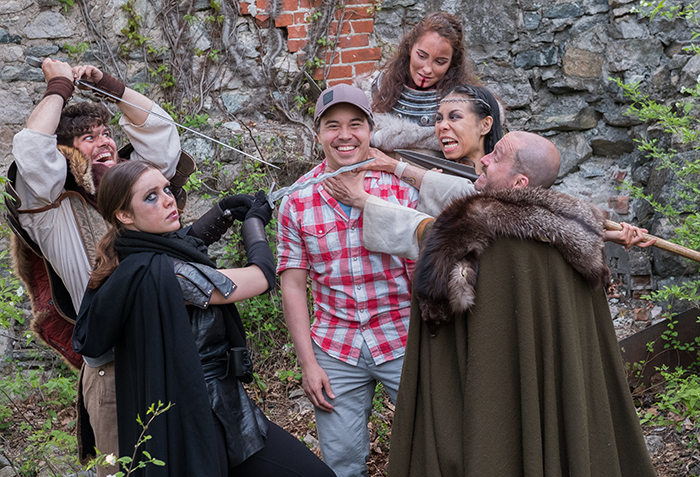 New Voice Rally Winners, TableTalk, Talk Season 1 Premiere
August 11, 2017
One such New Voice participant was a campaign named Errata, a series by Nathan Hong Fisher and Kristy Richman about a group of friends who get together to play board games and share the ups and downs of their lives in the process. They hit their fundraising goal, building an audience of supporters along the way. Then in February, their New Voice Rally series was selected for the Straight to Series prize from Fullscreen, meaning Fisher and Richman received a development deal with Fullscreen and a premiere at SeriesFest. 
After spending the past several months hard at work producing a full 7-episode season, Fisher and Richman are gearing up for another big moment: their series, TableTalk, premiers on August 14, 2017. We caught up with them to learn more.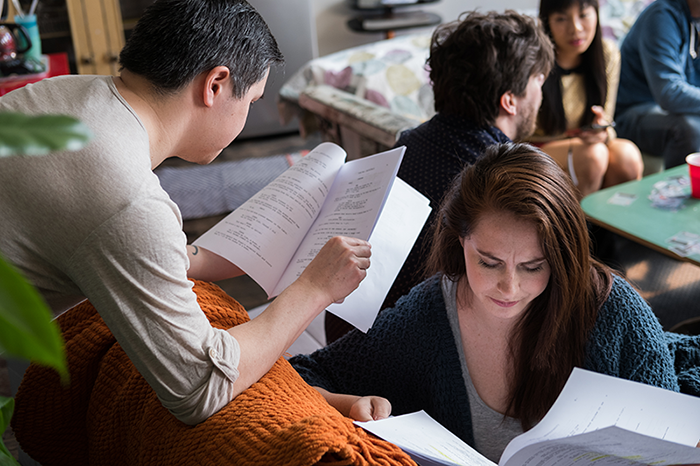 What's the journey been like? You've gone from launching a crowdfunding campaign to winning a development deal and now having your series premiere, all in less than a year.
In just a few words, a creative whirlwind! When we launched the campaign through Seed&Spark and the New Voice Rally, we were hoping to make a couple more fun episodes to package with the proof of concept we filmed the prior year, but it turned out to be an amazing opportunity to create and distribute a full season of an idea we're absolutely in love with. To take the seed of an idea as ambitious as TableTalk through the entire creative cycle in less than nine months was an amazing chance to grow as content creators and storytellers. As with any production there were highs and lows, but with the team we were able to put together and the support of our followers and the leaders at Seed&Spark and Fullscreen the end result has given us the confidence to continue telling the stories we like to tell. As emerging filmmakers everything we've learned over the past year in each phase of producing a series is invaluable to creating a sustainable career in this industry. It's the largest undertaking we've tackled to date, and now that season one is ready to be watched we're excited to look forward to season two and beyond. TableTalk is something that we, as a team, are proud to have created.
Because you crowdfunded, TableTalk brought its own audience to Fullscreen. What's been their reaction as you worked through production? What are you most excited to share with them?
Our audience has been amazing. Having a sounding board throughout the life of the production has helped to keep our spirits up when we're on day five of a fourteen day shoot, and has given us the benefit of having feedback on some of the wacky ideas we have before they go into action. The concept of the series is quite different from anything we've seen before, and one of the most exciting things is seeing and hearing the reactions from people watching it for the first time. We've worked hard to bring TableTalk to life and, really, we're simply excited to be able to bring the start of this story to the people that believe in us as filmmakers.
It was a fantastic experience working on season one, and hopefully we will be able to bring you more seasons with another diverse set of game worlds to explore. We have some really cool partnerships in the works with a handful of super talented game companies that want to be a part of TableTalk so, fingers crossed, we'll be able to give our audience some more amazing news in the weeks to come.
How has working with a diversity-committed platform impacted your filmmaking?
Diversity and inclusion is something that Kristy and I strive toward in each and every one of our productions. The power of stories from places other than what we have traditionally seen in the entertainment industry is where a lot of young creators find their voice. Having a company like Seed&Spark that has a focus on helping the underrepresented be heard gives a sense of belonging and community that helps to empower a new and diverse group of filmmakers that will one day be leaders in the industry.
What can we expect from season 1 of TableTalk?
Season one of TableTalk is drawn from our personal love of tabletop games while the story is inspired by the complications that life throws at you as you progress through your mid and late twenties. More than just a few of these speed bumps come from personal experiences. The group of friends in this story find that friendship, as you get older, is something that has to be worked at and finessed. Through the microcosm of board games this season looks at how the milestones of life impact a tight knit group of friends.
---
Congratulations to Nathan, Kristy and the entire TableTalk team! You can watch TableTalk online or on the Fullscreen app on your device of choice starting Monday, August 14. All seven episodes of the first season will be available to binge, so spread the word and get your snacks and drinks ready! (Mind if we come over?) 

Inspired by this success story? Learn more about crowdfunding your series (or feature or doc or short) on Seed&Spark!