Education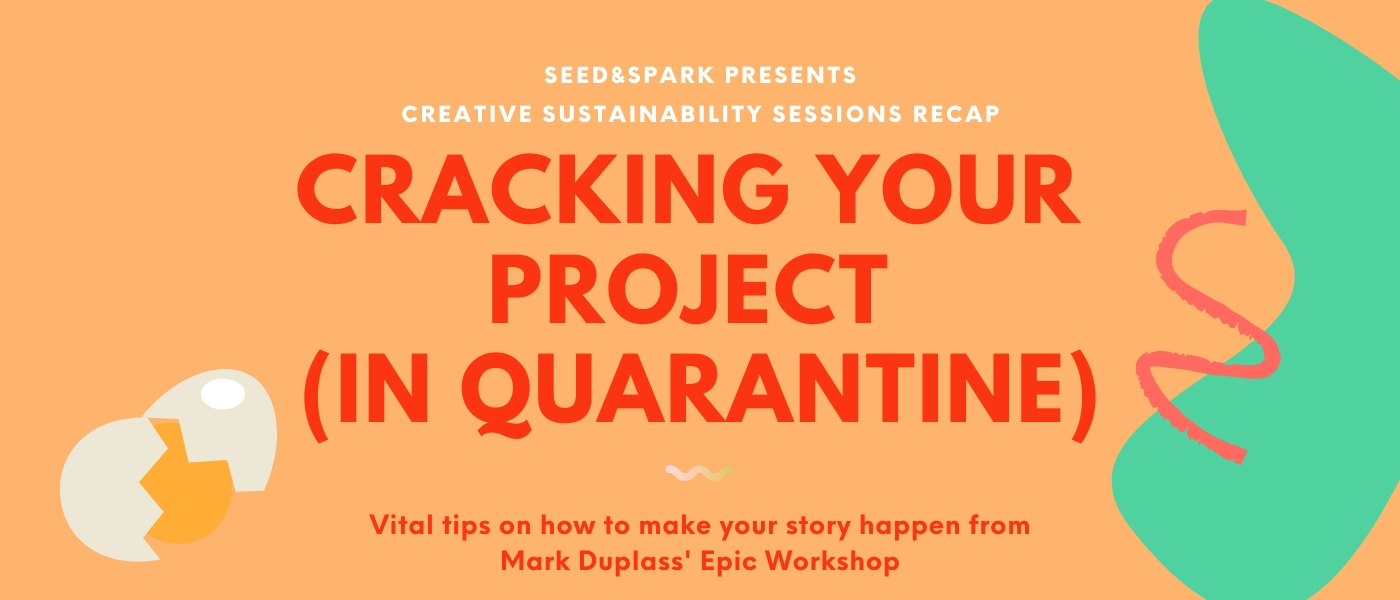 Crack Your Project with Mark Duplass
May 19, 2020
How can you make a project with the sword that you have in your hand? What can I make right now without having to wait for someone else's permission? On Friday, March 15, 2020, American filmmaker, writer, actor and musician, Mark Duplas explored these questions and more with filmmakers Andrew Nadkarni, Lorena Lourenco and Brooke Ross as part of the third session in our series of Creative Sustainability Sessions:
"We are trying to take the DNA of whatever your idea might be and find a way to really crack that thing so that it can pragmatically be made with the tools in your hand, which is often not a lot of money and a lot of ingenuity," Duplass said.

Before diving into the filmmakers' projects, Mark opened the conversation with our CEO and founder Emily Best, emphasizing the importance that limitations have on the post-COVID 19 filmmaking landscape. In order to safely create films from your home, Mark urged filmmakers to expand their minds by allowing the natural limitations of a pandemic world to inspire them to do new things that they wouldn't have done before.

We identified three questions asked from Mark's analysis of Andrew Nadkarni's, Lorena Lourenco's and Brooke Ross' film ideas that were used to ultimately help them crack their projects:
1. When you go into your spirit and soul, do you know in your heart what this story is about in its core, other than the actual story — is there something there that is bringing you to it?
The significance of Mark asking this question is to help align the business strategy in conjunction with the creative, "so you don't make a great piece of art that sits in your drawer."
He advised that an important part of this process is reverse engineering your creative into a business model that is (1) affordable and puts the power in your hands to be able to make the story and (2) allows you the opportunity to get it out to people strategically.
In a follow-up question that encapsulates this insight, Mark asked,
2. What do you uniquely have to offer right now that would make your piece of art worth consuming in the world?
The goal is to find a vehicle that makes the sword in your hand (the intrinsic value of the project) valid.
In the case of Andrew's film concept, following the story of a renowned scientist (his aunt), studying treetops in rainforest canopies when her world shifts after taking a life-threatening fall. Mark identified his sword as the spiritual connection to his subject —- his aunt. The intrinsic value of uniquely being able to identify with her as her nephew is the spiritually and pragmatically driving force of the sword for Andrew to wield in order to crack his project.
"Before your craft is really honed, what you have to offer is your own personal vomit," Mark joked. Instead of operating from a place of scarcity, Mark stressed the significance of leading from a place of abundance.
"Start writing on a piece of paper all of the available materials that you do have and start looking at them and see where your abundance is that you can pull from," he suggested.
Another major consideration for independent filmmakers when considering the business model in conjunction with the creative ideation process is answering this straightforward yet important question:
3. Do you have representation? (Do you have people behind you?)
If you have a finished pilot, then you can be in a place where you can show it at festivals, but if it's only a script, you are relying on having a representative to get it into the right hands of people who can fund it.
Being honestly aware of your current positioning in the film industry likely means you'reput more squarely in the boat of making something as a proof of concept as opposed to where Mark is in his career.
"The fortunate position I'm in, where I can just hand the script and they'll read it because I have my agents —that's just, like, one of those crappy natures of our business." Mark continued, "until you have made something that is really, really good and has connected with a little bit of an audience, no one wants to hear and no one is coming and it fucking sucks. But it is just the brutal reality of it. And I hate to be so harsh but it, but it is why I preach what I preach so strongly — you've got to go make it!"

If you are interested in hearing more of these gems, check out the full livestream conversation that consists of a Q&A session with Mark Duplass to help you continue to crack your project and build a sustainable creative career.