Success Stories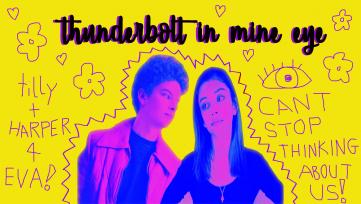 Duplass Brothers To Executive Produce Independent Film Selected From Seed&Spark Crowdfunding Rally
November 16, 2018
An independent feature film being written, produced and directed by female filmmakers received more than $60,000 in funding and a production deal with well-known independent film producers Mark and Jay Duplass as part of a monthlong crowdfunding initiative on Seed&Spark, an online platform that offers crowdfunding for independent movie and television creators and a streaming subscription service for audiences. Crowdfunding projects and streaming content on Seed&Spark emphasize diversity and inclusion.
The film, "Thunderbolt in Mine Eye," raised more than $15,000 on the crowdfunding site and as part of a partnership with Seed&Spark, will receive an additional $45,000 from Duplass Brothers Productions, Salem Street Entertainment and UnLTD Productions all of whom will serve as Executive Producers. The film was selected from more than 15 finalists and 40 independent films participating in the Seed&Spark "Hometown Heroes" crowdfunding rally that focused on films centered around filmmakers' hometowns.
"There is so much untapped talent that unfortunately often gets pushed aside for one reason or another; it is important that as an industry we open ourselves up to everyone and everything in an effort to create an environment of diversity and inclusion," said Mark Duplass, co-founder of Duplass Brothers Productions. "This film was compelling and had a unique voice and authentic dialogue we felt would resonate with audiences."
Oregon-based filmmaker Sarah Sherman will write and direct; her brother, actor Zachary Sherman, co-directs; and Oregon independent filmmaker Elise O'Brien is producing. The film stars teenage actors Quinn Liebling (Netflix's "Everything Sucks!") and Anjini Taneja Azhar ("Star Trek: Into Darkness"). "Thunderbolt in Mine Eye" centers around two young neighbors who embark on a first love relationship in which they struggle to remain kids amid the complexities of modern adolescence.
"We are trying to give independent filmmakers an opportunity to fast-track their projects and bypass some of the traditional obstacles they might ordinarily face," said Emily Best, founder and CEO of Seed&Spark. "There are a multitude of incredible talented directors and writers all over the country who Hollywood doesn't see as a part of their pipeline. They're not getting the opportunities their talent warrants and we have seen how crowdfunding can truly level the playing field."
To be considered for the production deal and additional financing, crowdfunding campaigns needed to launch on Seed&Spark on Sept. 17 and end Oct. 17, meet at least 80 percent of their crowdfunding goal and gather a minimum of 1,000 campaign followers. The minimum campaign goal was $7,500. Filmmakers who met the required criteria had 10 days to post a 30-second video pitch about their feature film. The winner will also receive $5,000 in video storage from G-Technology, a $999 credit from web-based title creation company Endcrawl and a $2,150 production training session from AbelCine.
Seed&Spark is an online platform that offers crowdfunding for independent movie and television creators, a streaming subscription service for audiences and educational events for creative talent. Crowdfunding projects and streaming content on Seed&Spark emphasize diversity and inclusion with more than 70 percent coming from women, people of color and LGBTQ talent. The streaming subscription service, available on Apple TV, Roku or online using any device, offers a highly curated library of award-winning movies and television shows with subscribers having the option to pay what they can every month. Since the company was founded in 2012, more than $16 million has been raised for over 1,100 movies and television shows, boasting a campaign success rate averaging 80 percent which is the highest of any crowdfunding platform in the world. Seed&Spark also holds more than 125 educational events every year across the country to help content creators get their projects produced and distributed. The company is headquartered in Los Angeles. More information can be found at www.seedandspark.com.
# # #