Film Crowdfunding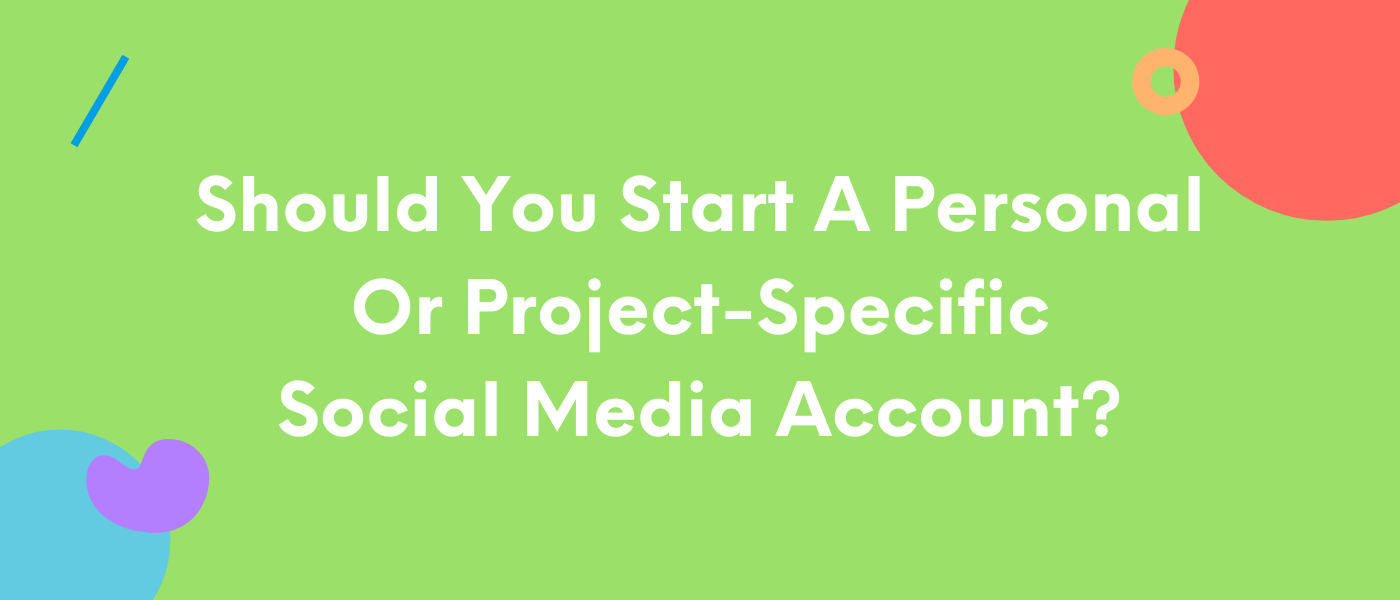 Should you have personal or project-specific social media?
June 25, 2020
We consistently get questions at Seed&Spark about social media, and the most common question is "can I crowdfund without social media?" (answer: yes.) The second most common question is more complicated to answer- "should I use my personal account, or should I start a project-specific one?" (answer: that depends!) You also don't necessarily have to choose one or the other; it's worth exploring what the purpose of each would be and how they'd fit into the rest of your busy schedule.
Using your personal social media to promote your work
Yes: if you already have a following.
Since we talk about how building an audience early is a major factor in ongoing career and crowdfunding success, if you already have the beginnings of one, why reinvent the wheel? If you have an existing personal account where you already talk about your work, and have already found any amount of audience outside your personal networks, start there. You can always start a project or production company account later!
No: if you wouldn't use the account outside of promotional mode.
Social media done best is social first, media marketing second. If you aren't interested in being "yourself" on social media in between projects, it may not be worth it. There's a different expectation from following a person on social media versus an entity or project, so if you aren't living up to that in some way (even with a healthy set of boundaries), maybe you don't need your own account.
Yes: if you are the connective tissue between several projects (past, present, and future)
If you're the lead actor in your work, or the writer/director behind most, and you're the consistent public-facing representative of the work, it may make sense to maintain a personal account.
No: if you want concrete boundaries between you and your adoring crowd.
Plenty of people would prefer to be successful creators without themselves becoming part of the brand/product. If you would rather keep a professional distance between you, the human, and the art you create, making the primary promotional method a personal account doesn't make sense. It's completely fair for your personal profiles to remain private-facing, rather than public-facing. The earlier you know your own boundaries around yourself as a semi-public figure, the better.
Yes: if you plan on making multiple projects in succession.
Are you hosting multiple podcasts? Releasing several comedy sketches? Distributing a few short films? Sharing new paintings? Then a personal account is far better than creating a new profile for every project and then abandoning it once its promotional cycle is over. And because not every kind of art lends itself to a "production company/collective" account, a personal account makes more sense here.
Using a project-specific account
Yes: if you make work under a production company or collective name.
Having a professional collective account to point people to if they want to learn more about your work is useful, particularly for fans of the work itself and for members of the press. Having a feed exclusive to your work can be a good marketing and professional tool, and you won't have to second guess whether starting a conversation unrelated to work on your personal account will undermine your overall "brand."
No: if this is the end of the line for this project.
If you have less than 12 months of reason for an account to be live, it may not be worthwhile. Many creators rush into creating project-specific accounts, then that project ends and the account dies off, or they realize they don't have enough bandwidth to continue releasing content. If the project doesn't have staying power past a crowdfunding campaign and its eventual release, it almost certainly doesn't need its own account. See above for a more evergreen way of handling this. Most creators will make more than one project, so have a plan for that even if this is your first.
Yes: if marketing feels personally uncomfortable.
Sometimes being able to use "we" statements when sending emails or responding to comments is the only way to get yourself to do it. Instead of saying "hello, I think you should check out my film for your blog," you get to say "we've made a project we think you'll really enjoy." The difference is subtle, but if it's your first time marketing, that feels a lot less awkward. Eventually, especially if you're a director or actor for hire, you'll want to branch out to your own accounts, since ultimately in those cases you are the "brand," but to get your feet wet in the world of promotion, it can be helpful to have some detachment.
No: if the goal of the work you're promoting is as proof of concept for you as an artist.
Every project needs a goal. Whether it's to get experience with a new skill, to spin off into a larger piece, to work with people you respect, or to prove yourself, decide what it is as soon as you can so you don't waste time and energy on marketing that doesn't uphold it. If you decide the primary goal of a piece of work is to get yourself hired, then the piece itself doesn't need its own autonomous account.
Yes: if your project is ongoing, or has a lot of supplemental content.
If you're making a web series with multiple episodes and potentially multiple seasons, it makes sense to have its own account. If you're creating a body of spinoff work from the central project, like a blog or a podcast or a behind-the-scenes video series, aggregating all of that in a single place will be helpful for audiences. If this work, or related works, will live on longer than 12 months, and engaging with the content is more complicated than visiting a single YouTube or website link, a dedicated social media account is definitely worth investing time and energy into.
Should I just make both?
Yes: if you have the bandwidth. As you can see, there are benefits to each unique account, and as you continue in your career, you'll end up with both (or three or four or five) unique accounts eventually. In terms of if you should make both accounts right now, be really honest with yourself: do I or does my team have the energy and the content to keep these accounts alive? Social media accounts are like houseplants: they don't need constant supervision, but someone needs to be checking in on a regular basis.
No: if you hate social media. There are valid reasons to make social media accounts (period) and social media accounts (plural), and there are valid reasons to stay away. If you think you're more inclined to the latter, and a social media cleanse is on the horizon (or here to stay) for your own mental health, we got you.
While we have you here, check out our full thoughts on using social media for crowdfunding and audience building Lunch&Learn session: