Film Crowdfunding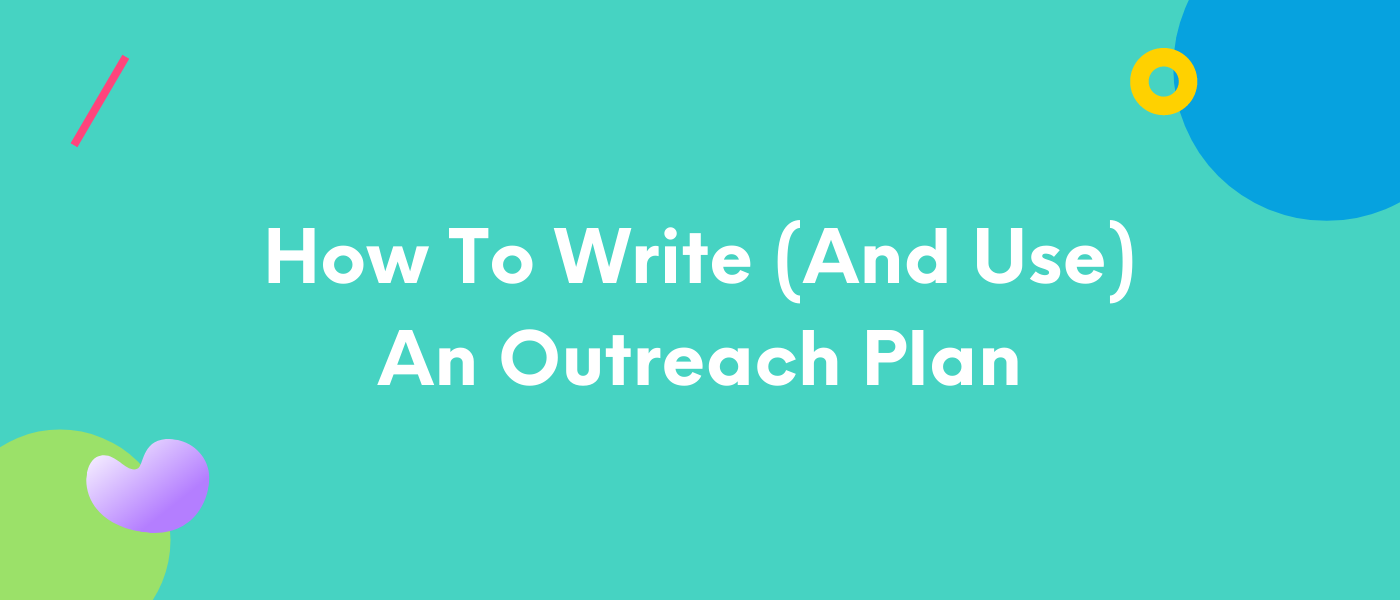 How To Write (And Use) An Outreach Plan
August 25, 2020
In case we've been too subtle about this: the success of your crowdfunding campaign ultimately comes down to your outreach plan. If you build it, they will not come… unless you invite them. If you've submitted a crowdfunding campaign with a sizeable goal (generally $20k or higher), we may have even asked you directly to send us your outreach plan so we'd have more context for the feedback process and could more effectively set you up for success.
But what is an outreach plan, how do you put it together, and how does it help you? Let's explore!
Why?
For the same reason that you wouldn't embark on a project without pre-production, a shooting schedule, and a shot list, you shouldn't launch a crowdfunding campaign without having a plan in place. An outreach plan is your blueprint for success- who you'll reach out to for differing levels of involvement with the campaign, how you'll reach them, and how you'll maximize the limited time you'll be campaigning for so you can build both a budget and an audience for the finished project.
Trust me- you don't want to wake up every day during your crowdfunding campaign and have to figure out how to maintain your momentum from scratch. 30 days is a lot longer than you think it is once you're living it.
If you were sent this article by your Seed&Spark crowdfunding specialist, you don't need to send us all of the following information. Just send enough to give us a sense of your plan and how you foresee your overall outreach strategy. The more details you give us, though, the more valuable our feedback will be.
What?
What should be included in your outreach plan will depend on your project goals, the size of your budget, the size of your team, and any number of unique variables. As a place to start, though, it should include:
Your Email List
Start here, for everything you need to build and organize an email list for crowdfunding, marketing, and beyond.. And when the time comes, this resource will help you actually write the emails. As it pertains to Seed&Spark feedback when we ask for your plan, just tell us the number of emails on this list.
Social media reach/engagement
How large are your social media networks (yours and your teammates' who are in this with you) and more importantly, how engaged are they? Meaning: do you consistently get interactions with your posts, reshares, replies, etc? Which platforms are you finding more engagement on, and which do you think you'll focus on the most during your campaign? Will you use a personal account, or a project-specific one?
Social media plan
Social media only converts about 1-2% into actual contributions, so it shouldn't be your main outreach priority, but depending on the size and engagement level of your networks, 1-2% is nothing to sneeze at. With that in mind, do you have an idea of what kinds of things you'll be posting? A schedule to keep yourself accountable? Check out our Lunch&Learn on the subject for advice and inspiration here.
Communication schedule
Are you releasing new content throughout the campaign, like new incentives or revealing information about production? How often? At which points? How will you balance social media, emails, and updates, and have you planned out at least some of that content already? How big and involved is your team in all this?
Events
Have you planned any events at particular funding or timing milestones? How will you balance the marketing of those in addition to the marketing of the campaign as a whole so they don't cannibalize one another and instead work in tandem to get you closer to your goals?
Partnerships & Press
What partnerships, if any, do you have, or are you exploring? What press outlets are you pursuing and/or have agreed to write about the project? You should probably have a separate email list for partnership and press prospects, and the more research you do on them ahead of time, the more likely they are to come through for you. Plus, the earlier you reach out, the more likely they'll be on board for your actual campaign run. We recommend lining up partnerships as early as you have a fully realized concept for your campaign, and reaching out to press once you have an approved preview link of your campaign page you can share.
Money & Timing
How much funding have you secured already, if any? Remember, early outreach is key in order to hit that 30% mark in your first week (which is the common factor in 90% of successful crowdfunding campaigns). Do you have a matching contributor set to come in at some point during the campaign? Have you considered raising in stages rather than raising for everything all at once? Remember, you can lean on us to ensure your current campaign goal is realistic.
Assets & Imagery
You're going to want more than a single poster or key art to promote your project, because if your visuals are all the same, people are going to filter your posts out as repetitive. Do you have graphics, logos, and screenshots or other imagery to keep things fresh? Nothing visual (not even individual incentives) should go into the digital world without a logo and/or watermark text of your crowdfunding URL on it, and the more visually distinct your branding is, the more people will be able to track the ongoing success and reach of your project.
How?
Once your campaign has been approved by us (possibly after we review your plan, if we ask for it or if you send it for feedback on your own), this outreach plan should be your blueprint. The more concrete and specific you can make it, the more useful it'll be on a day to day basis. Of course, your schedule shouldn't be so ironclad that you don't have space for new elements and pivoting as you learn from your crowd, but it should be ironclad enough so you aren't constantly stressed about what else you could be doing.
Take a breath, lean on your team and your collective preparations, and remember: you aren't asking for money. You're getting as many people as possible excited about this project, and giving them a beautiful and info-filled page for them to decide how much their excitement is worth to them.
Center your messaging and outreach plan on your passion, and you won't just build your budget; you'll build a life-long audience.