Education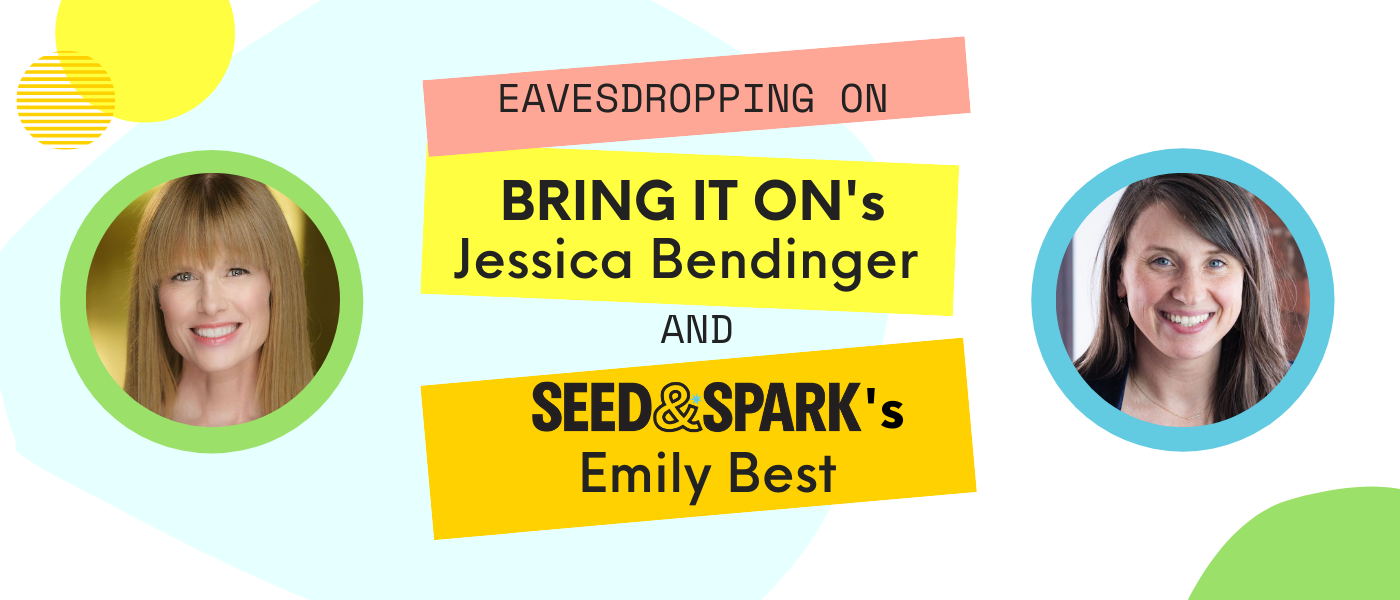 Eavesdropping on Bring It On's Jessica Bendinger + Emily Best
March 25, 2021
Cultural juggernauts Bring It On and Stick It grossed over $500 million worldwide — and came from the mind of one woman: Jessica Bendinger. In addition to being a renowned screenwriter and filmmaker, she's an industry mentor (Sundance Institute, The Blacklist, American Film Institute, and more) and a former screenwriting professor (UCLA).
Seed&Spark founder and CEO Emily Best sat with Bendinger (virtually) for our Creative Sustainability Session,
Bring It On: Women in Screenwriting
, a dynamic fireside chat covering Hollywood insights and the culture of writing.
Here are just a few highlights from their conversation:
Carry on!
"There is no 'no' that is going to be the end of you," says Best, "Everyone is going to tell you 'no.' The money is scarce. The landlord is shitty..." Bendinger understood — from the very beginning — the necessity of perseverance.
Times were pretty rough for Bendinger when she was first starting out. "I was dog-sitting as a way to be in LA, so I was 'homeless.' And I moved from couch to couch and I traded house care and dog care in order to do that." And while not all struggle is conducive to creativity, Bendinger says she was "too dumb and too desperate to have a backup plan."
Redemption culture > Cancel culture?
We're all well-versed in cancel culture. There is power in society deciding collectively that an individual's behavior is unacceptable and acting accordingly. But Bendinger is more interested in redemption culture:
"Selfishly, I don't learn anything if you shut the door. What's great about Torrance's [the lead character from Bring It On] trajectory is she's shamed just enough to not be traumatized. She's shamed and guilted just enough to find her moral center and recalibrate. And that's really what redemption is."
Hollywood's unpaid labor market
Beyond internships and underpaid assistants, Bendinger brought to light what Best calls "a whole piece of this market that expects a high level of exploitation," even for established industry professionals.
"Hollywood relies on an enormous — and I mean enormous — unpaid labor market," says Bendinger, "Let's walk through how this works: My agent, who is paid, says to me 'I want you to pitch on this project.' The front end of planning a series or a movie is like a blueprint; it is architecture. It is a huge effing amount of work. Let me not understate that. And when I don't get the job, that's a loss. I've spent a week, two weeks, endless calls, working for free."
You've got to own your IP
"If you sell a pitch, the studio owns it," says Bendinger. That means you lose creative control after you've made a sale. But your novel, graphic novel, or podcast is IP (intellectual property) that belongs entirely to you. "You want to find yourself owning your IP when you can," she says, "and doing it in a way where you are protected."
"Crowdfunding is an amazing way to allow you to produce something where you own 100% of the IP, and the audience that goes with it," says Best.
Your inner writer deserves a sippy box
In order to be creatively productive, Bendinger treats her inner writer gently. She has a routine that includes meditation, coffee, and morning pages. "I don't do well when I'm in 'sacrificial lamb mode' with my writing. I need a glass of water, a snack, a sippy box. I've got to take the kid out of the driver's seat, put her in the car seat, give her a sippy box. The adult is driving the car."
"I'm not writing to impress her," says Bendinger, "I'm writing to take care of her."
〇 〇 〇
This online event — like all Seed&Spark's public events and workshops — was free! Find all our upcoming
events here
.