Taking Action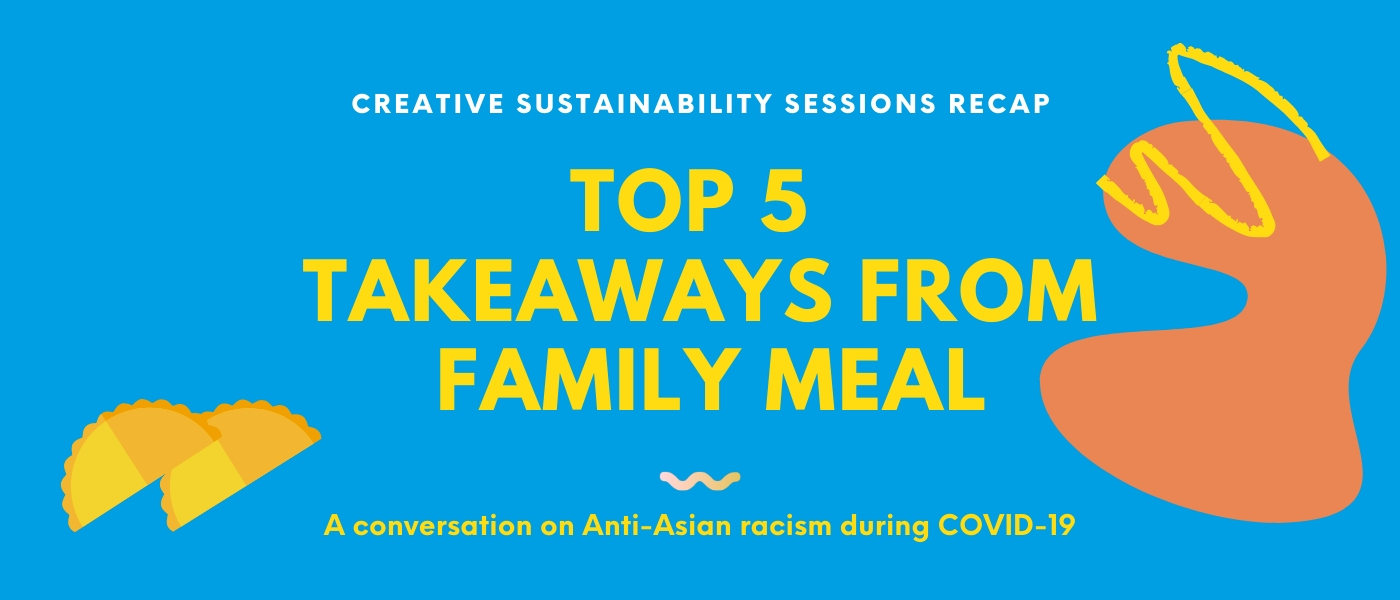 Top 5 Takeaways from Jeff Yang's Family Meal
May 7, 2020
On May 1, Taiwanese-American writer Jeff Yang introduced the first episode of Family Meal: "an idea that came about because a number of us were just craving the kind of connection that we used to have over food."
As Seed&Spark's first Creative Sustainability Session, Family Meal is a virtual dinner party-style conversation, where all the participants and much of the audience filled their bellies by eating their favorite Asian meal while filling their hearts and minds with insightful, sometimes challenging, sometimes funny as hell discussion.
Jeff Yang (@OriginalSpin) joined associate editor at Deadline & co-host of the New Hollywood podcast, Dino-Ray Ramos (@DinoRay), along with writer-journalist Rebecca Sun (@TheRebeccaSun), blogger & podcast-producer Phil Yu (@angryasianman), and activist-writer Taz Ahmed (@tazzystar) in a Voltron-like Asian American podcast to engage in the heavy topics of the day's global pandemic.
Yang kicked off the series with a question that's been on everyone's mind: "Have you eaten yet?"
The hour-long livestream conversation featured a balanced dialogue of lighthearted banter and personal analyses that unpack the ways in which COVID-19 are impacting the Asian-American experience. There were five major takeaways that resonated most with me:
1. Coping with lost identity
This first major takeaway came from Rebecca Sun's words on coping when her job at The Hollywood Reporter was taken away from her.
"Who I am when I don't have a company identity behind me… What kind of value do I have? What worth do I have?" Sun said. "It was a real test of my personal faith… And I think that for some Asian Americans, culturally or through our families, there is so much emphasis on evaluating value based on professional achievement… Animal Crossing helps a lot."
Whether it's through gaming or television, people are embracing escapist ways of not thinking about the reality we live.
Activist-writer Taz Ahmed highlighted this importance through creating art.
"I've been spending most of my time painting a lot. I've been trying to have a creative practice and I think I want to remind people that crafting isn't just for little kids. Like we're at a time where we're being told to slow down. If we're slowing down, pick up another hobby, learn something new, just give yourself time to turn everything off and do something with your hands and then go back to the chaos," he said.
As a reporter, Dino-Ray Ramos described the plight of having to keep up with the news cycle and the extra layer of anxiety that comes with it.
"You get into this wormhole of like, once you find one piece of information, you start digging and digging and digging until you can find a good piece of news. And then after you find that good piece of news, by the time you get there, it doesn't matter, because you're crying," Ramos joked.
2. Stop the doom scrolling
Ramos continued to share about his feelings of being emotionally drained at the end of the day from having to keep tabs on news in the middle of a global pandemic.
"When I'm reporting I'm like, this is kind of pointless… because there's a bigger thing happening around us. At the end of the day, I'm drained. At the end of the week, I'm relieved. And on Saturday before I have to sign in on Sunday, I have this crippling anxiety to go back in," he said. "I delete Twitter off my phone on Saturdays. And I load it back up on Sunday."
Additionally, Jeff Yang questioned COVID's impact beyond personal experiences in order to engage the group on the changing perception of the Asian American community at large.
3. One step forward, two step backs
Parasite winning Best Picture at the 2020 Oscars sparked an inspiring zeitgeist for Asian American representation behind the camera and consequent influence on mainstream culture. However, the anti-Asian sentiments from COVID quickly showed us that regardless of the Oscars win, Asian Americans are not living in a post-racial society.
As they each dined on their own kimchi-bokkeum-bap dishes, both Phil Yu and Rebecca Sun chimed in on this reality.
"This is just a really good excuse for people to be shitty to you. But it was always there. As someone who's been looking at that side of things for a long time, this is unprecedented, but it's not surprising," Yu said.
"Parasite wins the Oscar and then Asians get acid thrown in their faces… tic for tack, the yin and the yang, so to speak… I think it's a reminder to Asian Americans that we don't live in a post racial society… If we are not a part of and engaged in the entire community of combating oppression, they will come for you eventually. Your number will be up and that's what's happening," Sun said. "Let's not mistake it: proximity to whiteness is not whiteness… There is an invisible hierarchy that is being revealed in desperate times. I would hope that it serves as a wake up call for allies."
Yu recommended two pieces to expand cultural literacy for folks interested in being more informed: Kamau Bell's Being against racism means being against racism and United Shades of America.
The good news is that Hollywood's landscape of diverse content is only going to increase more dramatically.
"I don't think that this moment is going to negatively impact the media representation… The film and television pipeline is a pretty long one. We've had so many projects like Tigertail, The Half Of It, Never Have I Ever, the Mindy Kaling show… we have so many different kinds of projects, different stories, definitely types of Asians… This is the moment where it's time to do these projects… We need to show that we're not going to be silenced," Sun added.
And then an audience member asked the group "what happens if we have another four years of this? Which leads us to:
4. Focus on Down-ballot races
Rebecca Sun urged us to look local.
"Look at who's running your local media, who's your state representatives… at the municipal level? All of that matters more than ever. You can see the rock stars that have really emerged in the house like Katie Porter representing Orange County. She's somebody who's been holding corporate executives feet to the fire. You want people who make a difference even if you still have Trump in the white house," she said.
Activist-writer Taz Ahmed shared her thoughts on the traditional voting process falling through.
"I don't actually know if we're going to have elections in November so vote by mail is going to be really important… Trump is trying to pull funding to the postal service. And I think that's been him being strategic about voting by mail… How do we actually make sure that November happens and make sure that everyone has access to vote by mail ballots?"
5. Embrace Asian Pacific American Heritage Month though community and content
Although we can't gather physically, Jeff and Phil compiled a running list of digital heritage month events happening throughout the month of May.
"This is how we find strength in our community, through these conversations," said Yu. "Right now we're having a crisis moment but heritage month is to show that everything that happened before has led up to this. We need to look back at the stuff we found and stuff that made us stronger in leaders and heroes," he continued.
Yang advised us to use Asian American heritage month (May) as an opportunity to find strength within ourselves and within our community.
Rebecca Sun suggested tuning in to the PBS docu-series airing May 11-12 called Asian Americans for further learning and empowerment of Asian-American heritage.
We're taking issues head-on, with you right there in the co-pilot seat. Which by virtue of digital events, may be the same thing as your favorite chair or couch or dining room table. Whatever your seat may be, we want you to pull it up and sit with us for our Creative Sustainability Sessions.