Filmmaking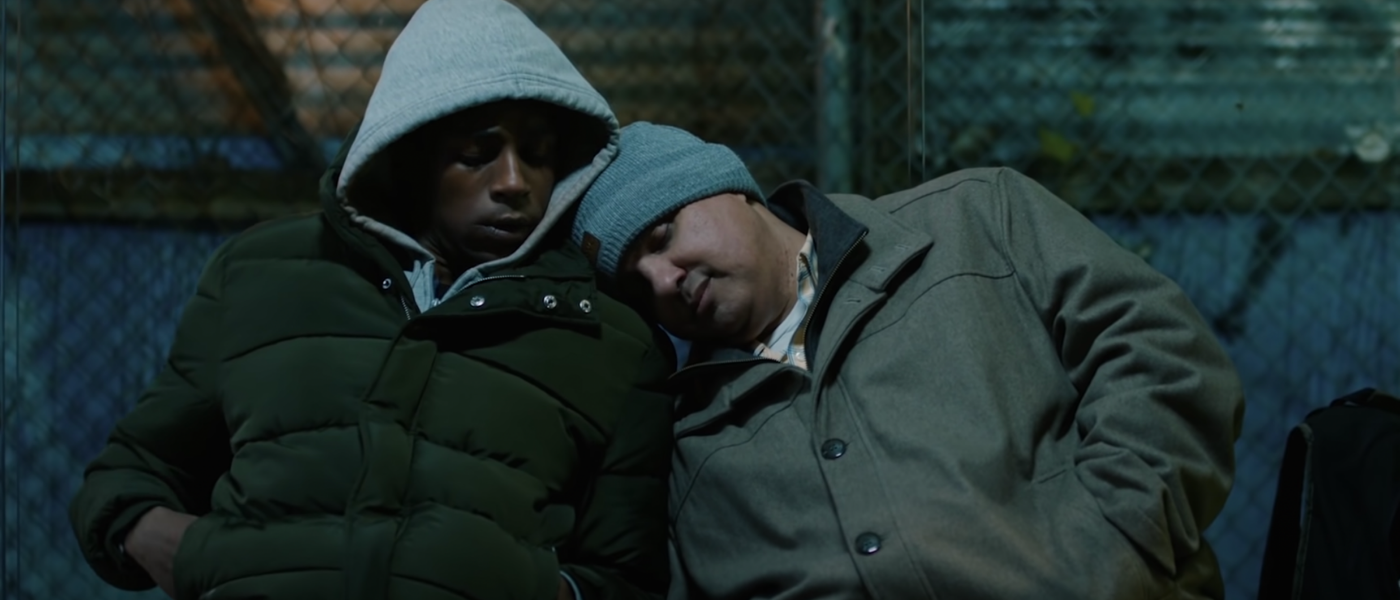 'Feeling Through' Deserves an Oscar, and Here's Why
April 19, 2021
Ten years ago, filmmaker Doug Roland was walking through New York City's East Village in the wee hours of the morning. He saw a young man, Artemio Tavares, holding a sign: He was blind, deaf, and needed assistance crossing the street.

After helping him to the bus station, Doug instinctively traced letters into Artemio's hand, that he would wait with him. The two had an entire conversation: Doug tracing into Artemio's hand, Artemio writing back on a notepad.

This moment stayed with Doug for years and would become the basis of Feeling Through, the first short film on record to star a deaf-blind actor (Robert Tarango), now nominated for an Academy Award. (P.S. The film crowdfunded on Seed&Spark!)

Feeling Through writer-director Doug Roland and I sat down for a casual conversation about the film:

What was it about that moment that inspired you?
Artemio was the first person who was deaf-blind I'd ever met in my life. Until that moment, I had never really thought about the community, other than briefly Helen Keller when I was growing up. And to think that there was this whole community out there that I hadn't really considered was something that really struck me.

But beyond that, it was such a unique, intimate, and interesting way to communicate with someone through the means we were (my running a finger along his palm and him writing back in a notepad). To make that kind of quick, intimate connection with a 'stranger' on a street corner at 4:00 a.m. in New York City is very aberrational to what most people think an encounter like that would be at that time, in that place.

Why is this story important for people to see right now?
Representation is certainly something that's gotten more coverage in the last several years, but has been no less important in the years prior. But moreover, why very much now in this moment? Something that has made the film much more timely is telling a story about the power of human connection — and also a story about communication through touch — during a pandemic, during a time that's been so challenging for people, so isolating for people.

Why was it important to you to cast a deaf-blind actor in this film?
For me, it was instinct. When I decided to make this film I never thought twice about it. The reason behind that was I thought it would make a better film, that there'd be something captured by including someone from the community than someone who was playing someone deaf-blind and wasn't deaf-blind.

Beyond the reason that it makes a better film, I now know so many other reasons why it's important. Especially when you have a a community as a whole — the disability community — that has historically been excluded from filmmaking in front of and behind the camera.

As this was your first time working with a deaf-blind actor, what adjustments had to be made to your process?
Right off the bat I knew there was so much I did not know, and I had a very healthy regard for that. So my first move was reaching out to the community and partnering with the Helen Keller National Center from the very beginning and throughout this entire process.

As far as the nuts and bolts of making the film, through my partnership with Helen Keller National Center, I had a great communication and interpreting team throughout the process to facilitate communication between Robert and myself. I also had a lot of other people who would advise me on how to make the set as accessible as possible.

Accessibility is not a binary, or one of three boxes to check. It's something that's unique to each individual. So it was really about getting to know Robert and making sure we accommodated his individual access needs as best as possible. It's prep. And you prep in a lot of ways for a film.

Has Artemio experienced the film?
Before we ever brought the film to film festivals or anywhere else, I worked with the Helen Keller National Center to create a fully accessible screening, called 'The Feeling Through Experience' that was a feature-length event that included Feeling Through, the companion documentary Connecting the Dots, and a panel discussion and Q&A with the local deaf-blind community, wherever we were. Artemio was able to join our New York experience and have the whole experience tactilely signed into his hand.

Can you share more about The Feeling Through Experience?
Fortunately, before the pandemic, we got to do fourteen in-person events which included as many as fifty interpreters and support staff at a single screening to provide one-to-one accessibility for the participants. That meant, for some people, tactile ASL, which is ASL signed into the hand, close vision interpreters for people who needed that, stage interpreters for people who wanted them farther away, big open captions on the screen, audio description for blind and low-vision participants, and also accessibility considerations for the theater. It was an amazing experience.

What made you choose to crowdfund for the film?
I ended up choosing to crowdfund because I was striking out in other avenues. And when I was doing my homework on which platform to use, I really liked what Seed&Spark stands for. The different ways people can donate not just money but services also really helped our campaign.

How is the team celebrating the Oscars?
Fortunately a portion of team is attending. Robert's gonna be with us. To our knowledge, he's the second person ever who's deaf-blind to attend the Awards, other than Helen Keller herself in 1956. So that will be exciting. Some of us will be there in person, and the rest will be watching wherever they are, but will be there in spirit.

We're also very fortunate that Marlee Matlin, who's one of our executive producers, will not only be there with the team but will be a presenter at the Awards this year. Really happy to be part of what is a growing representation of the disability community at the Oscars.

After experiencing Feeling Through, what do you hope people come away with?
Something I said to my co-nominee and CEO of Helen Keller National Center Sue Ruzenski: 'I have a film that includes a deaf-blind character that I want to be played by a deaf-blind actor. But ultimately it's not a film about deaf-blindness. It's a film about the power of human connection, despite whatever differences we might have.'

I want people who've never connected with the deaf-blind community to also take away a new understanding of the community and an interest in the community.

And for people who are part of the deaf-blind community, I want them to be proud of the representation of their community and for there to be more of it. And for there to be people in the deaf-blind community who tell their own stories in film and other mediums.

◯ ◯ ◯

You can watch Feeling Through and the companion documentary Connecting the Dots here. Then please root for their success at the Academy Awards!