Filmmaking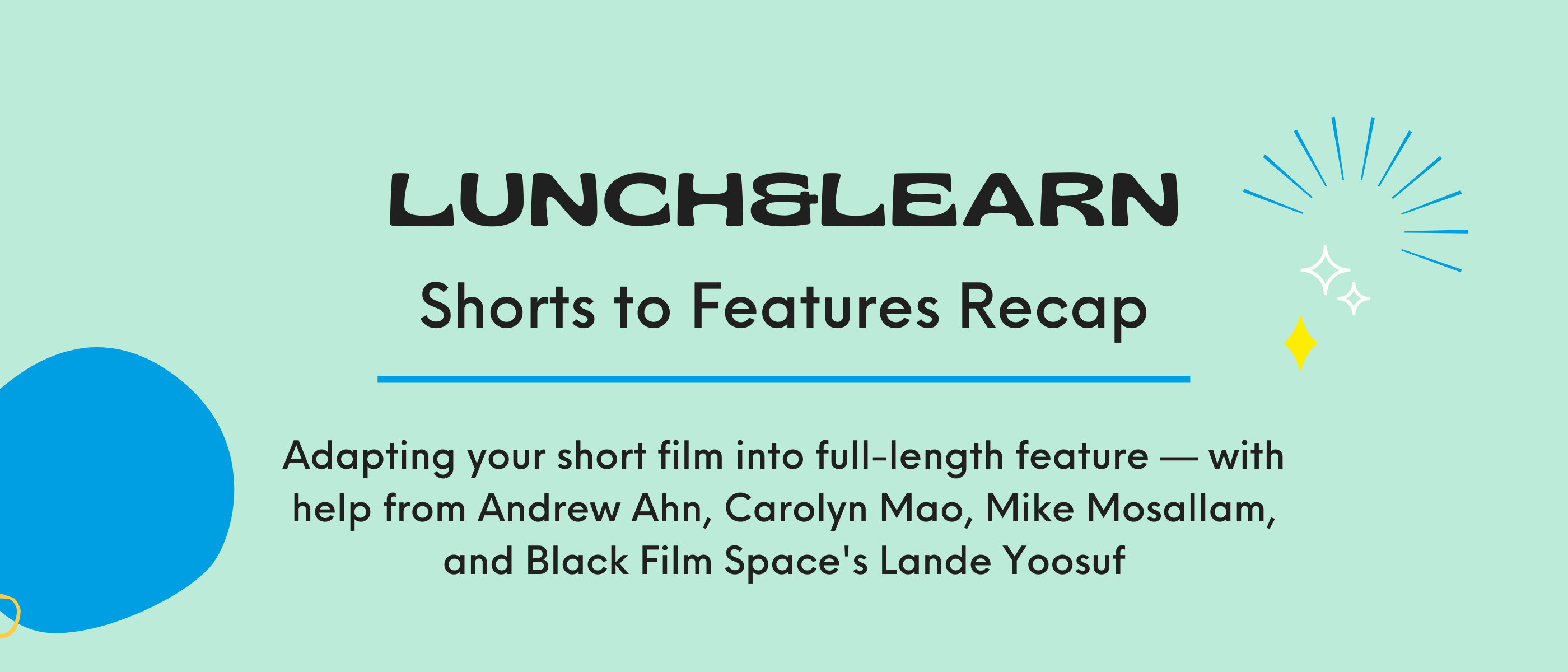 7 Tips for Taking the Leap from Short to Feature Films
February 26, 2021
It takes courage to make movies. While making a short film can be quite an undertaking, making a feature can be downright daunting, requiring a special kind of grit. Filmmakers Andrew Ahn (
Driveways
,
Spa Night
), Carolyn Mao (
Marvelous and The Black Hole
), and Mike Mosallam (
Breaking Fast
,
Brothers
) sat down with
Black Filmspace
's Lande Yoosuf for Seed&Spark's latest Lunch&Learn:
Shorts to Features
to discuss what it takes for short filmmakers to start thinking big — and start making feature films.
1. In some ways, features > shorts.
While making a short may be a shorter enterprise, there are plenty of benefits to making a feature. "In many ways, as a director, making a great short film is actually harder than making a great feature. There's something about short films where every second of your short has to count," says Andrew Ahn. Features, on the other hand, are much more forgiving.
And when your final cut is in the can, you can look forward to your festival run. "If you look at the numbers for festival circuit," says Ahn, "getting your short film into some of these festivals is actually so much harder than getting a feature in, just because there are so many more shorts filmmakers."
2. Shorts are a sprint. Features are a marathon.
It probably comes as no surprise — when making a feature, you have to pace yourself. For Ahn, that also means taking care of yourself. To give himself the extra hand, he does some "administrative" prep. "I did a lot of laundry before we started filming. And I bought socks and underwear so that I didn't have to do laundry when I was shooting."
And, Carolyn Mao adds, that stamina has to extend to your creative vision as well: "Your vision has to stay solid: Keeping what that north star is is so important. You can lose your way because of all the obstacles and challenges you face along the way."
3. Know when you're ready to make the leap.
Making a feature is a big step in your creative career, but how do you know when you're ready? Ahn says for him there are two moments: "There's the moment when you feel like you're ready to go." (When you're tired of talking about your feature and just want to get it done!) "The other moment is when you've convinced enough other people that it's the time. [...] Because it takes a village to make a feature film."
For Mike Mosallam, it wasn't just his team, but his audience that was ready. "It was only after we went to various festivals [with the short]. Really we felt the response from audiences was, 'What happens next? What's going on with these characters? This world is so fascinating and interesting.'"
Mao recommends patience, though. "Knowing exactly what time, as a producer, to submit it to financiers or partners is always a question for me." Because typically folks will only read your script once, it's important for your work to be in tip-top shape. She suggests getting peer validation, and only when the momentum is right, moving to the "bigger fish."
4. Trust your superstar team.
Shorts and features alike: filmmaking is a collaborative sport. "For me, it's all about the tribe," says Mosallam, "You surround yourself with people who believe in the vision that you want to put forth and or gonna help you tell it and amplify the voice you have to give."
While you might be able to rely heavily on yourself for a short film, with a feature it's important to be able to trust your team, so you can focus on your piece of the pie. For Mosallam, trusting his producers allowed him "to stay in a creative lane, and focus on the story and focus on the actors and the character and not really have to worry about if we're making the day (we're gonna make the day; that's not the point), the budget, how we're robbing Paul to pay Peter."
5. Be ready for plans to change.
Of course, it's important to start out with a plan, but it's equally important to be able to pivot, especially in scheduling. Ahn prefers not to schedule intimate scenes or beginnings at the start of the schedule. But it happens sometimes, says Mosallam. Because of logistics, the most emotionally intimate scenes of Breaking Fast had to be scheduled first. When that happens, Mao loves watching actors step up to the plate: "You're working with professionals, and they know how to handle it. It's amazing to see them deliver on that."
Even your script can change, as late in the game as post-production. "It's so bizarre, but it's very true that you are going to reorder scenes in a feature. That is going to happen," says Ahn. Rearranging scenes can help with pacing, clarity, and other story hangnails. Offbeat advice he got from a fellow filmmaker to help smooth this change: "Don't make your costume changes too crazy."
6. Get the financial resources you need.
Financing the budget for a feature is certainly easier said than done. Mao's biggest tip for drawing financiers to your project: have previous work samples that illustrate capabilities you'll use in the feature. "People are execution-dependent," says Mao.
For his feature, Spa Night, Ahn struck out with financiers. "We had tried for a long time to find investors, but no one wanted to take a chance on a first-time feature filmmaker, a gay Korean-American story, from a more established indie film financing process." So he launched a crowdfunding campaign. "Because if we couldn't get $10,000 from an investor, maybe we could get five dollars from a lot of investors. [...] That puts it into your hands as opposed to hoping an investor will drop a lot of money on you."
(
In case you didn't already know, at Seed&Spark, we're big fans of taking your creative career into your own hands through crowdfunding
.)
7. Take care of the resources you have.
Indie filmmakers know how to spread the wealth, but one resource you can't stretch too thin: your crew. "For me, very importantly you have to be mindful fo your crew's capacity," says Ahn, "When people are doing this for the passion and not necessarily a paycheck, you really have to take care of them. You have to be generous and kind and check in with them."
But features also tend to come with more resources than shorts — So don't be afraid to use them! "So often young filmmakers will understand 'This is our box; these are the resources that we have.' [...] When you do a bigger movie where you have more resources, your box gets bigger, and I found myself on my second feature trying to feel where the sides of the box were, and when I couldn't, I imagined boxes. I put the walls around me, and I had producers say, 'You have more time, you have more money. You can stretch. Be more ambitious.'"