Film Crowdfunding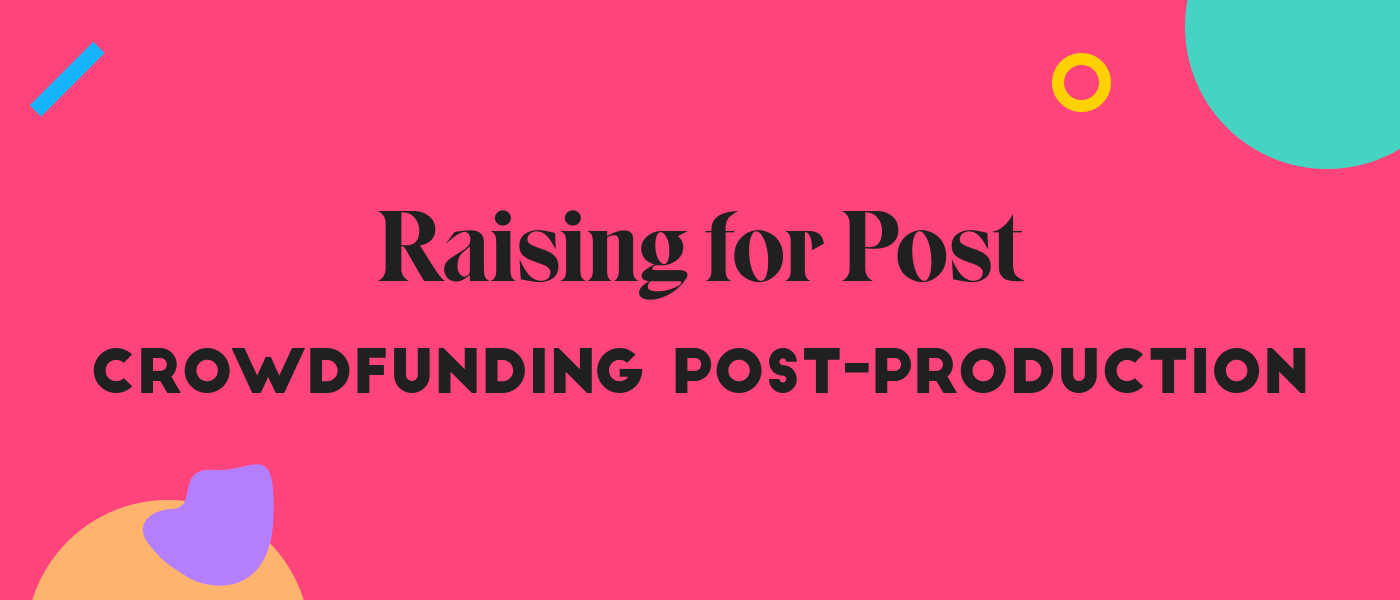 Raising funds for post-production
April 6, 2020
When I talk about crowdfunding for film, I'm often asked what the best stage is to crowdfund for a project. The truth is that there isn't one stage that's better or easier than the others — it's all about contextualizing the creative process for your audience and creating necessity around their involvement in that stage. The steps to preparing for a campaign and running it successfully are generally the same across all stages. However, a filmmaker's language and strategy may differ depending on what phase of the project you'll be using the funds to support.
For example, if you're raising funds for production of a film, your campaign should shout out all the people that are committed to the project, the locations you've secured, the equipment you intend to use, and the little touches like props that will bring the story to life visually. It's about showcasing all the pieces of production that are ready to go but can't be executed on without the audience contributing and making it possible.
That can make post-production can seem like a challenge in comparison though, because there isn't as much apparent urgency like that list of people and places looming. Non-filmmakers and anyone who doesn't know what post-production entails may think that finishing production means you've finished the film. However, as filmmakers, we know that the end of production is just the beginning of what is often the longest process of making content. This is a great opportunity to crowdfund and create that sense of urgency for this exciting stage! How? Invite audiences into the post-production process and help them understand how important it is. While the pre-production or production campaign is devoted to, "We need you to get involved or this won't exist at all," the post-production campaign is, "Look at all the work we've done, now we can't finish it without you!"
The campaign WishList, which is unique to Seed&Spark's platform, is a real asset for post-production campaigns. While most people are familiar with the various departments in production and understand that you need actors and crew members with different specialties from lighting to wardrobe to hair & makeup, not many non-filmmakers know much about post beyond the editing stage. Use the WishList to break down the post-production process and to showcase the many pieces that go into a film's completion — your film's completion.
And raising for Post even comes with one major advantage — you have footage to share! While earlier staged campaigns can only utilize test footage or past work, Post-Production campaigns can show off the beautiful shots you've already captured. Think about using this to create context for your funding needs. For example, if you want the audience to understand why a sound mix matters (and is a necessary and important expense), then share a short clip with the raw, unmixed audio with a comparison of a bit of edited and mixed audio at the end. The same thing can be demonstrated with the color grading. It's that whole show, don't tell thing! Show off the skills of the post-production team that you intend to hire. Help your audience understand why the funds truly matter for this stage, and how that extra polish will help the film truly reach an audience.
If you can create that context around how much more story there is to tell for this project, then people will join you in your crowdfunding journey to finish post-production.