Seed&Spark Updates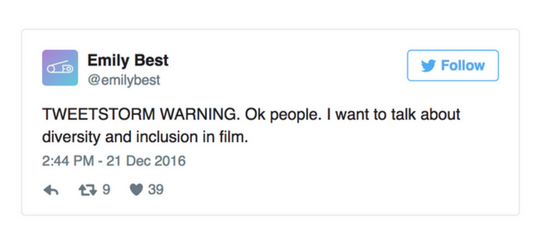 We're Stronger Together // #100DaysOfDiversity
December 21, 2016
Today seemed like a normal, quiet late December
Wednesday...until
my boss - Seed&Spark founder and CEO Emily Best - took to Twitter with a powerful and data-driven thread on diversity and inclusion in media. Full tweetstorm below.
Within the course of a few dozen tweets, Emily laid out the reality of inclusion's role in the business of entertainment and outlined simple, actionable steps for creators and audiences alike to make positive change. Basically...she was talking to you.
We loved seeing the likes and retweets flood in as she announced what her team (um, that's us) will be doing to drive material difference: launching the 100 Days Of Diversity campaign on
January 20, 2017
. 
Starting on Inauguration Day - to proactively combat the rhetoric of the new presidential administration - Seed&Spark's 100 Days of Diversity campaign is part of Seed&Spark's mission to increase inclusion in front of and behind the camera in 2017 (and beyond.) Watch for announcements about our events and partners soon.
What should you expect? Fourteen weeks of movies and shows to watch and film crowdfunding campaigns that showcase the beauty of America's diversity and the power of inclusive media.